Are you searching for High Paying Long Tail AdSense Keywords (CPC), top paying Adsense keywords and Long Tail High Paying AdSense CPC Keywords. I will share some secret keyword tools to high CPC AdSense keywords.
Look
You can earn more than 50$ per click.
You heard it, right.
The secret ingredient to that much money is Long Tail High Paying AdSense CPC Keywords. Here is the key to find all of them and get more money.
We are going to cover the following topics like top google adsense keywords, best keyword research tool free, keyword suggestion tool, google keyword traffic tool and google keyword planner free which I am pretty sure no other tutorials talked about. I will demonstrate you how to use Amazon.com, Google Trends, Google related searches and Google Trends.
There are many websites that published thousand keywords with high cpc ads list. The only issue here is how to rank using these as they are highly competitive. Below methods will solve the problem easily.

A good keyword can increase the CPC, RPM, CTR of a post and generate more revenue for the blog. I wrote a trending post on How To Increases Page RPM 2017 Google Adsense for beginners if their ad sense earnings dropped suddenly.
1. Most Searching Keyword with Amazon.com Free Tool
All great websites and blogs start from the seed – A keyword. An keyword can change your life. You need to figure out a keyword that is going to be in the market for long. The only fuel for blogging is good keywords.
1.1 Fixing Your Keyword
Think about why you want to start a website or blog. Is it boost sales, generate readers, to run an online magazine, to get revenue from ads or is it just a hobby. Running a website or a blog is a cumbersome task for the early days and fixing the keyword will help to keep the emotions at bay.
Eg: If you want to write about gift ideas, go to Amazon.com. Search gifts and you can see rich keywords in the sidebar.
You can make good keywords using these search options. Eg: Christmas Gifts for 12 years & more.
Do a filtered search with by ticking these boxes and you will find another set of complex keywords. Stick with more broader keywords as we need them to go for the next step.
You look at many companies that advertise using adwords other than Amazon.com and find keywords related to the product manufactured or marketed by them.
Choose at least 5-12 keywords and note it down in a notepad.
2. Research a High Paying Keyword 2017 That Pays Well Using Related Searches Google
Now that you have fixed your keywords and what you want to do, it is time to find a high paying keyword with high number of searches related to the interest area. A high paying keyword means a word that has high bid by by advertisers. There some proved methods to find keywords.
Go to Google and search for your keyword using quotes.
Eg: If you want to write about website builder then search in Google with "website builder". Then scroll down to the last and you can see some long tail keywords [3 or more keywords together] that are searched by people.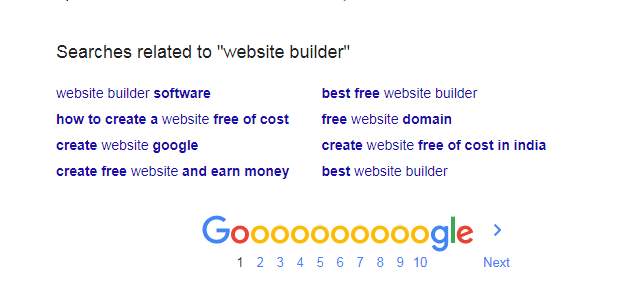 Searches related to "website builder"
website builder software
how to create a website free of cost
create website google
create free website and earn money
best free website builder
free website domain
create website free of cost in India
best website builder
3. Long Tail High Paying AdSense CPC Keywords with Keyword Planner Tool
Go to
Adwords Keyword Planner Tool
and Login with Google Account. Take each keywords one by one and search them to find most searched keywords. Select 2-3 keywords which are more searched than others.
best website builder
best free website builder
create website google
How to Find top paying Adsense keywords with Adwords Keyword Planner Tool
Sign in to the Ad Words website with your Google Account.
Under Find new keywords and get search volume data, you will be able to see Search for new keywords using a phrase, website or category. Enter any keyword in the search box.
There are numerous options to select to get effective keyword search results.
Targeting


Countries – Eg: United Arab Emirates, United States
Language – Eg: English
Select Google and search partners

Negative keywords – Add keywords that you want omit
Date range – Select Show avg. monthly searches for: last 12 months
You can also add Keyword filters
Average monthly searches
Suggested bid
Ad impression share
Keyword options
Show broadly related ideas
Hide keywords in my account
Hide keywords in my plan
You can add specific Keywords to include in the search.
Hit Get Ideas.
The Adword Keyword Planner tool fetches data of the keywords searched for from Google Database and show following results.
Avg. monthly searches
Competition
Suggested bid
Ad impr. share
You can select on any of these options to reorder the data from high to low.
Bloggers mostly opt for keywords with low competitive, high avg. monthly searches and high suggested bid. That way posts can rank high in Google and get
high cpc per click
.
4. Find profitable Long Tail High Paying AdSense CPC Keywords for Adsense with Google Trends
The very easy way to do this is to know what is
Google Trends
. It is a platform that lists the most searched keywords in Google based on categories, Nations, and what are trending in YouTube. You just have to visit the website and all the information is visible.
The listed top search keywords will keep on changing their positions as per the volume of the search. So it will be harder to know which keyword is the number one.
The advantage of this is that bloggers can know the search volume per keyword which will help to make better posts related to that keyword. This increases page views or should i say dramatically explodes the number of page views.
The disadvantage is that it will be harder to start a niche blog based on the keywords as this search volume will keep on changing. You can try refreshing Google trends after 2 minutes. You could see the change in positions.
By selecting each keyword, you will be able to Most relevant articles, Interest of viewers over time, Interest by region, Trending queries and Related topics.
Go to
Google Trends
. Enter each profitable keywords to understand how many people are searching and what is future forecast of the word. You will know only one keyword is getting more traffic than other. Now you got the best searchable keyword.
Points to be noted:
1. Recently published articles are listed first in Google.
2. The keyword or parts of the keyword should be there in the title and full keywords are listed first.
Interest of viewers over time
The graph shows interest of viewers over a period of time and the type of article that are getting all the traffic.

Search Interest
Interest by region
You can see the map of the country in this tab. By selecting the "List View" you can see the search volume in each state.
Trending queries
Trending queries is the best option here. You can see what are the related queries per keyword and find out the search volume of that. This will enable bloggers to add more related keywords to the blog post. You can select "Embedded" option to get the code. In that you can see a tick box for "Keep data updated. This data is live and will keep updating". It means what it says.
5. how to find top Google Adsense high paying keywords with Spyfu.com
Go to
Spyfu.com
and enter the keyword that you got. Enter them and found out related keywords. You can group keywords and find out which one is paying more.
6. Find highest cost per click (CPC) keywords with KW Finder
KW Finder is an amazing keyword finder tool that can generate high cpc long tail keywords for bloggers and for websites.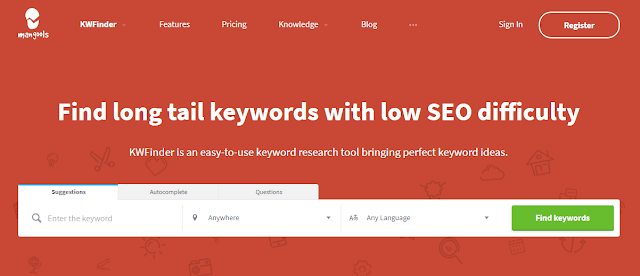 Enter your keyword and select appropriate boxes. You have options to select different countries and languages. KWFinder will fetch related keywords from the selected geographies and languages. This is one of the unique keyword finder tools that you can use.
7. best paying Google Adsense keywords by SEMrush Keyword Find Tool
Increasing organic traffic is a tough task especially when your competitors are doing the exact same methods and keywords to increase traffic. Here is a detailed tutorial on how to increase organic traffic up to 29% by SEMrush Tool.
What is SEMrush Tool
SEMrush is an amazing paid keyword research platform for bloggers, website owners, SEO beginners and experts and entrepreneurs and those who needs to increase organic traffic to website multi fold. SEMrush will help you to discover incredibly high paying ad sense keywords at a nominal cost.
Why SEMrush keyword Tool For Finding cost per click (CPC) keywords AdWords
SEMrush can do more than just to find competitors' keywords and it is time to change that perspective. This keyword tool provides keywords from US, UK, DE, FR and 131 more countries.
It provide details of your website on Desktop vs Mobile and shows Categories and visibility percentage.
Other tools are;
Domain Analytics
Overview
Organic Research
Backlinks
Advertising Research
PLA Research
Display Advertising
Traffic Analysis
Ranks
Domain vs. Domain
Charts
Keyword Analytics
Overview
Phrase Match
Related Keywords
Ads History
Keyword Difficulty
Keyword Magic Tool
Projects
SEO Ideas
Position Tracking
Site Audit
Social Media Tracker
Social Media Poster
Brand Monitoring
Backlink Audit
Link Building
PPC Keyword tool
Ads Builder
Organic Traffic Insights
Content Analyzer
Gap Analysis
Keyword Gap
Backlink Gap
If you want to be a professional blogger, then check the SEMrush tool.

Get Free Trail for SEMrush here
8. Find Long Tail CPC Keywords with Keyword Generator Tool by SEOCentro
SEOcentro has a free keyword generator tool. Type the keyword, enter the captcha code and select Submit. You will get only 3 results which is really helpful in creating long tail keywords. You can start with a topic which you are interested and keep adding keywords as you search. Finally you will get a high paying long tail keyword.
Use the keyword generator tool
Finding Most Expensive Keywords in Ad sense is Easy
Most people want to know which are the most high paying and expensive keywords in ad sense. The answer is too simple. Here are the ten High Paying Google AdSense Keywords. The article on WordStream explains them.
Insurance
Loans
Mortgage
Attorney
Credit
Lawyer
Donate
Degree
Hosting
Claim
Most of these keywords pays from $27.80 to a whooping $54.91 per click. Two clicks from these keywords and you are looking at a pay check from Ad sense. It is that easy. I call these keywords are DREAM KEYWORDS.
Dream Keywords: highest cost per click (CPC) keywords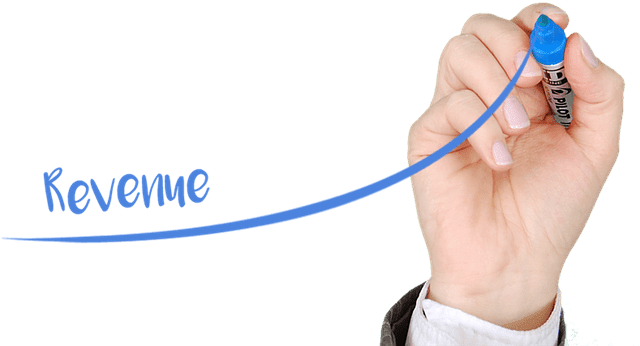 As dreamy as it sound, you can just keep on dreaming on ranking on these dreamy keywords. All those SEO masters and SEO companies are working for them and their clients to get ranked on these Long Tail High Paying AdSense CPC Keywords.
If you have seen the movie war dogs and dialogues of David Packouz and Efraim Diveroli, This is the biggest pie. Everyone is competing against for these big pies. And small and medium bloggers should go for the pie chunks which are called the long tail low competitive high traffic keywords. It may take sometime to digest. it took me a while also.
LoTaloCoHiTra Keywords – the long tail low competitive high traffic keywords
I know it does not look fancy but what to do. This is the best I can do. Try saying it fast for 5 times. You can use it as a tongue twister. Does't it feel classy.
What are these LoTaloCoHiTra Keywords

The long tail low competitive high traffic keywords can bring you enough visitors and revenue.
Let's explore them. Shall We?
Let us take a keyword called "hosting".
A long tail Keyword will be like "Hosting Small Website" with three words together.
You can find enough long Tail keywords that has less competition and high traffic using Adwords keyword planner tool that I shared above. Remember as this is not just about writing a random post. People do have domain names and websites especially dedicated such long tail High Paying Google AdSense Keywords and they may end up ranking more than your posts.
Grouping poss with LoTaloCoHiTra Keywords
The best way you can rank in Google using LoTaloCoHiTra Keywords is by grouping posts with such keywords. You can write ten little posts with LoTaloCoHiTra Keywords and then write a corner post [a big post] adding these posts as internal links. This will increase page authority and boost your ranking.
Why You Should Not Focus Too much on Keywords but on Content
The content is king. Changing Google algorithm updates can do harm if your content is good. Another important part is that bloggers should focus on building an audience in these days rather than merely focusing SEO and website optimization.
Instead of selecting high paying keyword, bloggers should take high paying niches. High paying niche means make a small website about reviews of shared wordpress hosting only. This includes the high paying keyword "hosting" and it will have good long term returns.
Discovering High Paying Google AdSense Keywords is only the first task when it comes to higher earnings. Creating a good website and writing good quality content is always long lasting.
9. Identifying Google Adsense high CPC Targeted Niche Keywords Google Analytics
You will get High Paying Google AdSense Keywords using the above keyword searching tools. After obtaining them, you need to see the target group for which you want to write. You can check Google Analytics to find the type of audience that are visiting your website.
Google Analytics – Audience – Overview.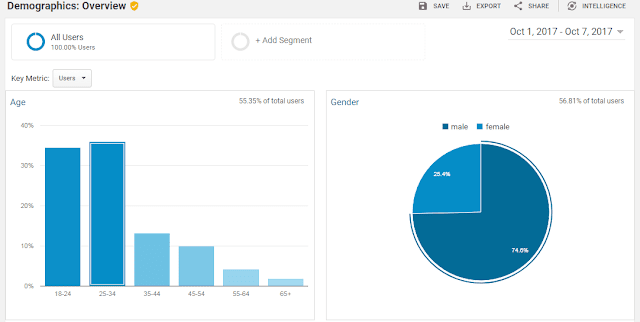 Here you can see the age bar graph and gender pie chart of the visitors of my client's website. 74.6% of the visitors are male and more visitors are of aged between 18-34. The keywords should match the target group of the website. Otherwise it will not bring organic traffic from search engines and higher earnings from Ad sense. You can read an interesting case study here.
Case Study
The client selected a high paying dream keyword "insurance" and started a website on "insurance policies". Later we decided to go with long tail keyword " retirement insurance policy". Long tail keywords can bring more targeted traffic and create a specific audience.
The above website had a post titled "how to get a retirement insurance policy" and the traffic was really lower than expected. This was basically because the audience he was catering to [unknowingly] was aged more than 65 years.
After researching we decided to cater to a different target group of aged 25-34 and changed the post title and content to "Why Millennials need retirement insurance policy". This boosted the traffic to the post and he got 67% more visitors than before.
High paying targeted niche Long Tail High Paying AdSense CPC Keywords and valuable content can generate value for your website and bring your higher earnings. This the best way to create an audience for your blog.
Instead of creating an MFA [made for ad sense] you can reach out more specific target group and generate incredible higher earnings with ad sense ads. Adsense keyword research is an investment to create an impressive high quality website and authority content.
You can use keywords in YouTube as well. This list is useful if you are searching for high cpc keywords 2017 or high cpc keywords for youtube 2016. You can use this list as per your choice to find high cpc keywords for youtube 2017.
Read my latest post: 15 Ways To Compete for the Same Keyword In Low Paying Niche