Are you trying to find someone online?
Do you know how easy it is to find someone on social media?
We can find people online with these search tools like UserSearch, ScamSearch, Dork search etc.  
If we have the right tool, finding people will be simple. You can discover peoples phone numbers, identify their address, see their relatives, and more when you use a perfect people search engine.
10 Best People Search Engines for Finding Anyone
At least for the initial search, most of these search tools are free to use. Use a search tool to simply confirm information you already know about someone, such as a new friend, a neighbor, or a potential employer. checkout the 10 Best Free Search Tools:
1. User Search
The easiest online tool for creating usernames is username search. Usersearch offers up-to-date information from much more than social media platforms. Access to it is entirely free. This tool allows anyone, regardless of web search ability, to locate a person's social media profiles.
Go to username search.org.
Enter a username in the search bar.
After that pickup the social network category.
Click search icon.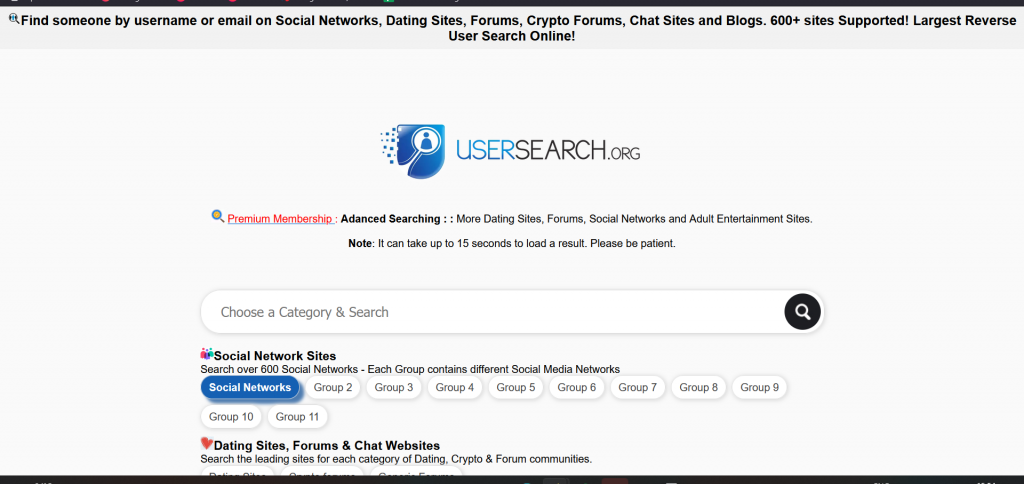 The results will be delivered to you quickly.
2. Scam Search
ScamSearch is a useful, free online resource for finding con artists. Anyone can view other people's email addresses, phone numbers, and social media profiles.
Go to ScamSearch
Using your name, email address, and password, create an account.
Create an account with your name, email address, and password.
Accept the terms of service after that, then select the box next to "Receiving communications and news."
You'll get a confirmation email right away.
Your email inbox contains a verification email. Click it.
You will receive emails of this type.
Email:
Verify Email
Thanks you,
Scam Search Team.
Experts in Open Source Data.
Click on the verify email button and then sign in with your email address and password.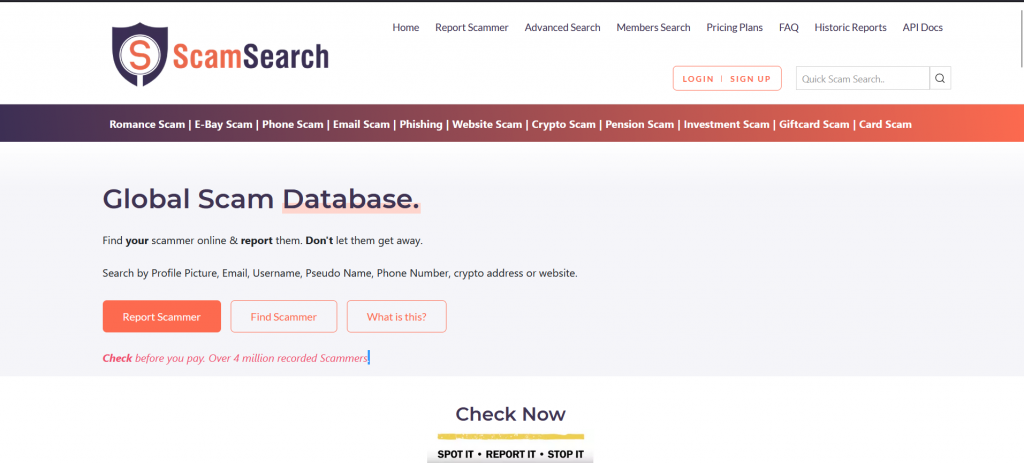 Once you have logged in you will be able to see your account and pricing plans. There are three pricing plans for 1.99$, 3.99$ and 9.99$. You can use the basic plan "Aspiring Investigator For the curious" for 15 search reports for a month. You can download pdf and html reports.
3. Dork Search
The greatest and most useful username-finding tool is dork search, which is also totally free. You can access Google search to find the ideal result by typing any username into the search bar.
Visit Dork Search.
fill in anyone's username
press the search icon
View the outcomes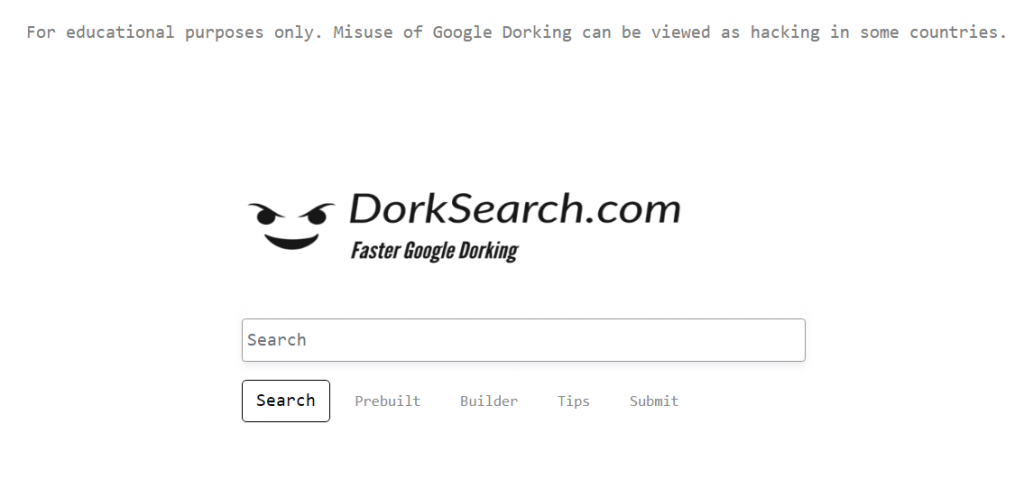 access the Dork search
4. Facebook
With billions of users, Facebook is one of the most popular social networking sites on the planet to find anyone online. Facebook allows you to search for people and find their profiles.
visit Facebook
Enter a user's username or name in the search field.
Then click the search button
The People category is where you may locate profiles.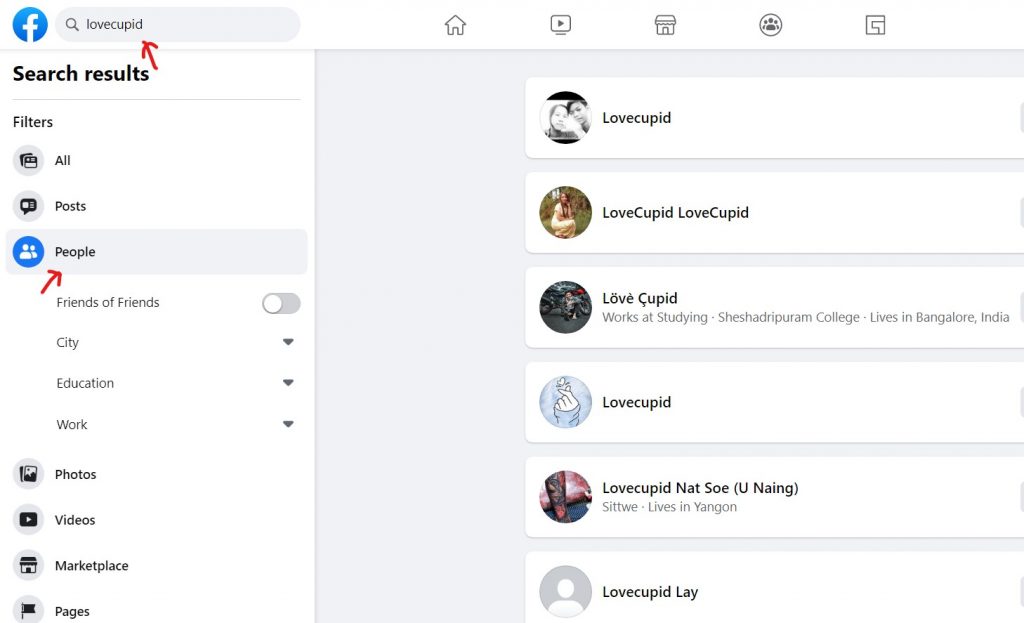 To specifically target a person, you can also utilize addresses or the names of nearby cities.
5. Instagram
Users of the photo-sharing app Instagram can shoot photographs and apply filters. Search for someone's full name and you'll get their Instagram account. To view their postings and comments, click on their name, then select "Profile".
Go to Instagram.
Tap at the bottom to get to Search & Explore.
Select Search from the search box at the top.
After entering the person or object you want to look up, tap the search button in the bottom right corner of your keyboard.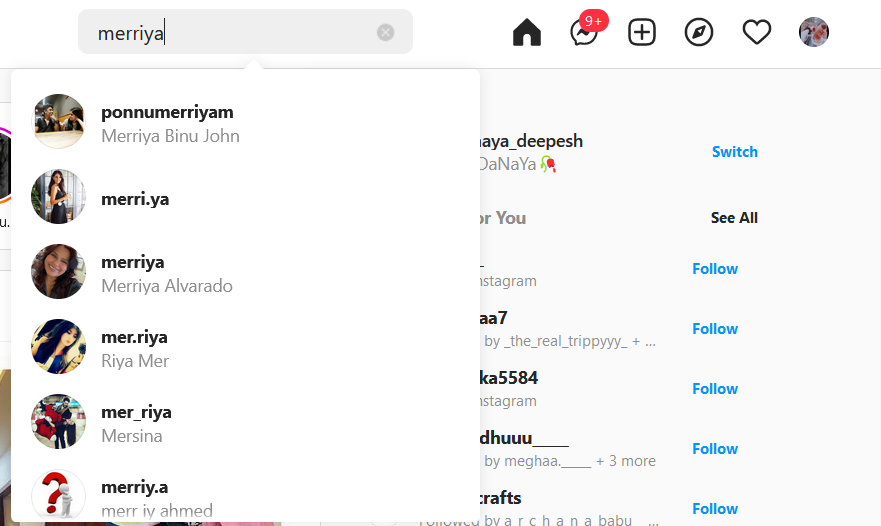 Select Top, Accounts, Audio, Tags, or Places from the options listed below the search field to limit your results.
6. TikTok
Trends begin on TikTok. Viewers can watch and find millions of customized short videos on a smartphone or the web. The go-to app for mobile videos is TikTok. Short-form videos are entertaining, passionate, and real on TikTok.
Open the TikTok app.
Use the Discover page to search
On your profile page, perform a search.
In the search bar, type the name or username of the account you're looking for.
You may access a user's profile by tapping the account you're looking for.
To follow a certain creator, tap the "Follow" button.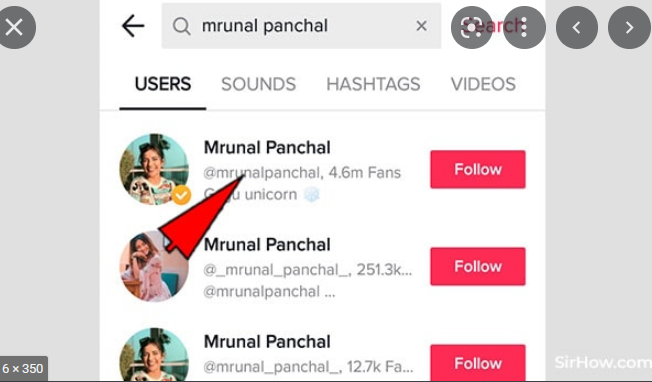 Use Facebook or your contacts to find mates.
7. Snapchat
With the help of the well-known messaging app Snapchat, users may send self-destructing messages. You can access someone's Snapchat account by searching for their username. To view their stories and photographs, click on their username.
Tap the Snapchat app's icon on your phone's .
To find someone, type their username into the search bar at the top of the screen.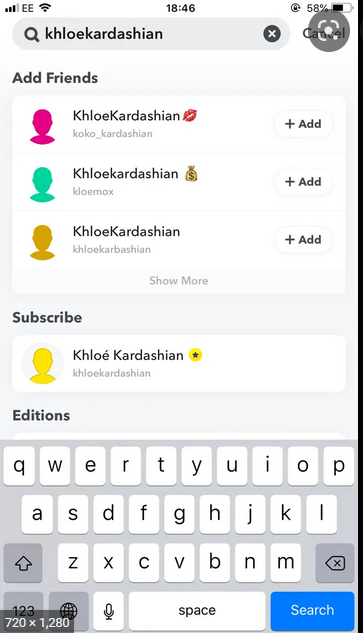 Below will automatically show users with names that are similar to or match your search terms.
8. Searchpeoplefree
You can learn a lot of things about people with Search People FREE. You can input a person's name, along with the city and state where they've resided, into the sections above for our People Search.
The results offer a range of identifying information to help you verify that a person is truly the one you're looking for, such as the individual's: Entire name, Age, Addresses both present and past, Phone numbers from the past and present, Probably family members and friends,
Go to searchpeoplefree.com.
Select the category like Name, Phone, Address, Email
Enter the name/phone/address/email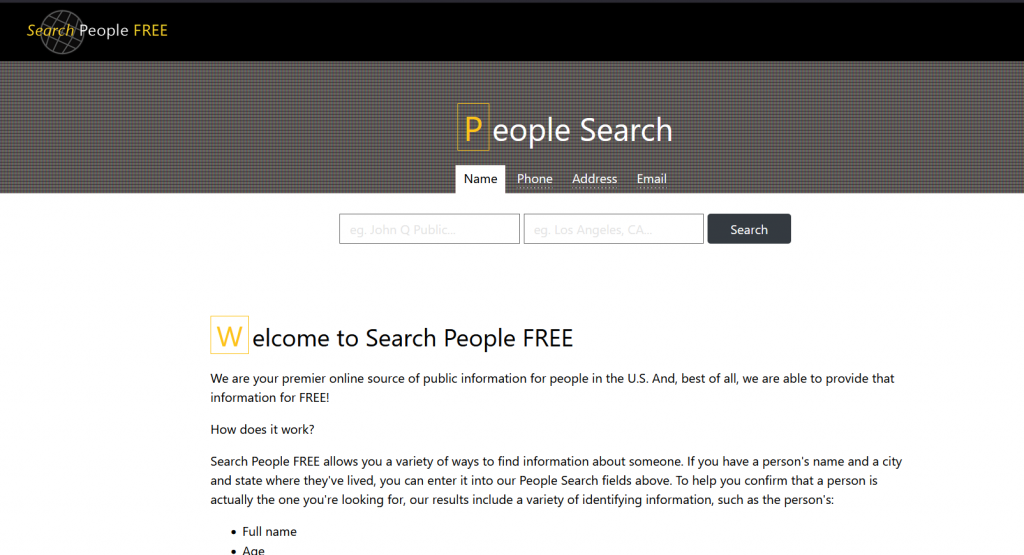 Hit the search button.
9. Google Advanced Search
You can find anyone online using Google advanced search. You can pick which words or phrases to include or exclude from your search results when using Advanced Search. You have a choice: "These words,". The words you input are used in the results. "This precise term or expression". The exact word or phrase you entered appears in the results.
Go to Google's advanced search
Then type their name into the "This particular term or phrase" box.
You can filter your results once you have added language and country.
Select "Advanced Search" from the list below.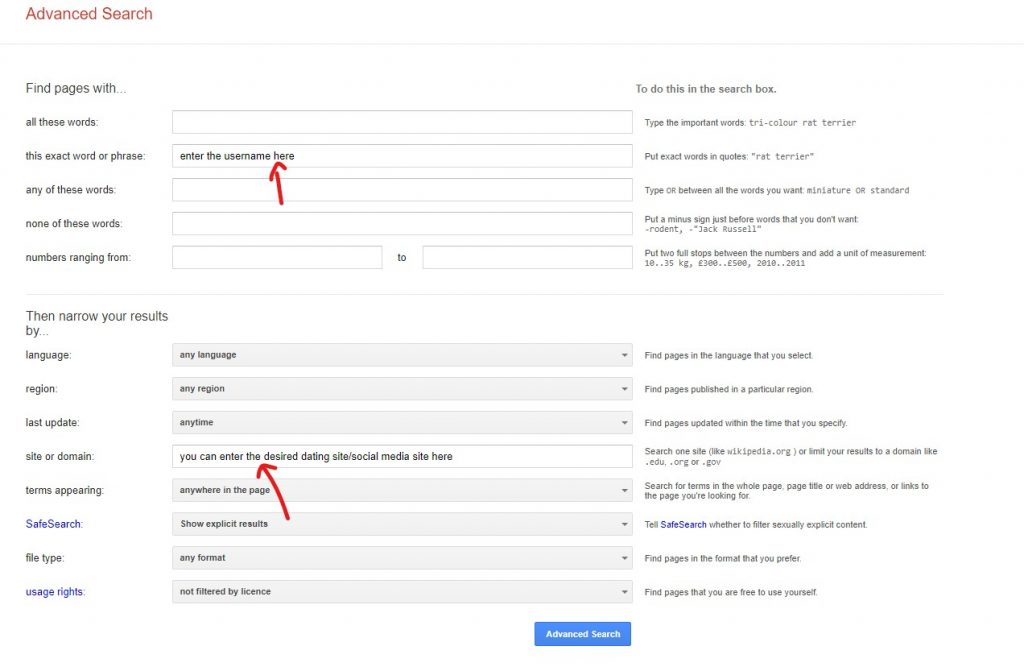 The data you require will be delivered to you immediately.
10. Twitter Advanced Search
Finding particular tweets is made simpler by Twitter's advanced search function, which lets you restrict search results to certain date ranges, users, and other criteria.
In the exact phrase box, type a name, then click search.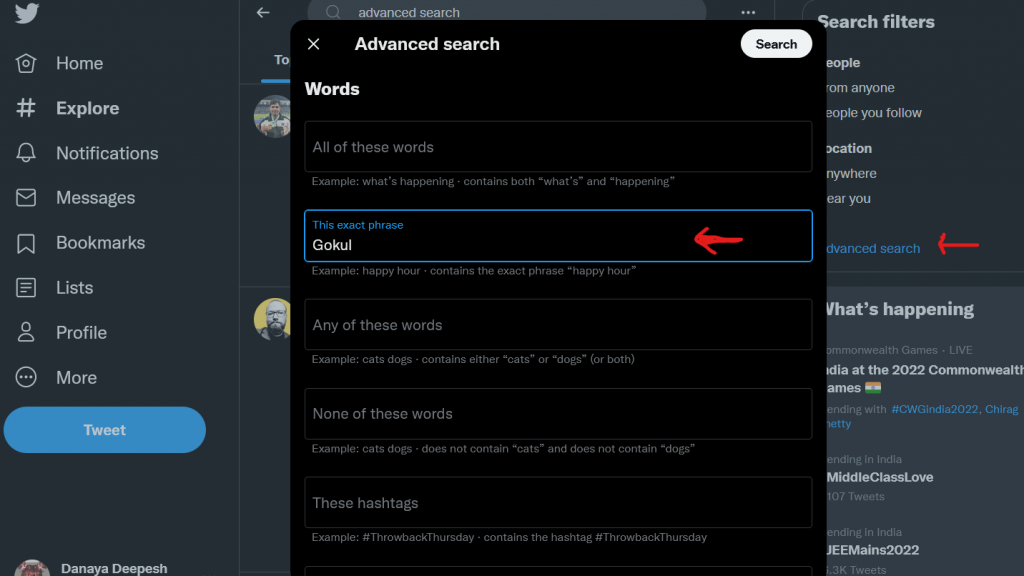 You may find account information in the People category.
Conclusion:
The top 10 quick and easy ways to look up someone's social media accounts are listed below. They are all absolutely free to find anyone online. These methods can be used to learn details about coworkers, spouses, partners, and school friends.