Free Username Search Dating Sites can help you to find hidden dating profiles. You can get the names of the users for all dating sites using reverse username tools. You can find Hidden Dating Profiles by Username easily. There are many username search lookup tools to find secret profiles. These are called Free Reverse Email Lookup for Dating sites.
A 'Secret' Dating Profile search can be done for username or an advanced search for free social network reverse lookup. Many people use usernames to create a dating profile. How to find their usernames?
1. Social Media Search for Free Username Search Dating Sites
You can search usernames of people in Facebook, Twitter and LinkedIn. Some of the social media sites has people filter on its search bar. You can people profiles based certain categories such as worked at a particular place or attended a particular school.
The information about people profiles on social networks are records that are publicly available. There are other hidden information online such as tags, stories, likes, and retweets on Instagram and Twitter. You can invest more time on social media to find out these connections and dig deep to find usernames and then do free username search dating sites for people profiles.
2. Search Engine Search for Free Username Search
You must be familiar with Google, Bing and DuckDuckGo. These are search engines which can give you so much details of a person. If you know an email address or name of a person, you can use these search engines to find usernames by typing their email address.
WebCrawler, DogPile and Monster Crawler are other types of such bot spiders search engines which can give you deeper search on usernames on dating sites. These are advanced search engines and can be used free for anyone.
If any pages of website are removed, then you can use WayBack Machine to find out the removed pages. Wayback Machine saves all kinds of pages of websites of specific dates and times. This is also completely free to use.
3. Background Check Services to find Username
You can use Prophet , ContactOut and Discoverly that are used for professional networking to find hidden username of dating sites. These sites has browser add-ons and chrome extensions which can be installed on browser.
The add-ons find email address from your Gmail inbox and shows you related usernames on Facebook, Twitter and LinkedIn. This is one of the best ways to find username automatically.
4. Check Browser History for used Usernames
You can check their browser history to find their previous visits to online dating sites and social media sites. For this take their laptop or pc and open the browser. Most of them has Chrome, Edge, Firefox, Opera, or Safari. You can find their icons by searching in Google.
Open the browser and press ctrl and H together. You need to press ctrl which is the button in the left bottom side of your keyboard. Press that and simultaneously press H letter. There you can see browser history.
Another way to do it is by clicking on settings on right top hand side and select history from it. You can get a list of all popular dating sites like Coffee Meets Bagel, Match, Tinder, hinge and Zoosk in Google and simply look for any of these.
5. Username Variations in Dating sites
Same profile pictures and usernames are generally used to create dating app profiles. Some even use the same username and profile picture in social network accounts, forums and communities.
If you are able to find the correct username using username search for all dating sites, you might be surprised to see that a simple reverse search for all dating sites can fetch you more details that you think.
Some uses username code combo which will have a name and a number. This is difficult to find out using only username search. Other people use username phone number combo, which will have a name and a phone number. For this you might need to do a reverse phone number search.
6. Username search for all dating sites
There are tools to do username search reverse for all dating sites such as Spoeko. Username search for all dating sites is complete free when you use free reverse email lookup tools. Here I have used Spokeo to do a reverse username search to find details of someone called John Sith.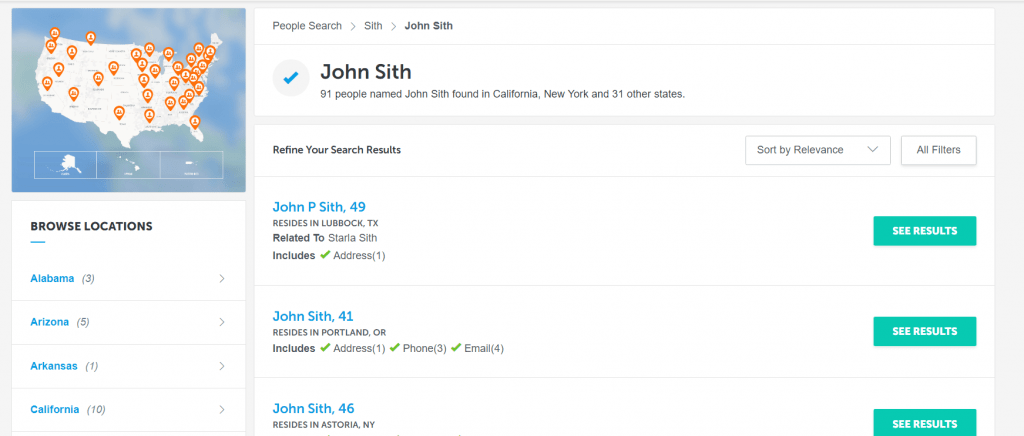 Username search for all profiles is easily used by infotracer. Infotracer is only available in USA and UK. It is not available in India. You can type someone's phone number, username, or email on the site and find all variations. This username searches will give potential usernames of the person.
7. Reverse username tools
There are many reverse username tools for all dating sites. Meetme username search is a great way to find hidden usernames. Meetme is a dating site to meet, chat, and have fun with new people for free of cost.
Plenty of Fish username search is another way to find username for all dating sites. Tinder username search using advanced filters is user friendly way to find secret usernames.
Conclusion
Username search for all dating sites are important method to find hidden dating profiles of people. You can use social media, dating sites advanced search, browser history and email address search on search engines to find usernames and then use reverse username search tools to find hidden dating profiles using usernames. Username search is an great tool to get instant reports of hidden accounts in dating websites, forums and chat websites. What I love about the tool is that you can get very detailed reports in few seconds.