A while back I have written a blog about Link Back Technique that went viral among bloggers. You can read that here, "
Use Linkback Technique To Increase Page Rank And Back Links
". In this post, I am sharing how Micro-blogging services like twitter, tumbler can be used to increase traffic in search engines.
There are so many strategies where one can adopt to boost the traffic.
The latest tool for publishers
As publishers we all want to increase user traffic and ranking in search engines like Google, Yahoo and Bing. The traffic and ranking is related to how much your website is popular among users. To gain popularity, publishers regularly use social networking sites like face book, Google plus etc. These clearly boost the traffic. But I am saying something etc about some interesting ways to increase traffic. Actually some of the publishers are using these technique. So that i am sharing this post for the beginners in publishing and blogging.
In this post I am going to introduce the best ways to increase traffic using micro-blogging services like Twitter. The post explains about main features of such blogging platforms such as compatible and can be shared, market and promote brand and industry expertise, Create your own fan base, Monitor the comments and opinions and Creating a social buzz. You can also use my post on: Top 7 Popular SEO Online Tools for websites and blogs.
What is micro-blogging service?
You may be familiar with short messaging services (SMS) and these are excellent ways of concise communication in a shorter period. Most of these messages become viral and goes beyond the expectations. A "micro-blogging" service is defined as mini version of blogging within 140 characters which means that people can only post short news and updates which are limited to 140 characters or fewer. So using these you can create small and effective titles, links and may be summary also for making the posts viral.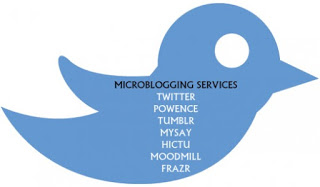 Micro-Blogging Services
Why "micro-blogging" services are popular?
The main reason is that the trend from laptops and desktop computers changed to mobile phones and tablets. Such a tremendous change induced lots of technological adaptations. Everybody is looking to start a website that is suitable for tablets and that websites are called as responsive. The websites with responsive design are rated more in search engines compared with no-responsive design websites.
I will give you an example. "People need to know current news in their mobiles. So reading large amount of news contents like in news papers is not easy in mobiles and is time-consuming. So news companies adapted to the change and given selected titles to mobile users rather than paragraphs. Links to the sources will be beneath the titles". That is why Twitter and other micro-blogging services adapted to the change and now they have an unimaginable traffic.
Advantages of Micro blogging services
Compatible and sharable
The important feature of micro-blogging services is that they are compatible with mobile phones and text messaging. People can surf all the links and can redirected to the website. After reading the content, visitors from such micro-blogging services usually post their opinions in it. This will be shared by their friends and it goes on. This sharing only takes place in micro blogging services. In other social networks we use more likes and comments and not shares. Now face book has this share button and not other sites. You can use add automatic search descriptions / meta tags to blogger posts for providing in depth information.
Market and promote brand and industry expertise.
Branding is very important when considering the competitive world of market. Companies can use micro-blogging services to market your brand by introducing more and more offers, generating sales leads and giving advertisements.
They can use such blogging platforms to promote industry expertise by meeting other experts and interacting with them to create a firm understanding of current environment and technology. They can really help you to grow your knowledge about desired area. Developing direct relationships with bloggers and journalists can increase credibility of the website.
Better ways to improve traffic
Create your own fan base
We are all fans of somebody. That somebody may be in films, sports, arts etc. Let think that you are that somebody and you have 1000+ fans. Getting fans is cool. As the number of fans grow, you will also feel happiness and pride. Imagine 1000+ fans who follow your posts, share them, discuss about it and so on. Micro-blogging services help to create your own fan base. A strong fan base can make the traffic sustainable. The huge advantage of the fan base is that the traffic coming from fans will be increasing day by day. For that you need to follow so many people and avoid those who don't follow you back. Creating fans are not easy and it is a day to day process also. Be patient and start your kingdom with lots and lots of fans who wait for your posts.
Monitor the comments and opinions
Comments and opinions are expressions of readers. Comments are a good way to understand the psychology of the reader and create discussions according to that psychology. Websites can use micro-blogging services to monitor the comments and opinions of people about your company and brand name. By getting real life updates, the company can correct the problems in a fast way and eradicate all dysfunctions.
Creating a social buzz
Create social buzz using micro-blogging services around upcoming events and occasions. Release press releases to get more audience.
Let the imaginations fly high…!!

A good read on: How to create free backlink booster for site/blogspot blog