Do you think your boyfriend is cheating on you? Or want to know if romantic partner is looking for other companions on dating services. Here are the 5 best ways find out if someone is registered on a dating site for free. If they're on a dating site or not, it's crucial to consider their privacy and whether you're okay infringing on it.
You could find out that they don't use dating services, and there's always the chance that you'll be caught looking for this information without their knowledge. Whatever decision you make, be highly deliberate in considering the various possible consequences that might arise as a result of your actions. You can find someone on dating sites by username and email address.
5 best ways on how to find out if someone is registered on a dating site for free
Here are the 5 best ways to search if someone is registered on a dating site for free without letting know the other person.
1. Username Search
The best method is to check for used usernames in dating sites. You can visit username search tool to find out the possible username matches.
Go to Username Search
Type any username
Select dating sites as category and hit search
Wait for 15 seconds till usersearch system find possible matches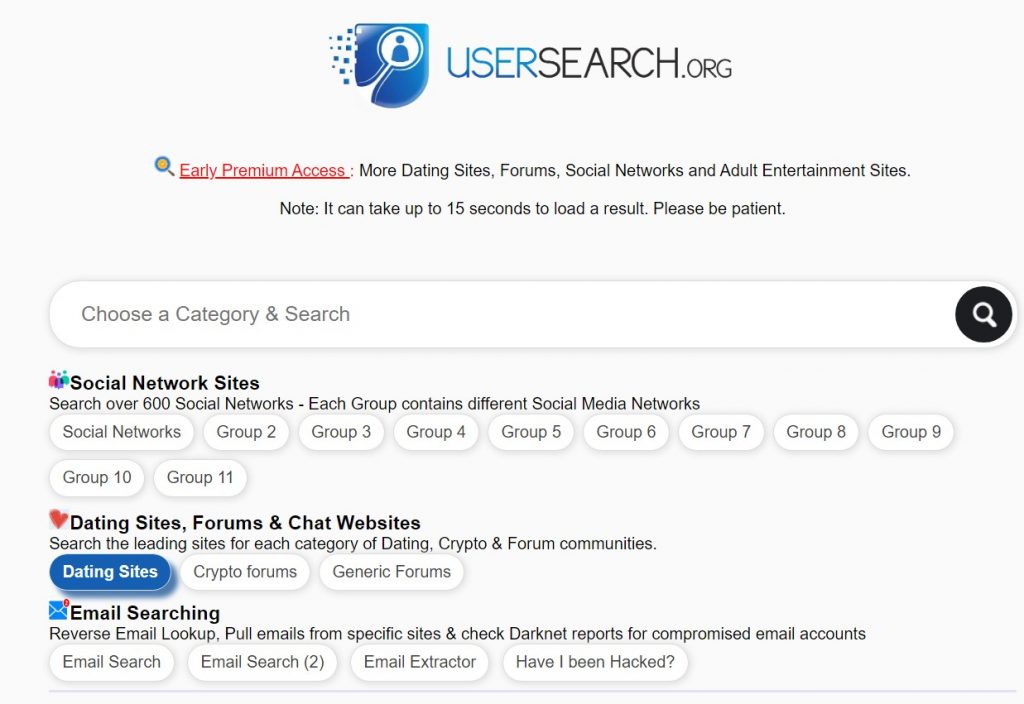 There are many free username search dating sites but username search is the best one out there.
2. Google Advanced Search
For free, Google can assist you in locating hidden dating profiles. Of course, in order to obtain results, you must understand how to utilize them. Through Google, you may find out if someone has a dating profile in a few ways. The first approach is to use Google's advanced search feature.
To make this 'advanced search' on Google more straightforward, simply put a word in quotes, add space, then type "site:" followed by the name of the site where you're looking for the term. In this situation, you are seeking a name, a person, and someone on a dating site. Now, think of a username that your spouse would use and type it into the search engine.
Go to google.com
If you are looking in a specific app like Tinder add "app:tinder" after their name or phone number.
It will give you a lot of results to look from.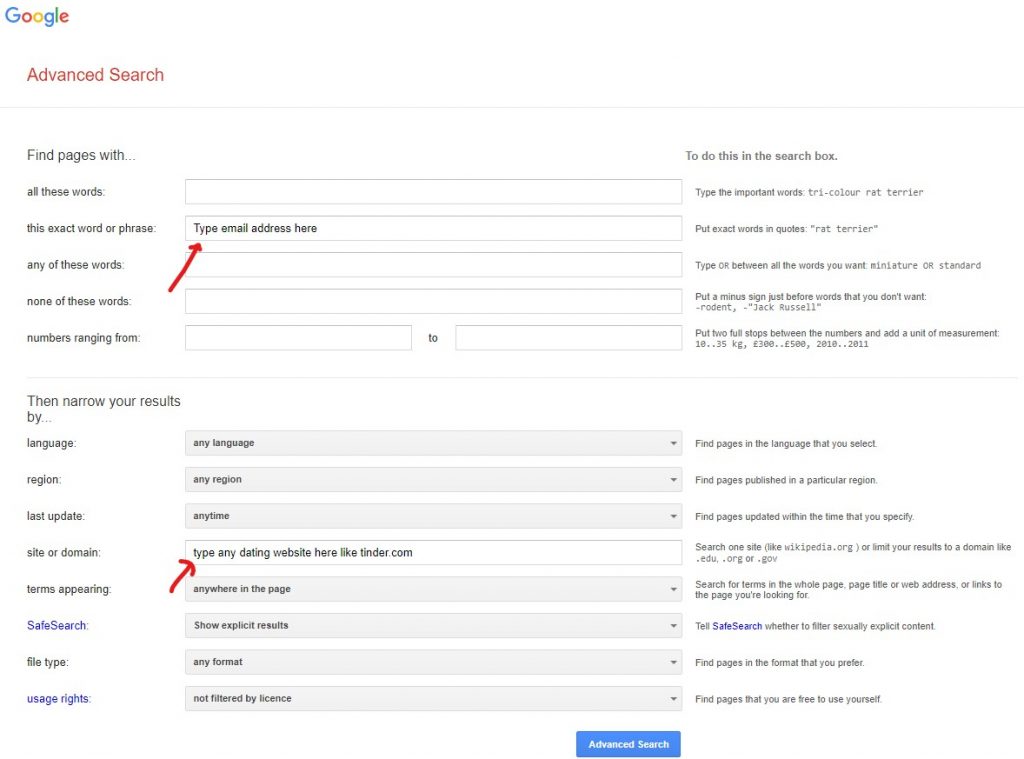 3. Spokeo Search
Tracking person's online identities have never been easy with Spokeo search. You can uncover someone's dating profiles with names, phone numbers or email addresses.
Enter the email address and select search.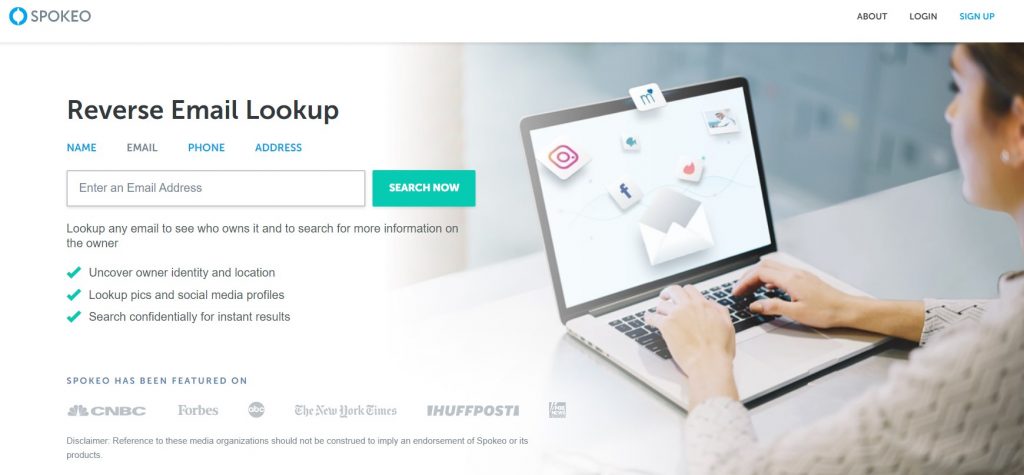 You can use Spoeko to search at all the dating sites and social networks that the user has registered for.
4. Reverse Image Search
Most individuals have a favorite photo that they use for everything they do online. If you do a comprehensive search for their name, you'll see that they frequently utilize the same picture. Copy and paste the image into your browser's reverse image search. There's a strong likelihood that one photo may take you to their other internet profiles.
Social Catfish is an amazing online investigative agency that has a database of more than 120+ social networks and dating sites. You can search using image search tool of Social Catfish.
Go to the Social Catfish image search page.
Upload image of the person and click Search.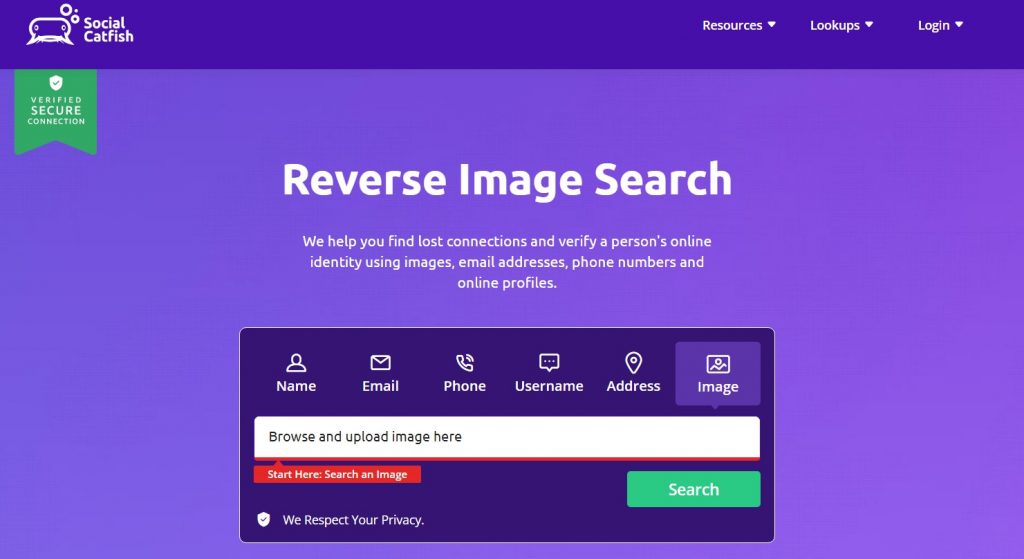 5. Use Reverse Lookup Tools
You may locate dating profiles by email or by phone number, as well as by name with/without last name and nickname, by utilizing these tools, the majority of which are free. Some examples to these tools includes Spokeo, Usersearch, Socialcatfish, and so on.
They function in a similar manner by finding social & dating profiles of a person using name, usernames, phone number or email address. You go to one of these websites, type in a phone number, email address, name, or nickname, and search. Here are 10 free reverse email lookup for dating sites. Now, using these takes time and, in some cases, money, but if you really want to find out if your loved one is on these websites, you can try your chance.
Conclusion
These are the best possible ways on how to find out if someone is registered on a dating site for free. but whether you're concerned that your social anxiety will get in the way or that your partner is cheating, viewing their dating page is unlikely to alleviate any of your concerns. Follow your instincts. If something in a relationship doesn't seem right, it usually isn't.
And if all you want to do is attract your crush's eye, there are less sophisticated methods to achieve it. Still, it's difficult to resist the need to undertake some preliminary study. Make sure your idle investigations don't deviate from a sense of fun. Please do your research with these tools and choose wisely.