It was very easy do a POF search to find someone on plenty of fish when the usersearch feature was available. However this feature was removed for normal users and only members with upgraded membership could use the username search feature for finding people on Plenty of Fish (POF).
Global dating users have crossed more than 323 million this year. Plenty of fish is a dating site with more than 90 million dating users. It was originally launched as a Canadian online dating service but later expanded to United Kingdom, United States and Brazil. Anyone can register a free dating profile and start exploring the POF dating pool. Their online dating pool has been expanded to the Republic of Ireland, Australia and New Zealand in later years.
6 Best Ways to Find Someone on POF Search
There are very effective ways to perform a POF search using specific advanced POF search techniques. Using these amazing tips you can search someone on Plenty of Fish without registering and find all information related to the person. You can find someone on POF using the following effective methods.
1. Username Search
Username search is a powerful POF search tool to find anyone without registering to the dating site. You can find the person's POF profile by entering the username of the person in the tool. This reverse email lookup tool will search more than 100 dating sites including Plenty of Fish to find the person's POF profile. Username search will find other dating profiles associated with the given name if the person doesn't have a POF account.
Go to username search.
Enter username of the person
Select a Dating sites as category
Click search button
Wait for 15 seconds for the tool to search on all dating sites.
Get your result.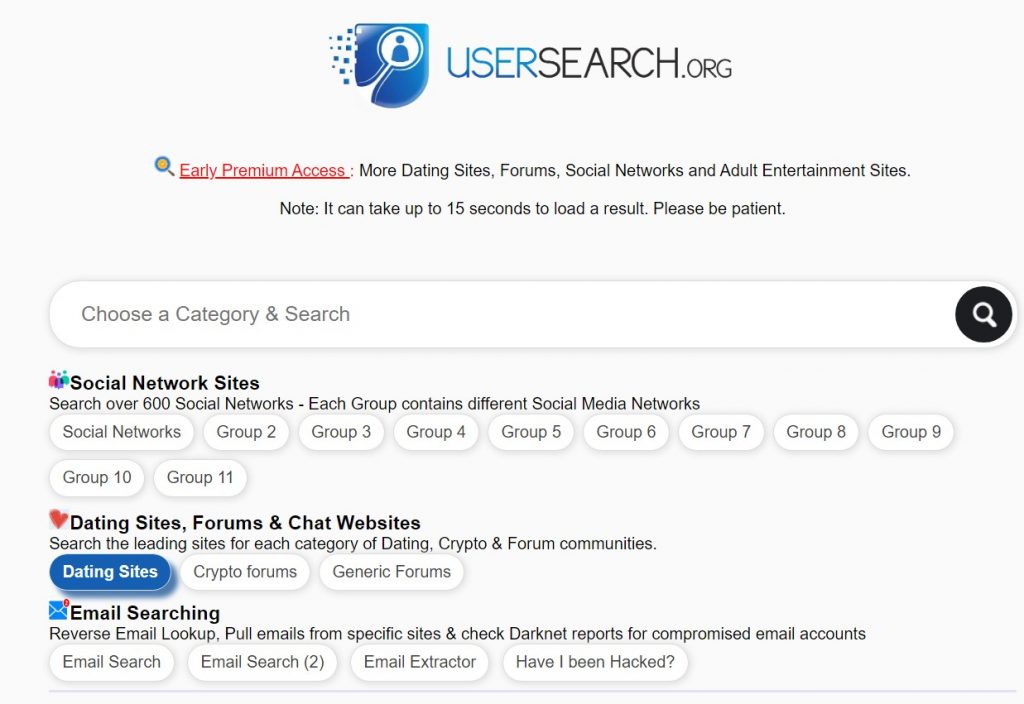 A dedicated reverse username lookup tool like username search is your best bet to find out if someone has a POF profile without needing registration to PoF or an upgraded membership. If you are confused about username search, you can check out what is username search? to get more clarity.
2. Google Images Search
Plenty Of Fish offers the username search option to POF-upgraded users only. So if you have a free POF account, you wont be able to perform a username search. But using the latest Google images search you can search for someone on POF without registering.
Go to Google Images
Enter the name of the person you want to search followed with "profile site:pof.com"
An example search is – victoria profile site:pof.com
Press search and search though the images to find the right person.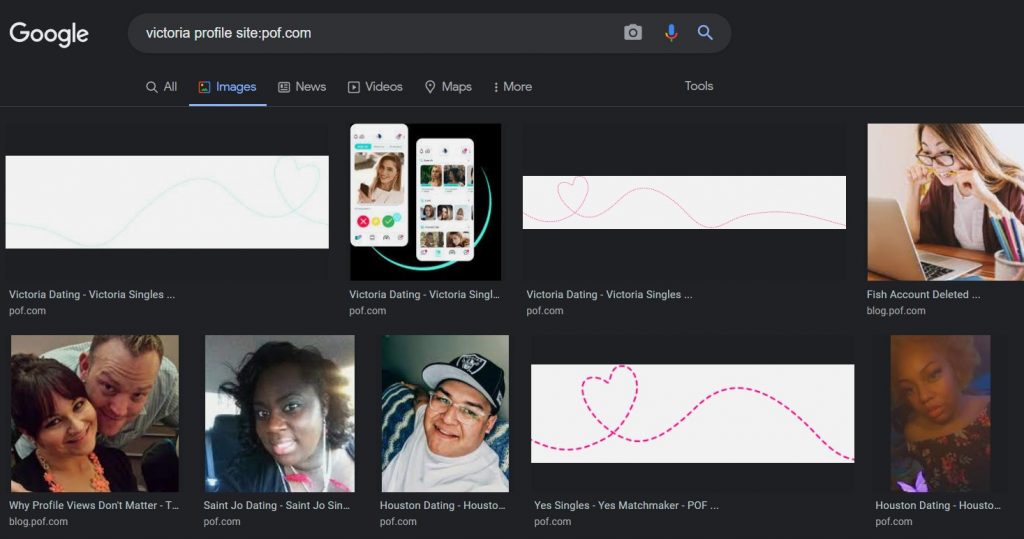 This search in Google will bring all the POF profiles associated with the name you entered. There are chances you will find the one you are looking for right here.
3. Google Username Search
You can find the person's POF profile using Google username search option. Google will find the best results that mention the username.
Go to Google.com
Enter the username in double quotes like "victoria pof profile" without double quotes.
Click on search button
Skim through Google search results and find the correct profile.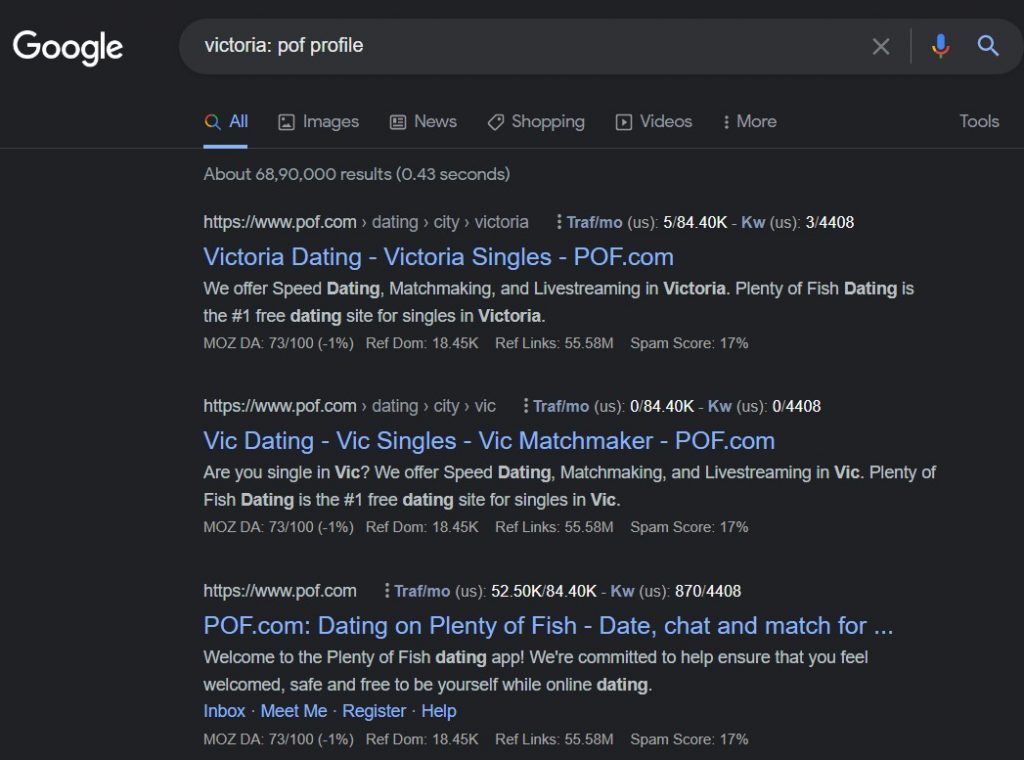 This might not be accurate as Google will show names of cities or related information that mention the specific word as well. However this is a good way to search POF without pof login or pof sign up.
4. Pof Advanced Search
Plenty of Fish Dating site has a comprehensive advanced search option for existing users. You can use POF search feature if you have a POF account.
Here is a guide on how you can search for other POF profiles
Go to POF online dating site.
Sign up POF if you do not have an account
Verify the email address
Sign in to POF account using email address and password
Go to Search on the menu at top.
Click on "Refine Search"
Add any details that can narrow down the search results. You can add name, age, body type, education, ethnicity, physical address, city or even postal code.
Select Search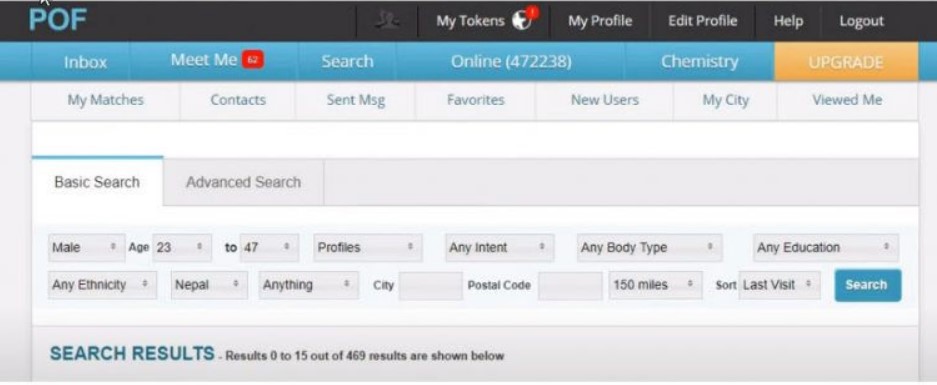 POF location filter is another easier way to narrow down search as it enables you search for pof dating profiles on a specific area. You can also narrow search results by adding height, color, body type and dating intent of the user.
5. Pof Upgraded Search
The other most effective way find someone on POF is by using plenty of fish upgraded search. You will have to pay for the POF upgraded membership. You will get much better results than POF free search option. POF basic search has only limited search features.
You will have to pay $7.50 and $13.00 per month to purchase a premium membership.
Go to POF dating site
Login with your account details
Go to Username search
Put username of the person
Press search
POF search engine is great tool to search users using usernames. You can find friends, acquaintances and partners using this easy method.
6. POF Username Search software
There are may POF Username Search software for desktop computers. These software offers unlimited searches of profiles on Plenty Of Fish dating sites. You can use these pof search software to do username searches on pof.com without registering or upgrading. You do not need to be a member of Plenty Of Fish to do these searches for users in Canada, USA and UK.
There are questions on the efficiency, scams and coverage of these on Plenty Of Fish username Search software. They usually cost a lifetime fee of 7$ to 15$. This is another method you can perform POF search using desktop software.
How to find Someone on POF search
There are many questions that users have in mind when it comes to search for someone on pof. Here are some of the questions about pof search and the best answers.
how to find someone on plenty of fish without joining
You can find someone on plenty of fish without joining using free username lookup tools for dating sites like username search or username search desktop software. You do not need to have a membership on plenty of fish to find details of the users.
how to find a user on plenty of fish
You can find user on plenty of fish using advanced pof search engine. You can buy a upgraded membership on pof to use this tool. You only need to details like ethnicity, age and city to narrow down results.
how to find out if someone is on plenty of fish
There are effective methods to find out if someone is on plenty of fish. You can use free reverse username search online tools to check pof dating site. You can buy username search software to specifically search on pof site.
how to find out if someone has a pof account
The best way to find out if someone has a pof account is by doing a Google search. You can do both Google normal search for usernames or a Google image search to check for profile images. This will show all images of the user associated with the username.
how to find out if someone has a plenty of fish account
There are many amazing ways to find out if someone has a plenty of fish account like doing Google image search, reverse username search on online tools or buying a software for pof search. You can find pof accounts associated with the given usernames using these methods.
how to find someone on pof by name
You can search Google to find someone on pof by name. Name search is easy way to locate pof dating profile accounts. Shipmethis.com has shared amazing ways to find someone by name on pof using reverse username search tools.
You can checkout other posts on find someone on dating sites by email free to get dating profile of others. If you only have phone number of the person, you can use social media search by phone number free to know the social networks of the person.