Link back as the name suggest is a
SEO method
that is used to get abundant back links from other sites. Link back is used commonly to increase SEO rank and
page rank
.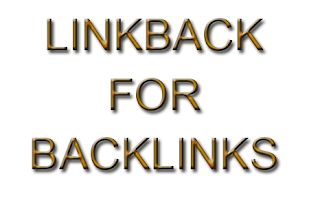 Use link back technique to increase page rank and back links
The process of link back can be explained like this,

Step 1. You write an awesome guest post about a topic with original and unique style and without any plagiarism.

Step 2. You publish it online through a website.

Step 3. In return you get a link from the website to your blog or website.

Step 4. Visitors go to the post, read it and get inspired by the post.

Step 5. They visit your site via the link and read your other posts.

Step 6. You get more unique visitors who are inspired and moved by your post rather than visitors who just reach the site using Google search.
Other advantage of the linkback method is that it acts as tracker where authors can track the movement of documents around internet.
For that you could use diverse approaches like article submission, commenting on posts using a href links, guest posting, directory submission, write reviews about your website and ping backs. I suggest guest posting more which increase traffic slowly but effectively. But you need to select websites similar to your blogging field to proliferate your SEO rank.
Most people use Face Book as link-back source method to increase traffic. Social networks always is a good chance to get escalation in circulation rather than search engine traffic which lists 10 to 20 results from numerous results.
The important aspect which you should know that getting too much back-links a day and links from bad websites and neighborhood can get you penalized by Google. Google has updated their policy penguin to penalize such websites. Beware for such links and try to remove such links.'
Link back technique in hand with on page and off page SEO can boost backlinks faster than you can imagine.
On page optimization: –
1.) Website Analysis 2.) Best Keywords Suggestion 3.) Title & Meta Tag Optimization 4.) Alt Tag Optimization 5.) Heading Tag Placement 6.) Robots.txt Creation/Analysis 7.) Broken Links Check and fix 8.) Google XML Sitemap Creation 9.) Google Analytics Setup 10.) Google Webmaster Tools Setup
Off page optimization: –
1.) Local and Global Search Engine Submission 2.) Social Bookmarking 3.) Deep Links Directory Submissions 4.) Blog commenting 5.) Article Submission 6.) Blog Creation 7.) Classified submission 8.) Image Sharing 9.) Local Business Listing 10.) Press Release Distribution
Other sources:
Link back Technique For More Visitors Using Micro-Blogging