Google had rolled out the Panda 4.0 update and that hit most of the small websites. Nobody got a clue about this update and bloggers were astonished to see the tweet by
+Matt Cutts
in Twitter in 4:41 AM on 21 May 2014. Thousands of websites lost their SERP rank and had a huge decrease in the traffic. This post is trying to give a basic outlook about Panda update and discuss various ways to recover from it.
What is Panda 4.0 update of 2014?
The
Panda 4.0 update of 2014
is a filter was mainly focused more on reducing the number of low quality website to rank in search results. That means this Panda 4.0 algorithm will identify low content, spam, quality websites and blogs and punch back to far far away in the Search results. This is the largest update since Panda was first launched in February 2011. The reports from web masters said that almost 7.5% of all search queries had this impact.
aceshowbiz.com, yourtango.com and spoonful.com lost 75%
Ask.com, starpulse.comisitdownrightnow.com, examiner.com lost 50%.
Retailmenot.com and health.com were affected by this update because they are Q&A websites and the content is generated by visitors. PRWeb, PR Newswire and PRLog lost up to 85% of their search rankings. If you want to know which top websites have been affected by this update, then you can go to the article:
Winners & Losers Data
by Barry Schwartz.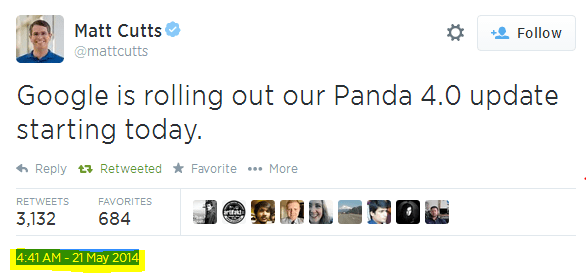 Tweet by Matt Cutts
Some people were getting awesome traffic before this update. Well, what happened to some small tech websites? Well, here is a case study.
Lets take the case of a small Tech blog. It was getting more than 700 impression in 20 May 2014. Suddenly the number of impressions reduced to 190. He was asking me, what happened to his blog. Just look at the date of the sudden drop. It is 21 May 2014 which is the exact date of Panda 4.0 update by Google.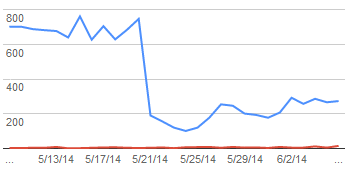 Graph
What really happened here?
The Search Queries related to the website has decreased from 41 in 20 May 2014 to 26 queries in between 21 May 2014. A drop of 50 percentage.

The number of Total indexed pages by Google has decreased from 263 to 244 in the very day.
The number of crawled pages has decreased from 218 in 21 May to 48 in 22 May.

number of crawled pages
The organic traffic also reduced in this update. The Panda 4.0 penalize websites and blogs using four main penalties. They are Link penalties, Content penalties, Layout penalties and Over-optimization penalties. You can search them in Google for more info. This is how Panda 4.0 update 2014 decreased website impressions and crawl rate. Check your webmaster tools page and find out whether you were affected by it. You have to recognize and track these changes in order to sustain in the competition.
Get a back link booster now and this was shared personally by me.
Share this post in Face book IF YOU LIKE THIS.
Sources:
http://www.huffingtonpost.com/jayson-demers/your-guide-to-common-seo-_b_4378752.html
04-06-2014