Are you a small blogger? Have you been wondering why the blog is not making enough money as you expect it to be?
The blog may have many posts that has original and quality content. It may have attractive info graphics and images. It may have whatever necessary to rank in search engines. But still it is not even coming to second page of search engines.
I have experienced it many times. Have you thought that it may be because of lack of SEO like bigger sites.
Let us analyse search results in Google.
I am taking a query = "how to make money from blogging step by step".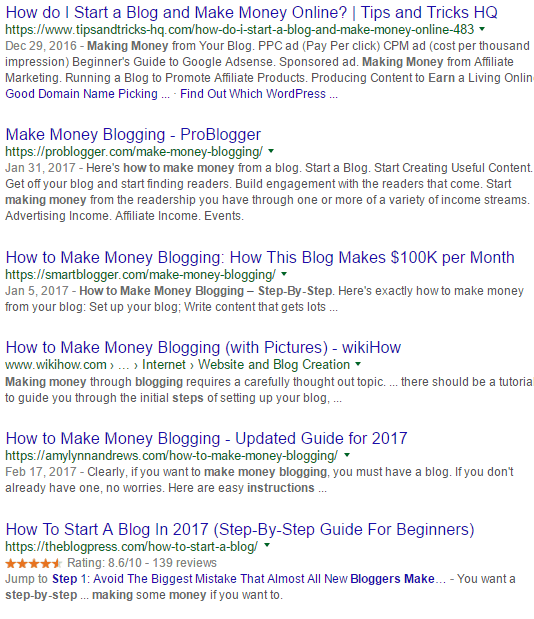 how do bloggers get paid
I am listing out the first 10 ranked websites on this topic.
tipsandtricks-hq.com
problogger.com
smartblogger.com
wikihow.com
amylynnandrews.com
theblogpress.com
shoutmeloud.com
bloggingbasics101.com
theblogstarter.com
neilpatel.com
Whatever query you type related to the above query, you will get at least 4 sites from above list in the 10 list. Now this happens due to search engine optimisation at its best.
Other pro sites which ranks in top 10 lists for similar queries are;
moz.com
allbloggingtips.com
searchengineland.com
kissmetrics.com
They are pros and they offer content for small bloggers which in turn get them paid. Small bloggers copy these strategies and implement them in their blogs but they do not get ranked. Why? Its just because pros will not share all their
secret strategies
.
It would be really hard struggle for new blogger to show the post in first 10 search results as they are occupied by larger pro sites. Lets analyse what do these pro sites have in common that made them ranked in top.
1. Long Posts which has more than 2000 words
Most of the posts in these pro sites have posts that are very lengthy and stuffed with information. However the so called "SEO guides" say to shorter posts so it will be easier for the users to read. This is completely wrong.
Long posts has very less competition
and they rank better than any other shorter posts.
2. Inspire awe, amusement and feeling of I can do It Also
Many posts that are ranked higher inspire emotions in people. Moz articles often shares the income from ad sense and makes small bloggers think that they too can achieve such high income. shoutmeloud also inspire readers by oversimplifying SEO strategies and steps to climb search results ladder. Neil Patel writes stories and put as much data as possible to convince readers that they can become like Neil Patel and earn 6 figure ad sense income.
3. Invoke Trust in readers
Article that are ranked higher invoke trust in readers. Trust makes readers to enjoy it and share it. Major strategies used to create trust are use of info graphics, loads of data, statistical graphs and charts, stories of others who got loads of money from blogging, testimonials from other bloggers who correctly done all the strategies offered by pro sites and "ranked" higher in search engines etc.
How Do Small Bloggers Get Paid More?
Coming to the topic, considering all these factors it is hard for small bloggers to rank up in search engines if they follow the same pattern as larger pro sites. Thinking outside the box is the best strategy.
A. Start from Scratch
By Scratch, I mean literally nothing. Do not think about SEO, long tail keywords and stuff. Just start writing whatever you want to write. Publish it and wait for some days. Observe traffic and ranking positions in Analytics and then
go with SEO
. Changing post titles, adding more content, adding keywords etc.
B. Do not Mesmerised by Pro Sites
Competition is very high in blogging and getting paid business. So getting a very high income suddenly is just a concept in pro site article. Be real and consistent in writing posts.
C. Write Diverse Posts and Choose a Niche Then
Writing about diverse topics may get small bloggers somewhere. Some of those posts will rank higher in search engines and choose those topics to create a niche. Pro sites tells you to find a niche first and then write. Most of the time, niche that are selected first will not even show up in the first 10 pages of Google.
There are some interesting posts coming up. Subscribe to shipmethis.com and don't miss them.