I am going to share Do-It-Yourself method of opening an account with Zerosha online and do a Zerodha Demat Account Review. I will show you how to open a zerodha account online, how to login to Zerodha account, what are the required zerodha account opening documents including ZERODHA account opening form pdf and zerodha account opening charges.
It is not free and there is a bunch of stuff you need to do to open an account with Zerodha online and start online stock trading, option trading, commodity brokerage, futures trading, brokerage, equity and mutual fund investing services at lowest prices.
Step by Step Guide to Open an Account with Zerodha Online and Zerodha Demat Account Review
Go to Zerodha Website.
First – Register the account with the required details; Email & Set Password.
Enter Your PAN and Date of Birth – If you have done eKYC or KYC before, it will fetch your details and show whether you are KYC complied or not.
Pay the Account Opening Fee – Zerodha account opening charges is a one time fee of 500 rs as account opening fee. This account opening charge can be paid online only using net banking wallet or credit card.
Enter your Aadhaar for esigning
Enter OTP number
Fill in few basic details like background details , bank details etc.
IPV ( In person verification) – Write the unique 4 digit pin displayed to you on a piece on paper and hold it while clicking the IPV images. Make sure the pin is visible to the camera. I did not do this step and directly went to the next step.
Two options- Aadhaar and Print and courier.
Choose Aadhaar
Upload the required documents [Income proof only if you want to trade in NFO and CDS segments]
Bank proof ( Personalized canceled Cheque/1month Bank statement / Passbook front page xerox) – If you have internet banking, you can easily generate 6 months account statement online and download via pdf. Upload this as Bank Proof. It shows MICR code.
Income proof (Pay Slip/ITR/6 months bank statement)If F&O segment required. – You can upload the 6 months account statement pdf that is used as Bank proof for this.
Signature proof – Sign on a white sheet , click a picture and upload
Pan copy – upload pan copy with self attest ( If not KYC compliance) – I did not do this step and directly went to next step.
You need to click on "esign Equity" or "esign Commodity" as per requirement. [You have to authorise Digio, to e sign]
Proceed with Email Verification Code
E sign is complete
Now download Demat POA, Commodity ECN forms and print them. As per the SEBI rules, Demat POA & ECN can't be digitally signed. So you have to print and courier this form.
If your kyc is verified as ekyc-otp-e or n which means that your kyc is in-complete. Zerodha shall process your account but still you will not be able to invest in MF if your kyc status in N and if your kyc is verifed as E-KYC you cannot invest more than Rs 50,000. So to complete your kyc process you have to send the kyc page duly signed by affixing the photograph along with self-attested pan and address proof. Zerodha shall complete your kyc after receipt of the hard-copy. If you are not KYC compliant, you will receive a mail from Zerodha to submit a copy of KYC form also, download that and print it. You have to courier all these to Zerodha office in Bangalore.
Call anyone at Zerodha and ask how to fill the form and where to sign and try not to make any mistakes. Otherwise you have to resend it again.
Summary of Documents You need are;
1. KYC form with self-attested pan and address proof. – if only eKYC verified and received mail from Zerodha team.
2. Power Of Attorney (Voluntary)
3. Electronic Contract Note (ECN) declaration (Voluntary)
4. Nomination Details – Annexure 1A
Mention your Registered mobile number and mail ID on the top of courier sheet.
Send the Courier to Zerodha address.
Zerodha, #153/154, 4th Cross Dollars Colony, Opp. Clarence Public School, J.P Nagar, 4th Phase, Bangalore – 560078.
I would suggest you to scan all the documents after you filled and signed and keep a copy for any future purpose.
Zerodha Online Account Activation
Your Zerodha account will be functional in next 24 hours. After 1 business day, You will mail from Zerodha on Account opening and user added with User Name / User ID and Login Password.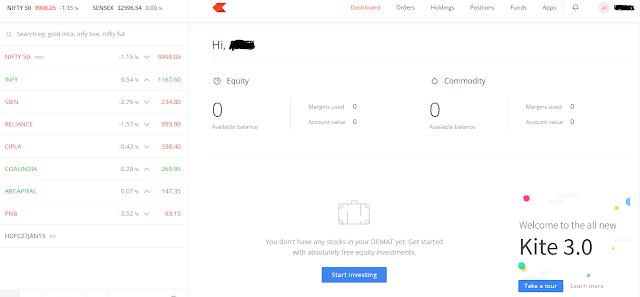 Happy Trading!!!.