There are a lot of tutorials out there about how to create a new blog in the blog-spot blog and how to customize it. So i thought what if i share some tips about making a new blog. Creating a new blog is easy but to sustain it is very hard. To get money from that is more hard and need a lot of patience.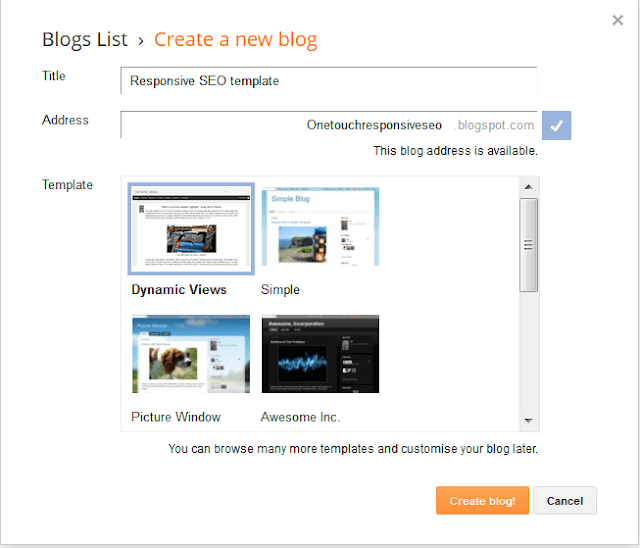 Tips to create a new blog in the blog-spot blog
The content
First of all, an idea of the content or matter is important. We have to decide the title, address and the template according to the matter. Do not select off topic titles.
The title
It is very important to select a title for the blog. So keep it simple and attractive. There are millions of blogs in the internet. So simple words like
seoforall.blogspot.com
will not be available. After checking address availability, the blogger will give you an error message. For optimizing titles, go to my post about On page optimization and do according to the need.
Keywords are not so important in Google's algorithm now. But if it better to specify them as titles for more traffic from search engines.We can also use Google's ad-word tool to select suitable keywords to use it as titles.
To optimize titles for each page add the following code below <head> tag.
<b:if cond='data:blog.pageType == &quot;index&quot;'>

<title><data:blog.pageTitle/></title>

<title><data:blog.pageName/> – <data:blog.title/></title>
The address
The address is also important. Use keywords similar to the title for address. Keep it simple and easy to remember. Call some friends and tell your blog's address. After some days ask them about the address. If most of them can reproduce the address, then go for it. You can buy domains and redirect your blog to that domain.
The template
Selection of the template is not easy. There are lots of template available for bloggers. You can either choose paid or free. But the template must be related t your content. If the idea is about SEO, the template should be a responsive one with lot of links and tutorials. But if it is related to cookery, then the template should be changed according to it.
Steps
Sign into g mail > Go to blogger.com > Sign in there > Select create a new blog > Give a suitable title > Give an address of the blog-spot > Select a template (better to select a simple one) > Click create a blog.
There you have a blog. To edit it go to template tab and customize it. If you need to more attraction search for free blogger templates in Google or buy one professional SEO templates and copy and paste the code in the template tab.
Save the template and enjoy.