Amazon Market place is one of the most app selling place that allows you to sell your app to hundreds of millions of Amazon customers. Selling an app online in Amazon is very simple. Here is a step by step guide to sell your app and make money in Amazon Market place.
To begin with, you need to have a working app and apk with you. Go to developer page of Amazon. and register yourself as an app developer. Select a country.
Register As An App Developer in Amazon – Step By Step Guide
Process to Add profile information and accepting App distribution agreement.
Continue by selecting Accept and Continue.
To make money either you have to charge for apps or game or sell-in app items or in-app game items. You can also make money by showing ads from Amazon Mobile Networks or Ad mob of Google. Choose options in Payment.
After choosing Payment method, you need to add Service Tax Information. The service tax identity interview need to be completed before you can publish your app in Amazon. To do that, select Enter the service Tax Identity Interview.
Service Tax Identity Interview in Amazon App Store
Service Tax Identity Interview has to done by all app developers. After choosing, select Save and Continue.
If you are a non-us person, certain details will be collected to complete the IRS tax form. You can see the application progress as 16% on the side.
You need to add TIN number to complete the Service Tax information interview for non-us citizens. The Tax Identification number for India would be Permanent Account Number PAN. You need to generate a Certificate of Foreign Status of Beneficial Owner for United States Tax Withholding and Reporting.
Once the Certificate of Foreign Status of Beneficial Owner for United States Tax Withholding and Reporting is generated, you can provide consent to the delivery of form 1042-S via paper or electronic mail.
Once your IRS form W-8 is generated, you can proceed with publishing App in Amazon App Store.
Guide to Publish Your App in Amazon App Store
Choose Browse and select the App APK. Wait for the apk to get uploaded to Amazon. Once apk is uploaded, you can give it to App Testing Service to test whether the apk is eligible for submitting in Amazon app store.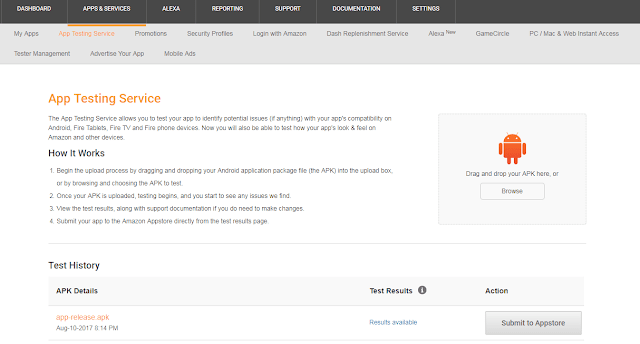 If the apk is eligible, you can select "Submit to Appstore". Then you have to finish few steps to publish your app in amazon store.
New App Submission inAmazon App Store
Under current version, choose necessary general information.
Choose Availability and Pricing.
Add App Details – Title, Short Description, long description and product features.
Add Images and Multimedia as per the sizes mention in Amazon App store. Choose a content rating. and Choose to Apply for Amazon DRM. Select "Submit App".
Select any rating of App submission process as you wish and select submit.
Now You Have SuccessfullySubmitted Your Android App To Amazon App Store.
Go to Your developer home page and check for notification on the app submission.
Under Notification center, you can the see notification for the Submission of App in Play store.
Wait for 2 days and you will get an email from Amazon Appstore team that the app is successfully submitted toAmazon App Store.