I have been getting so many requests regarding guest blogging. People were asking me to publish their posts in my blog and give them two dofollow links. I was not ready to accept guest blogs till now due to the fear of scraping content. Matt Cutts, in Januray 20, 2014 wrote a post about "
The decay and fall of guest blogging for SEO
" . I was reading this and then i conducted some research in internet about guest blogging and its impact. Strikingly the importance of guest blogging and the ranking went down.
As you an see from the figure the importance of guest blogging has decreased exponentially. Google tried to throw the water and keep the baby.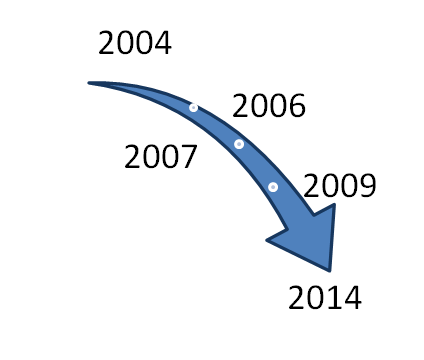 Downward trend
Google says that guest blogging became a Spam practice, where people give money to publish their posts on some blog. One guy got $150 for a 600 word article to publish it on shoutmeloud.com. This kind of practice is considered to be spam and its against the quality guidelines of Google.
The other problem was people were inserting hidden links to these guest post and the website become negatively affected. This made Google rethink the guest blogging practice. Google also sees the real trend of guest blogging is when somebody write a original post in order to share with other bloggers and make real connections with them. But this trend was replaced with malpractices like money for linking, getting compensations, keyword stuffing, 301 redirects, insertion of hidden links etc. Authors also tried to outsource their posts to somebody else.
From 2014, Google has decided to get more strict in guest posts. Google warned publishers to stop accepting guest posts regularly. It is better you accept a guest post, if you are sure about the post and the author. If publisher allow so many guest posts in their website, it is called article spinning. All of this articles have two or more links which may be called as link bulking. This will affect your website's reputation as these links may have bad neighborhoods.
You can see how www.problogger.net changed its guest posting policy. Darren Rowse from 2014 do not accept guest posts.
How can we accept good guest blogs?
Guest blogs can be accepted from experts on topics. If your blog is about Search engine optimization, you could add guest post from +Matt Cutts or +Amit Agarwal if they give you them. Unless these posts can be neglected and avoided.
If you could really say that this post is good and it can encourage my visitors.
If you know the blogger personally and the author has good stand in Google.
If the article has a good spectrum of quality from rich keyword content, original and good quality content, expert opinions etc.
The time span of publishing guest posts are important. The guest posts must be occasionally published and not regularly.
Good quality guest posts stand out and they can be recognized very easily. The time to spent write each post is also a major factor and the research one put to gain knowledge about the post.
It is better to be cautious when somebody send you mail regarding publishing their guest post. Keep these points in your mind..
If you like this post, SUBSCRIBE us…
Akhil S Kumar 17-06-2014