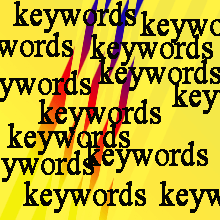 Popular keyword combinations for meta tags
In the latest discussion in forums, posts and other groups, webmasters often say that Keywords are not so important in Google's algorithm now. However as far as my concern Keywords are really important. I have found that it really influence the traffic rate to the website. Through keywords, search engine bots identify the info about a site and search it from the numerous sites.
It is really easy and better to specify them in meta tags for more number of visitors from search engines. Here I am saying some important aspects of keywords which you must be known if you are interested in SEO of your site or blog.
What you think of this- Stuffing keywords?
Usually i find a trend of stuffing too much of keywords in meta tags like the following. These are not related to each other and traffic rate will not go up as expected. This trend is called black hat"s" technique. Keywords must be properly selected which are related to the content of the blog.
<meta content='Technology, Blogging, SEO, How to Guide, Social Media, Computer Tips And Tricks, SEO Tools, Widgets, Blogging, Social Media Windows, Software Tips, Gadgets World,Earn Money And More' name='keywords'/>
Adding keywords to your domain
You can choose a keyword like "seotechniques" and make up a domain name such as "seotechniques.org" or "seotechniques.com". Many bloggers and seo experts consider selection of such domains that have keywords which gives a strong advantage over the competitors.
This technique is good for search engine optimization but have you heard of long-tail keywords? Long tail keywords are a combination of good keywords that are used to increase traffic. Let's see a long tail keyword- "seo techniques to increase traffic". So if somebody is searching,"seo techniques to increase traffic",Google bots finds this keyword and fetch the website.
Experimentation is the ultimate method
To find out which keyword is more suitable to your blog, just add them to meta tags. The traffic rate will go high and low according to the keyword. As soon as each keywords are added Google won't crawl it. The crawling will take 1 day to 3 days. So add one and wait till the blog rank goes up with the keyword. Change them if it go low.
You can check the search engine rank of your blog using Search engine rank checker or SERP checker.
USE ME – The online keyword suggestion tool