SellMyApp is an online market place to buy and sell apps. SellMyApp Features Best-Selling Apps Templates, apps source code, best selling game templates and reskin and launch service of apps and games. SellMyApp connects buyers and sellers through the app market platform. Here is a review of SellMyApp with all pros and cons of the app market place.
Pros of SellMyApp
SellMyApp is very sophisticated app sell buy platform with very strict policy guidelines. The team expect users to follow each and every guideline or the accounts will be suspended forever.
Free Registration
User do not have not pay any fees in registering in SellMyApp. You can check comment section to see the comments of other buyers and decide whether you want to buy the app. The development hours is listed in app listings and average review by buyers.
Good for App Developers
They can sell the source code of the app in high price. Mostly the buyers are ready to buy an app even if apps are costly but is bug free and has all the features as listed. App Developers can earn up to 90% of commissions from selling mobile source code.
Numerous App Platforms
SellMyApp features hundreds of apps based on platforms like;
Android
Apple TV
iOS
iWatch
Unity
2 Difference Licenses
Single App License
integrate the product in one app.
you can distribute the product only as binary (distributing the source code is forbidden).
you can make a commercial use of the product.
you can further develop or edit the code
Multiple App License
You can integrate the product in an unlimited number of projects
You can redistribute or sub license it in a project.
You can further develop and edit the code
Reskin and Launch Service
Top quality HD graphics production for all of your app assets.
High quality screenshots & icons for your app.
Advertising integration into your app.
100% bug free code and warranty for 3 months.
SellMyApp will submit the app to the App store/Google Play.
A professional dedicated project manager.
Money back Guarantee
SellMyApp offers 14 days money back guarantee policy.
Terms to request a refund:
You must request the refund no longer than 14 days of the original purchase date.
You must request the refund by addressing to our support only at sales[at]sellmyapp[dot]com.
The product doesn't work as advertised on the listing page.
You must detail the issues experienced using the comments tab on the product page.
The author or our team didn't reply to your message in the inbox within your dashboard within 48 hours.
Author Usually respond to Comments
There are so many app market places in Internet where authors will not respond to customers. They keep ignoring the mails and the market place team won't do anything. Here SellMyApp team makes effort to contact the author from their behalf.
Cons of SellMyApp
There are many issues with SellMyApp website. If you want to buy from this apps market place, you should know about them also.
Lack of Details in App Listing
Some Apps listings do not have a demo option to check the demo of the app. Some apps listing do not provide video of app and will have very few screenshots.
Long Time in Setting Backends
The policy says Backends may take 24 hours to process through the system. However many users complain thatBackends is taking more than 2 days to process through the system.
High Price of Additional Upgrades
Reskin & Launch service: is sometimes more than $799. The service includes;
Premium custom art
Screenshots and icons included
Build and testing
Advertising integration
AppStore submission
Account Get Suspended Without Warning
I was commenting on an app which I wanted to buy. So I asked the author whether he can integrate his app with mine which is already on play store. I added a link to play store so he can check it. Suddenly I got a suspended message. There were no warnings and no messages saying that my account will suspended if I add a link. However I could see comments of others with links. Magical.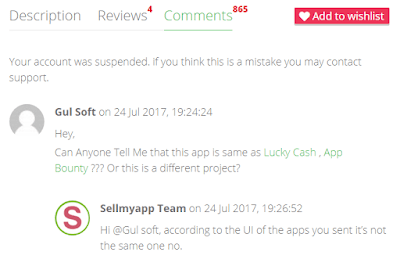 Heated Conversation With Customer Care
When My account got suspended, I send a mail to SellMyApp team and I got a very rude mail from them. Here is the threads of full heated conversation with me and sellmyapps team.
Me: hi,My account just got suspended. Can you make it active.Thanks,
SellMyApp:Hi Your account was suspended because you were trying to implement links into the comments section and also send your direct contact details. This is against our site's rules and you cannot do that. If you are missing a demo link for an app you want to purchase you can just ask for it in the comments section and the author will reply to you there. Please confirm that you understand that and I will release your account. Please note that violating our terms second time will result in permanent suspension of your account. Let me know
Me:No thanks. I do not need it. You can keep the website for yourself. Thanks,
Me: [Attached the links picture]What is this then?. These are not links?
SellMyApps Team:Hi, If you want to use our marketplace there is way to use it. The links you posted look like SEO links. what you posted is people honestly just asking about a reference to the apps they want to buy. Posting SEO links will not be accepted. Secondly to use our marketplace you need to communicate only on the threads. Both buyers and sellers are protected via buyer and seller protection and the marketplace is not for taking conversations and deals off the site. For that you can try other websites that maybe don't care about turning into a forum. In our case the threads serve as the main form of communication to get details about your purchase. They are not to be used as sources to post SEO links and not used to send email / Skype / whatsapp or any other form of direct contact details. Let me know if you have any other questions.
Me:Hi, Your reply feels like I have done some crime on posting link. Now I want to tell you something clearly.
About Links
I added 2 links in the comment. 1. Ship Me This: For giving the author the context that I am a blogger. 2. My app is playstore: Asked the author to go playstore and see my app. I wanted to integrate his app with mine.
About suspended Account
Before I posted the links, I did not get any warnings or messages from your site saying my account will be suspended. So How a new user will know about this. Do we need to read every policy written in your sites privacy policy before adding a comment.
About policy
You say your site's policy is important. Check this link , the user comments that backend and the listing said within 24 hours but he did not receive it for 4 days.
About being boss
Internet is seriously for everyone. Just because you have a site that sell apps added my someone else hoping to get a selling, does not mean you can be the big boss and ask customers to get out. About Me I use codecanyon for buying all my apps. I bought more than 8 apps from them. It was my first and last time that i signed up for sellmyapps. And thanks to you i understand that sellmyapps is for you guys and not for buyers like me. Thanks,
SellMyApps:Hi, Thank you for your feedback. The main issue with your post was the email address and not the links. There is a big red warning not to post contact details on the thread. I am sure you saw that and this is why you didn't just write your email address but you used a method that you thought will go un-noticed "[at]gmail.com" When people follow the site's rules they use it freely. Also I gave you a choice to release your account as long as you understand the rules but you are not interested in keeping them and that's completely your choice. There is nothing about being a boss. Many people try to exploit the site or abuse it. A part of keeping the community running properly is to make sure everyone is following the site's guidelines. Thank you for your feedback And you still have free choice to use the marketplace as the way it is intended for use and I will release your account. And in case you are not interested it is completely ok and I wish you good luck on any other platform you want to purchase apps on. Thanks,
Me:Hi, Now you are making sense. About contact In your previous message, you mentioned SEO links and not contact details. Anyways, I did not see the warning and still i cannot find the warning in your site maybe because my account is suspended.
[at]gmail.com
Why i used this is because I did not want to use plain email ids in a site as it will picked by bots and i will receive spam emails. I am aware of this because i am a blogger and not because I think that it will go un-noticed. That is very ridiculous to arrive at such a conclusion.
About Keeping community safe
I understand your concern and i also keep my standards high. There are people who abuse such platforms but just because of that you need not mistrust everyone and use such language. Everyone makes mistakes and that is normal.
About choice
Yes, everyone has a choice and that is the beauty of internet. I would suggest you add warning messages before suspending accounts. You can correct others if you are right always. Thanks,
SellMyApp:Hi, Yes as a blogger you understand that as well I am sure. There is a huge red warning that says not to post direct contact details on the thread. Most cases actually people just say "Sorry I didn't know, will not do that and I will use the thread for my questions". Then I just release their accounts and they use the site like everyone else. Sorry if you got offended because there was not intention to offend you. Thanks,
Me:Hi, I accept your apology. Wish you best of luck. Thanks,
Being Big Boss in the internet market only do harm and ruin the reputation of the brand. I guess they will realize and change the approach towards buyers and sellers.
SellMyApp is for people who are into app development and are familiar with app business. For people who are into app buying and selling I would suggest to go for Code Canyon where apps are much cheaper.