2 Redmi 4 focuses on the significant aspects of a smartphone experience. Redmi 4 has a powerful batter with 4100mAh which can run up to 18 days on standby mode and up to 2 days of usage. Usually a mobile phone will have less than 3000 mAh battery. Here Redmi 4 showcases a powerhouse. The large battery is encased in small metal frame that is made of anodised aluminium with 12.7 cm HD display with 5.0 inches IPS LCD capacitive touchscreen with 16M colour support and 720 * 1280 pixels with 293 ppi pixel density.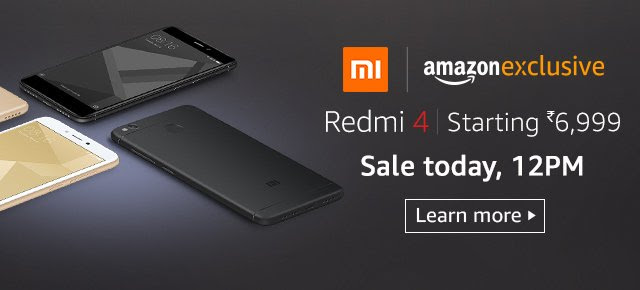 Not just battery, Redmi 4 features a sustained performance with the latest Snapdragon 435 octa-core processor. On the back of the Redmi 4, the company has done 2 bright strips to provide an additional sparkle to the entire mobile phone. The bright strips are done after going through a diamond cutting process.
The Redmi 4 comes with a 2.5D curved glass, fingerprint sensor, 13 MP rear camera, lock screen wall paper carousal, natove dual app feature, universal infrared remote [Control your TV, set-top box, AC, DVD player, fan etc.
The mobile has 1 year manufacturing warranty and 6 months for in box accessories. The sale open today at 12 PM at Amazon Exclusive. Hurry.
Redmi 4 Black 16 GB
Redmi 4 White 16 GB