This is last part of step 1 of Project POUQ. If you haven't read
what is Project POUQ
, I urge you read it before reading this post to understand the context. This post has been featured in 80proofdigital.com as one of the 64 OF THE BEST CHANNEL MARKETING CASE STUDIES.
I would like to start off with some basic questions for you.
1. Are you ready to spend more than 5 hours for customisation of your blog?
2. Are you able to spend more time which you can't even imagine for researching and writing quality blog posts?
3. Are you open to suggestions?
4. Are you able to wait for may be more than 6 months to know the result of what you have done now?
5. Do you have the patience needed to read this entire blog post?
If you said yes, to all the questions, then we can proceed. If you said no, try my other posts for exploring the world of blogging.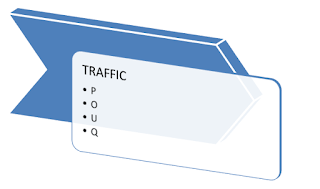 Project POUQ
P4Pattern
Number of Words
I observed the popular blog article of 'Do You Make Any of These 10 Simple SEO Mistakes?' by Christy where she focused more on the common SEO mistakes that we tend to do. This article has 1737 words and the content of the article is similar to other blogging help websites.
Now look at '15 Types of Content That Will Drive You More Traffic' by +Neil Patel. It has 3040 words and it focuses on different type of content you can go for.
Arrangement of Sentences in the post
If you look at famous blogs, you can see how well the statements are arranged in sequence. 3 or 4 sentences are grouped as a paragraph and the whole paragraph talks about only one idea.
Headings and subheadings h1, h2, h3, h4
Headings and subheadings are very important in blog posting. h1, h2, h3, h4 should be added according to the blog post.
Meta title, description and keywords
Adding Meta title, description and keywords is helpful in attracting organic traffic. However keyword traffic has been misused by lots of bloggers for keyword stuffing. That is why Google has decided not to give importance to keyword tag. So even if you do not add the keywords, the search engine ranking of your website will not change.
Micro data
Adding micro data in blog posts does matter. Your blog must be as inclusive as possible when it comes to the schema. You should be careful in adding micro data because there is a higher chance for Google bots to ignore your website, if the micro data is wrong. schema.org/Blog and schema.org/BlogPosting will be helpful for you to add microdata codes to your BlogSpot template.
Long tail keywords
Sticking to long tail keywords will be helpful for newer sites. Hittail is a great tool to identify organic keywords and increase organic traffic effectively to your blog. You can also use Google Keyword tool which you can access by signing into Google ad word. http://mashable.com/2013/09/09/increase-search-traffic/
Ethical link building
Back linking is very important in the blogging world. I have posted numerous blog posts on increasing traffic using link building.
O4Originality
Originality is really important when it comes to blogging. There are multitudes of bloggers out there trying to create a living out of blogging. There are full time bloggers, groups of bloggers like hub pages, part time bloggers and so on. You are competing against these unknown forces. That's too classy ha. Anyways the only way to let your blog go viral is to create original content. You should ensure the content which you sharing come from your mind and you can explain further about it.
You can ask questions like following to decide on a topic.
How well I know about this topic?
Do I have sufficient experience in the field?
Am I able to provide multiple perspectives of the topic?
Do I know specific details regarding the topic?
Eg: When it comes to search engine optimization tutorials, usually bloggers go for searchengineland, moz.com etc. Why is that? It's because they provide original content which cannot be find anywhere else.
U4Uniqueness
Imagine your blog is getting only two hundred visitors a month. What are the things you will do to increase visitors your blog and reduce bounce rate?
One thing you can do is create content with uniqueness. Uniqueness comes with imagination. Be creative as possible. Use info graphics, images, catchy titles, add videos, use polls, add quotes etc will let your blog post stands out from the crowd and increase traffic in high margins.
Uniqueness also comes with how you express your content. You can just write like I have written in this long post. Only interested readers with a passion to know more will read this. Hence it will have lesser bounce rate but less number of visitors. Uniqueness will let your blog have a higher hand in the SEO world. You can bring uniqueness starting from the template like Mashables, or Labnol to the Author bio. It's all up to you and your creativity.
Uniqueness will also help to catch reader's attention and make them stay longer in your blog. But try to avoid too many hefty gadgets and ultra-bright colors. I will go for creating uniqueness with caution.
What is meant by 'Uniqueness in Content'?.
Today you can get any kind of information on internet. It can be recipe of a delicious food in the nearby hotel or details of exploration in Mars and Moon. So how can somebody add any 'Unique content' that is not shared or posted by anybody.
I have seen new bloggers posting on different blogger groups about how to find Unique content. Most of the new bloggers start their blogging career either by posting some tech content like mobile phone reviews, new electronic products etc or posts related to how to make online money, earn income by sitting at home etc. This trend continues on until they try to apply for ad sense account and get rejected. For your information, Ad sense is rarely accepting any websites that are related to tech, jobs, earn money topics.
The main reason of non-acceptance of these types of websites is the lack of Uniqueness. Thousands of bloggers out there are writing the same thing over and over again. They are not even realizing that their content is not Unique in Google.
Now lets take an example:
A blogger is writing a keyword optimized post about "How To Increase Website Traffic to Over 100,000 Visitors by Organic Traffic" with 1000 words that share some common tips for increasing organic traffic. The post is entirely written by that blogger and no content is copied from anywhere. Now the post is listed in Google.
Imagine a user searching for a keyword like "get organic traffic" in Google. believe it or not, user will get about 6,59,00,000 results. It is difficult to even count that number.
There will be thousands of posts listed in Google that shares the same content as the post "How To Increase Website Traffic to Over 100,000 Visitors by Organic Traffic". Hence it is considered as Unique by Google bots.
Q4Quality
According to the new study by inbound writer over eighty percent of the content in a website attract little or no organic traffic. The major reasons of this less organic traffic are broad keywords in content, too broad or too specific, very long or very short, writing content that is no interest to the reader, absence of creative element, lack of images, videos or other key elements to make the content interesting, poor grammar and language etc. A post by contentmarketinginstitute.com also states some of the above facts in a more detailed fashion.
Learn patience
Adding "n" number of blog posts is good as far as blog is getting organic traffic. However you will have to keep up the good work for months or may be years. This is the only way to generate earnings to a large number which you can proudly to say to your friends.
Consistency
Most blog posts in your blog should be related to the broad theme of your blog. This is called consistency. Good consistency level will provide you with higher author rank.
11 Types of common content types that you can use to attract visitors to blog.
Case study

Videos

Product reviews

Book and Article reviews

Interviews

Research data

How to

Tech and IT

Info graphics

Meme

Guides
I have explained the contents of Project POUQ. Hope you will follow the next four posts.