So you too got this email from ad sense team. They have a efficient system which remembers each and every detail of publishers. I will quote an example of the matching approved account email for you.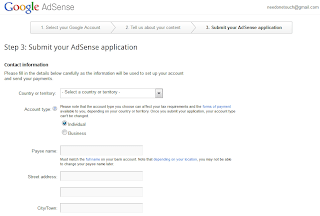 Ad sense APPLICATION


"While reviewing the application, we found that your account information matches a currently approved Ad Sense account associated with so and so"– This means that ad sense system has found matching information that you entered in the ad sense application form. This can be anything from name, address, pin code etc.


Ad sense application approval system selects five main options from the application of each publishers. They are name of the publisher which should be just like the name on your bank account, address, email ID, mobile number and pin code.

For more information check out my new post- "How to apply for ad sense and create a new account". So they store these information and cross check it with the all the current approved applications, pending approval applications and banned publishers info. So you must be check all the details you provided in the application form and verify it.

"The policies do not permit multiple accounts"– This is important. Ad sense does not allow multiple accounts in the same name and address. So you must be sure that you didn't apply for ad sense before. According to ad sense policies if you applied before and got a disapproved email, you can only resubmit the application. You cannot apply again by providing the same info. That means you can change the details in order to apply again.
"We're unable to accept your new application at this time"
– You cannot send the application again and
again
at the same address, name and mobile with pic code. What you have to do then?
You have to change the pin code, mobile number and address. You do not have to change the name. Submit again and wait for the reply.
……………………………………………………………………………………………………………………………
You got approval but what if you cannot enter into your ad sense account with your preferred email address.
To add a log in to your approved account, follow these steps:
Sign in to the Ad Sense account > Home > Account settings > Access and authorization > Users with sign-in access > enter email ID > 'Invite".- After doing this you will get an email invitation and just follow instructions. By this way you can add your new email id to your existing approved ad sense account and log in with it.
To apply again you should change your name – Change your name of the old application or you can get a new bank account today. Spend some to get some.
Then change the email Id, phone number and pin code of the new application or the old application.
I hope it worked.
Subscribe our feeds for more ad sense related posts…
Akhil S Kumar 02-05-2014