Have you been thinking to buy a new charging cable for Apply I phone or I pad. You can get one Lightning Charging USB cable for Apple products in Rs 899 in Amazon now.

AmazonBasics
Problems with iPhone Original Cable
Users know that Iphone original cables do break often. Either their charging port stops working or the connecting wire will break. My charging cable also broke and iPhone got switched off for two days. I tried to fix with with all kind of stuff including soldering, Araldite Standard Epoxy Adhesive, lots and lots of Fevicol and what not. But it stopped working and stayed like that.
I wanted to buy an Apple charging cable as soon as possible and done some online research. Original Apple USB Cable cost approximately Rs 1490. In
Apple.com
the price is $19.00 which is around Rs 1254. By knowing that it will break in maximum 2 months, I did not dare to buy it. Then I found this
product of Amazon suddenly.
AmazonBasics Apple Certified Lightning to USB Cable – 6 feet (1.8 meters) – White
This cable has Apple MFi certification and charges most of the Apple products such as iPhone 6s Plus / 6s / 6 Plus / 6 / 5s / 5c / 5 / iPad Pro / iPad Air / Air 2 / iPad mini / mini 2 / mini 4 / iPad 4th gen / iPod Touch 5th gen / iPod nano 7th gen and Beats Pill+. This cable can be used for data sync and charging through laptop & desktop. I bought it from CloudTail and I recommend you also to buy it from them.
Is the USB Cable Long Enough?
USB Cable is really LONG – 6 feet (1.8 meters) which is great as I did not have to wait at the charging point keeping phone at hand. I am pretty sure that you do not have to think about buying a usb extending chord with this.
What type of adapter is compatible for this cable?
I use Original Apple Adapter till now and have not found any issues.
Is it better than the original apple cable?
It is. The cable has an extra coating which protects it from minimal damages.
I have been using it since 11-Jan-2017 and still have not had any problems with it.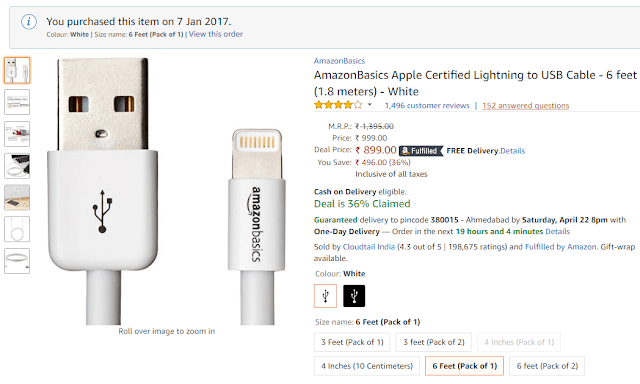 Apple USB Charging Cable
Ship This Product in Amazon
You can buy this USB Cable by visiting Amazon through the link: Low Cost 6 feet Apple USB Lightning Charging Cable.
Update 3 June 2017