There may be many friends you have who have interest to write blog posts. All they want is a good platform to express their views. You also know them and you have a blog. Well, lets invite them to share their views in the blog.
I will explain the steps to invite others as authors to your blog.
1. Go to Blogger Dashboad
2. Go to Settings > Basic > Permission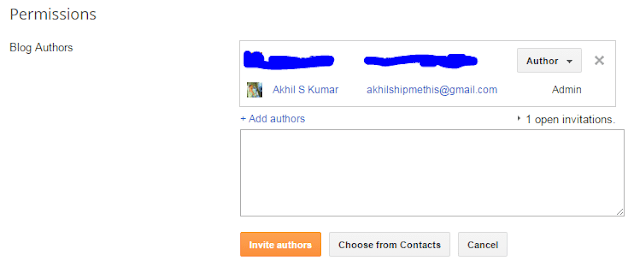 How to Invite – Add Multiple New Others As Authors in Blogger
3. Select "Add authors"
4. Write the email address in the box.
5. Press "Invite authors"
The invitation will be send to the email address. Now they have to add themselves as authors for this blog. You can notification as "1 open invitations" till they accept the invitation.
What New Author has to do accept the Invitation?
New authors will receive an email from blogger which looks like this.

Email Invitation to Add Multiple New Others As Authors in Blogger
They need to open the email and select "Accept invitation".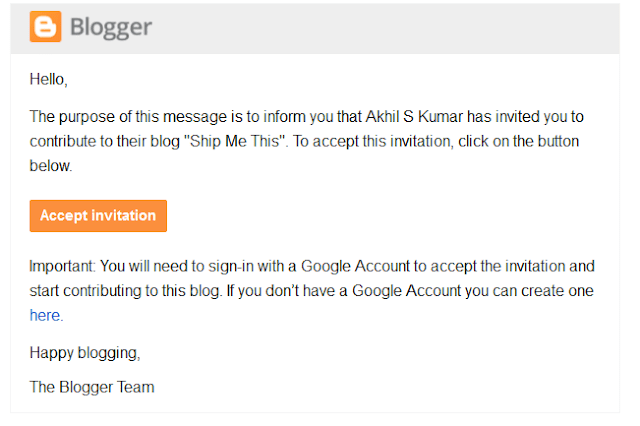 Accept invitation blogger authorship


After accepting they will be redirected to another window like the one below.

Sign in to be a blogger author
Select "SIGN IN" button and another window will open. Now the last step to be a new author to the blog.

Contribute to a blog
Press the "Accept Invitation" button and hoila, they now became authors to your blog. It is that easy.
May be even after inviting they wont accept it. Why? Because "Time laziness factors maybe preventing that". lol. You just need add some motivation also.
Subscribe to shipmethis for more useful posts.