Are you searching for Get Refund from Envato Market and envato refund request form. This post provide information on envato dispute and discuss the theme of refund. Read all about envato studio refund and how to apply for a refund in Envato.
Envato Market is a platform where anyone can download licensed versions of digital files. Digital files can be apps, templates, video, audio and graphics. Due to high number of uploads everyday, it is difficult for Envato Market Team to check each and every file for faulty items. Hence a customer can apply or request for a refund when they receive a faulty purchased item. Here is a quick guide on how to apply for a refund in Envato.
How do refunds work? Envato Market Refund Rules
You should try to contact the author before trying for a refund. If author is not reply even after 3-4 days or not willing to do the necessary editing, proceed with refund request. You can get a refund if you have the right reason. Envato provides refunds under certain criteria.

1. The product that you purchased is not as described – If the author or creator describes the product with certain features and the downloaded files does not have any of it.
2. The product does not work as it supposed to do – I bought a quiz app from Code canyon and author provided with some XML files that does not work. I applied for a refund for it and author rejected it saying there is enough documentation. I filed a ticket and received refund in few days.
3. Item has a security vulnerability – The product may contain certain scripts that are harmful or certain patches that contains vulnerability.
4. Product support is promised but not provided – This is very important and customers can get confused easily. If you go to the product page, you can see a tab called Support which lists all the support that author will provide. It may be documentation, File A Ticket, Q&A section etc. For some products, the author would clearly write as no installation support is provided. So if a support is mentioned and you could not avail it then you can apply for a refund.
5. Item support extension not used – If you download a plugin or an extension to support for an existing product and it does not work.
6. Items are purchased but not downloaded till 3 months
Can I Get A Refund? – Envato Market's Help Center
You purchased and downloaded the product but now you do not want it
You purchased an item looking at specifications but did not meet your expectations
You changed your mind and want to return it
You bought the item by mistake
You do not have sufficient expertise to use the item – This happens usually with Envato customers. They expect there will be step by step documentation for each product but usually it will not have that. So customers create an issue and ask for a refund.
You ask for goodwill
You can no longer access the item as it is removed – To avoid this, you can download the purchased product and add to Google drive or any other cloud storage.
How To Apply For Refund With envato refund request form
Choose you purchase – If you want to file refund for multiple items, you need to file multiple refund requests.
Add Main reason for requesting a refund – You should select your reason that matches with the above refundable criteria.
Describe Your request
– Describe other issues and details on how the author responded to your request. Eg: I bought an app locker from Code Canyon and then I uploaded to Play store. Few days after I received a "REASON FOR WARNING: Violation of the Deceptive behavior policy" from Google Play Store Team. I contacted the author and no reply from him. So I am applying for a refund.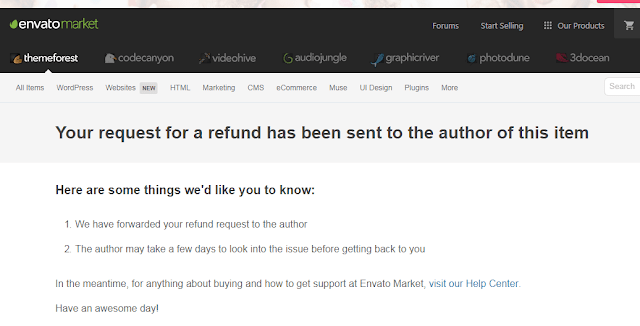 Envato dispute
Once you successfully submit for refund, you will be getting an email from Envato Market team. The email will say "We have sent your refund request to Author for review". All the refund requests first go to the author and author reviews it and either accept and refund you back or reject it.
I would suggest you to send refund requests as per refund policy of envato market support center and Envato Market Refund Rules are only exempted in rare refund cases. If author cannot resolve the issue, he will give your money back. Otherwise may ask you to check your installation or editing of codes.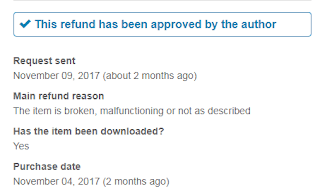 If the item have been removed from Envato downloads page by the author or the staff of Envato, then you wont get a refund of the product you purchased.
You can track the refund request using the link in the email and it will show "Status: In progress:. Wait for the author to respond for 3-4 days. If author reject the request, then you can file a ticket and raise a envato dispute, themeforest dispute or a codecanyon dispute.