"Such a scorching heat, hell with it", I am sure that in this summer, this is the common sentence an Indian usually say. Well, Amazon, the pioneer in E-commerce is bringing you the Great Indian Summer Sale with #whattedeal.
IndiaToday has reported that The Great Indian Summer Sale will occur in May 6, 7 and 8, 2015. The news-pr said that Indian Summer Sale will be a biggest summer bonanza ever.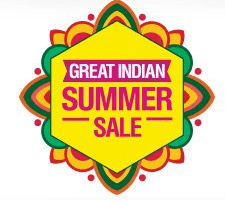 Amazon.in: Great Indian Summer Sale
The press release From Amazon at Bengaluru, April 30, 2015 by +Samir Kumar, Director Category Management of Amazon India said to the press that "With The Great Indian Summer Sale, we are thrilled to bring to our customers the biggest shopping event of the season. Customers will enjoy a vast, unique & exclusive selection with irresistible offers from our sellers that will make this summer season absolutely delightful,"


Cool, So What are the products?
When Amazon kicks in to the platform, there will be a flooding of products. The products will range from Tablets, Mobiles, Power Banks, Networking Devices, Cases and Covers, Wearable, Screen Protectors, Laptops, PCs, IT accessories, smartphones, musical instruments, stationery products, books, watches, Bags & Belts, Shoes, Jewellery Sets, Clothing, Make Up Products, Trimmers, Hair Styling Tools, Kitchen & Dining, Small Appliances, Home Furnishing, Power Tools, Gardening Supplies, Home Decor, Pet Toys, Diapers & Wipers, Baby Care Products, E books, Sporting Goods, Fitness Accessories, Sports Supplements and more which will cover over 22 million products in the major four categories one need; Computers, Electronics, Fashion, Beauty, Home, Baby Essentials and Entertainment and Sports.
What are the new Bonanzas?
The customers can expect great app deals from Amazon. The main advantages of purchasing via app are that the customers will get an additional 15 percentage cash back and exclusive app only deals.
To download Amazon app, users should go to Amazon.in and create an account. Sign in to the app and start purchasing. Amazon also started "Sunday Delivery" across 100 cities in India, so that customers will get faster delivery even in Sundays.
Lets Hope that It will Make all the Shippers Dance…