Are you searching for Free Headline Analyzer Tools To Create Better Headlines, emotional words for headlines, headline generator tool and email subject line analyzer. This post has the best information on book title analyzer, coschedule power words, power words for headlines and headline analyzer sharethrough. Now find uncommon words for headlines for free.
A good writer always takes care of the headlines. In SEO, a good headline can finish fifty percentage of the job and increase organic traffic. If you want to write better headlines then here are 4 Free headline analyzer Tools. These headline analyse tools are amazing tools to generate SEO friendly headlines for blog posts.
For comparison purpose, I am using the headline "5 Amazing Ways to Improve Link Building Outreach".
1. CoSchedule Headline Analyzer: coschedule power words
Write Headlines That Drive Traffic, Shares, And Search Results with The #1 CoSchedule Headline Analyzer.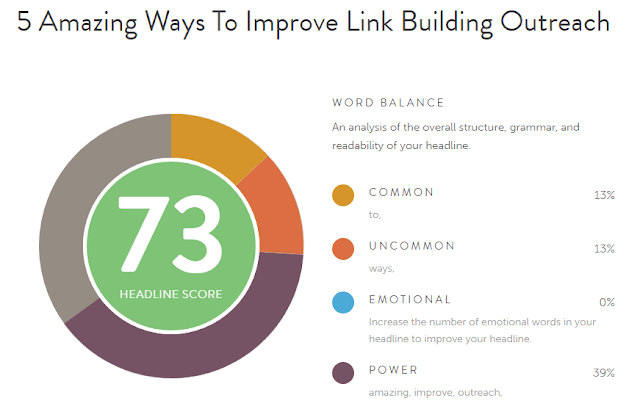 COMMON
UNCOMMON
EMOTIONAL
POWER
The headline is given a score out of hundred.
Other analysis are LENGTH ANALYSIS, FIRST & LAST KEYWORDS, SENTIMENT, GOOGLE SEARCH PREVIEW and EMAIL SUBJECT LINE PREVIEW.
Check Out This Headline Analyzer
2. Advanced Marketing Institute Free Headline Analysis Tool
The Advanced Marketing Institute Free Headline Analysis Tool shows how much emotional Marketing Value (EMV) words have in the headline. Many bloggers try to use 50%-75% of EMV words for better marketing.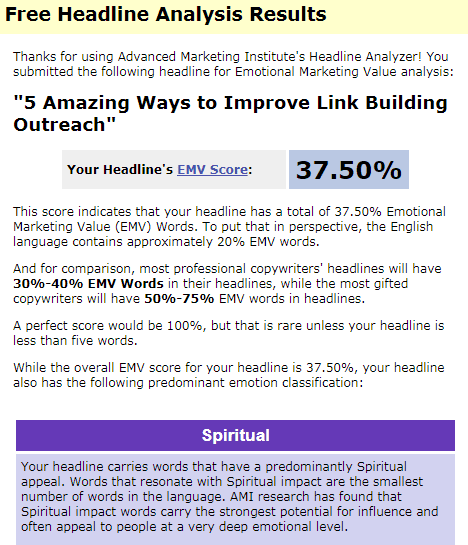 Cons: The tool do not provide suggestions for improving headline score.

Link to Use
3. Headline analyzer sharethrough
Sharethrough Headline Analyzer provide new insights for headlines. headline quality score with Sharethrough Headline Analyzer

It shows use of Passive language – "almost, doubt, confused, and guess", Alert Words – "afraid, scare, risk and alarm" and provide Suggestions. Sharethrough Headline Analyzer analyzes and score the headline in 2 contents – ENGAGEMENT and IMPRESSION.

Check your headline
4. Power words for headlines With Hookline Dynamic
The hookline dynamic tool by Michelle Shaeffer analyzes the headline in 3 ways – EXCITEMENT, EMOTION and EMPOWERMENT. These three components can effectively increase organic traffic from search engines.
Get More Out of Your Business, With One Simple Line With Hookline Dynamic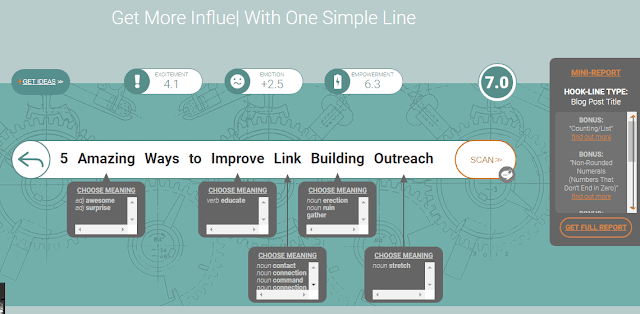 You can select 4 categories in which you are focusing on.
BLOG POST TITLE
EMAIL SUBJECT LINE
SALES FUNNEL HEADLINE
FACEBOOK AD-LINE
Watch Video on Increase Organic Traffic With 4 Free Headline Analyzer Tools