I have already shared a detailed post on how to become a
Blue Host Affiliate
and start earning money. Many readers asked me to share details on HostGator Domain Hosting Affiliate Program and how to earn from it. Here is a detailed guide on how to become a HostGator Domain Hosting Affiliate and start earning.
HostGator Domain Web Hosting Affiliate Program
HostGator is a very popular domain web hosting platform offering multiple products and services. Their services and products are majorly on VPS hosting, WordPress hosting, dedicated server hosting and cloud hosting. They also offer domain registration with or without hosting.
How Much Earning Can An Affiliate Get
An affiliate with from HostGator Domain Hosting Affiliate Program can get up to INR 1250 per sale. You will get payout only when your affiliate income reach a minimum of INR 3000. The payments are made every month.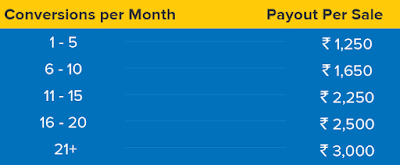 This means if you do 1-5 sales a month, you will be getting a payout of INR 1250. In order to get the payment every month, you would need to get more than 21 sales per month.
How To Sign Up with HostGator Affiliate Program
Go to HostGator Affiliate Sign Up Form. Fill your basic details and PAN card. If you do not have a middle name for Pan Card, enter last name. Password should only contain letters, numbers and underscores and not special characters. Select Proceed.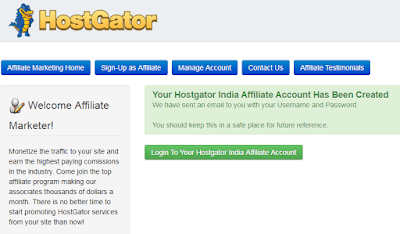 Use the Affiliate Dashboard link from the email that you will receive to login to the account. You can access affiliate training materials including training videos, PDF document affiliate marketing and Custom Tracking Links Manual. You can register to Affiliatelibrary free service to access latest news on affiliate marketing.
HostGator offers banners, links, email links, page peels for promotion of hosting plans. HostGator also offer good discounts for hosting plans making it easier for the sales.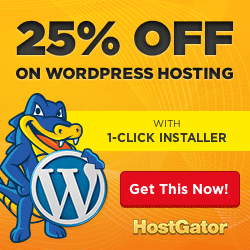 Cons of HostGator Affiliate Program
The affiliate income is comparatively low when compared with Blue Host Affiliate program. Blue Host Affiliate program offers INR 4000 per sale.
Read More: Get Income From The Most Profitable Businesses
Subscribe and do not miss out details on earning income from other affiliate companies.