Case work is done by the social worker to help the client to help themselves. The client can be an individual, family or child. Here i am sharing a model of casework done in social work.

Socio demographic details of the client:
Name : S D
Age : 18
Sex : Male
Occupation : Student
Religion : Muslim
Education : Plus one studying
Marital status : Unmarried
Place of residence : Rural
Admission number :
Number of sessions: 4
Case work methods used: Interview
Reason for referral:
The referring person is —-who is the coordinator of ….., an NGO, which rehabilitate street children, and other children who need protection. The reason for the referral was the client's low academic performance. The client's stated reason(s) for the consultation were lack of understanding English language, low self-confidence and poor attention in class.
Presenting Problem:

Lack of understanding English language
Low self-confidence
Poor attention in class
Client's perspective

The client reported that he do not understand anything said in the English class. That is because he does not know English words and meanings. He really feel it is hard to read and write English. He does not listen to English class even if he tried to listen he was not able to. He is too much distracted in the class. He got only eight marks out of 80 in the Christmas examination in Plus 1 for English. Because of this, his classmates mocked him, which leads to lack of self-confidence. The Onset was gradual. The duration of the problem is six months.
The client's stated that causes are lack of understanding English language. The problems were started when he was joined in plus 1. Before that, he was happy.

Meaning or beliefs attached to the problems that could serve to either resolve or perpetuate problems

He believe if he study English well, he can overcome his low confidence issue.

Reported impact of the problems on daily life and functioning (relationships with significant others, physical complaints , increased consumption of alcohol and drugs, reported cognitive difficulties, limitations or incapacities)
His education level is average.
The client was found to be very distracted. He looked down most of the times and had mannerisms of pushing his palm over the chair.

Reported level of motivation on to solve the problems

The client wanted to learn English to gain more knowledge but unable to see motivation to lower aggression levels.

Reported factors that contribute to the maintenance or resolution of the problem (for example: familial, cultural, environmental and life-cycle issues, discrimination or harassment.

The client arrived at ——-, the referred organization when he was 4 years old in 19-09-2001 and now he does not like to stay in ——- and want to go back to his house.
He likes the villain characters in the films and want to become a villain. The caseworker asked him why he want to become a villain rather than a hero, he said that everybody fear the villain.
He had faced harassment from his class mates due to low marks in English exam.
He has strong beliefs in his religion.
Perceived difficulty and problems, impact on quality of life and on quality of Interpersonal relationships (marital partner, family members, friends, etc.)

The client says that he have 15 friends in his Plus 1 classroom. In that, his four friends are best friends. He talks to them more and play with them.
He was unable to address a social situation. He is over concerned, selfish and dissatisfied with the organization, which he currently lives and wants to go back to his mothers.
The client does not like Mr. S because he took his things without asking. The client beats him up.
Psychological problems:
He is unable to tolerate frustrations and situations arousing anger and anxiety. He beats others if he is provoked. He has high levels of aggression and anger.
Psycho Socio situation: Family, financial, support systems.

The organization supports him with food, clothes, education and shelter. However, his psychological needs are not met by the organization. His family consist of his mother and she is doing daily wage jobs. So she couldn't support him fully by spending time with him. She is staying in house far from the organization.
Individual functioning:
The client does not have a good hygiene and cleanliness. He wore shabby cloths with a little He was cooperative but distracted and talkative. The rapport establishment was easy.
Personal history:

Birth and early development
Mother's physical health during pregnancy time is normal. Nature of birth was normal. Birth cry was present. He was born from non-consanguineous union. Birth weight and skin colour was normal. No delay of milestone was found.
Family of origin (parents, siblings and significant others)

His father died and has only mother. He do not have siblings.
Brief description of childhood, adolescence, early adulthood

Experienced sleep disturbances and temper tantrums in childhood. Relationships with peers were less. He experienced Epilepsy, head ache and had skin diseases when he was admitted in the organization in 2011 when he was 4 years old. His childhood and adolescence were spend in the organization itself. There were quarrels with inmates in a daily basis.

Nature and type of relationships with parents, siblings, and significant others

He is very attached to his mother. He has no siblings. He does not like the authorities of the organization. He is not attached to his friends in the organization.

Other traumatic events during childhood, adolescence, early adulthood

No traumatic events during childhood, adolescence, early adulthood.
Educational and Occupational history

The client is studying in Plus 1in humanities stream in…… He feels it is tough to study English, history and Philosophy. He think that Political history is interesting. He like to participate in 200 meter race and discuss throw. He is an average student in school and do not have so much interest in studies.
No occupational history
Family genogram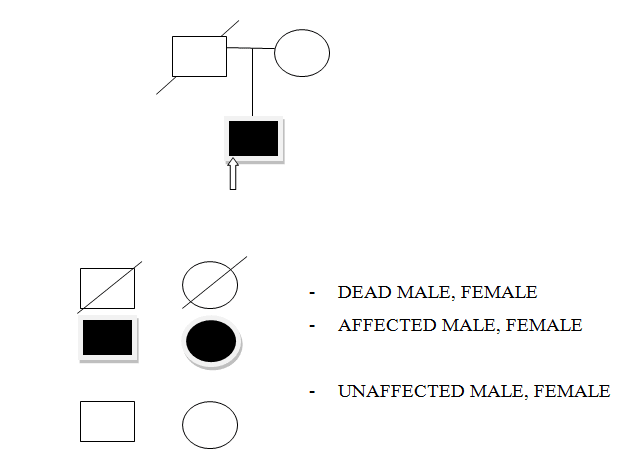 Genogram
Diagnostic formulation:

Client is having low self-confidence and high levels of aggression.
Intervention:

The client needs training in developing self-confidence. Anger management therapy can be done to reduce aggression levels. English tuition can be provided to encourage him to study and pursue the course with interest. Social skills training applied in order to enhance the relationships between social and family members.
Future plan:

The case worker need to talk to his mother and the authorities to get more details.
English tuition and confidence building training program can be arranged by the organization.
Conclusion:

The client Mr. M F, 18 years old male, unmarried, plus one studying from lower socio-economic status with no significant past history of any type. He is characterized by low self-confidence, poor peer relationships, and high levels of aggression. He need confidence building training as well as social skill training.
————————————————————————————————————
Check the following posts
Model Of Case History On Intellectual Disability In NIMHANS, Banglore Model
Case study of a patients affected with mental illness Undifferentiated schizophrenia
Example format of a Case study of patients with Paranoid Schizophrenia