Everybody in the blogger neighborhood knows that
Ad sense
is the best and top paying contextual ad network from Google. So to get affiliation money from Google is a dream come true for bloggers because of highly strict approvals. So what will happen when you
apply for ad sense
? It is easy.
You just sign up for Ad-sense by following steps.
Add Ad-sense ads into source code of Blog/site.
Your account will be reviewed by Google.
you will receive a email after some days that your ad sense account is rejected.
Well, these are the common steps that a blogger experiences in these days. You may not know what is wrong with your application. But i can assure you that there is something wrong in your application or site's requirements. Today i am going to share you how to apply for ad sense and create an ad sense account by step by step instructions.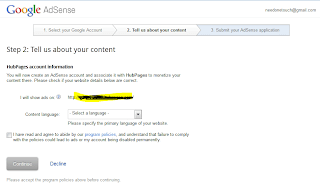 ad sense application step 2

You can either choose your existing email or another email id.
Valid age– Your age should be above 18+ or type your parent's name.
You should type the URL of your network without http://. Select your appropriate language from the box.Click the box and click the continue button.
Valid URL– give the the URL of your home page and make sure to add it without http://

Fully launched website– The website should be live and working well with lots of visitors and traffic. You should have access to the source code of the site or you must have the administrative access to the site.
Unique content– The same as everyone says,"Original, creative and authentic:.

Supported language– Select primary language. So that if you're approved, the relevant ads to the pages will be in the appropriate language, even if the site have multiple languages.
Select a country name
Select "individual" or "business" according to your need
Valid payee name– You should include your full and valid name which should match with your bank account name. Because changing payee name of the account would be difficult for many countries like India, China, Indonesia etc.
Valid address (street address, city/town)- you should provide a complete valid address of your house where you can receive a postal mail. You must give street addresses correctly, so that a mailman can easily find your home.
Type your phone number
Select the first option which is more preferable for the future.
Then SUBMIT your application and there you go…You have submitted your ad sense application and now wait for the email from ad sense team.
Akhil S Kumar 27-04-2014