Are you searching for youtube partnership requirements, youtube partnership new changes, youtube partner program terms, monetize youtube and youtube monetization rules. Then you must know YouTube proposed new YouTube Partner Program New Rules and requirements on creator monetization. That is 4000 hours views in one year, 1000 subscribers and 30 days grace period.
I woke up today and checked my email on 17 January 2018. There was this very shocking mail from YouTube Team on titled Important updates to the YouTube Partner Program. The email content is added below and I know all of you got the same emails. Now what are they thinking?
Comment of a small YouTuber: "I got the email from youtube which said i need 4000 hours. I had 4,440 and i literally jumped out of joy it was only later that i realized i had 4,440 minutes, which is just 74 hours. Now, i feel like i have to climb mount Everest"
Mail from YouTube on YouTube Partner Program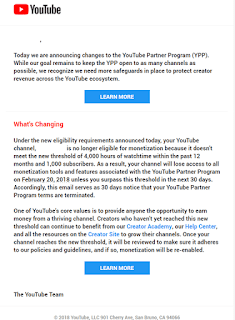 Youtube channel requirements
Today we are announcing changes to the YouTube Partner Program (YPP). While our goal remains to keep the YPP open to as many channels as possible, we recognize we need more safeguards in place to protect creator revenue across the YouTube ecosystem.
What's Changing
Under the new eligibility requirements announced today, your YouTube channel, , is no longer eligible for monetization because it doesn't meet the new threshold of 4,000 hours of watchtime within the past 12 months and 1,000 subscribers. As a result, your channel will lose access to all monetization tools and features associated with the YouTube Partner Program on February 20, 2018 unless you surpass this threshold in the next 30 days. Accordingly, this email serves as 30 days notice that your YouTube Partner Program terms are terminated.

One of YouTube's core values is to provide anyone the opportunity to earn money from a thriving channel. Creators who haven't yet reached this new threshold can continue to benefit from our Creator Academy, our Help Center, and all the resources on the Creator Site to grow their channels. Once your channel reaches the new threshold, it will be reviewed to make sure it adheres to our policies and guidelines, and if so, monetization will be re-enabled.

What! Are you Kidding Me?
4000 hours and 1000 subscribers in 30 days is impossible for small channel creators and You know it. I checked Reddit and they are going crazy over this decision. Many small creators feels that they were betrayed from Youtube because it is merely impossible to get such kind of reach in limited number of days.
Why 4000 hours, 1000 subscribers, 30 days. YouTube on YouTube Partner Program
Youtube Team handled the
Logan Paul Situation
very badly. It is clear that this decision is aftermath of that. Someone was saying that it feels like because someone was late for class, the entire class got punished. This is an accurate description on what happened with small channels who were making less money from YouTube Partner Program.
Imagine your channel is getting 4000 hours in last 12 months but only have less than 1000 subscribers, this means you cannot monetize the videos.
Imagine you channel have more than 1000 subscribers but got less than 4000 hours views which 240000 minutes in last 12 months, you still cannot monetize the videos. 4k Hours per year is almost impossible for small creators who depend on
organic traffic
.
It would be great idea to check the current marketing strategy and use other means of promotions. I am not sure how fast a small creator channel can achieve such a huge requirement. But if you want to monetise, there is no other way.
YouTubers are searching for alternative platforms for monetizing the content. Unfortunately Vidme, an alternative to YouTube is closing down due to lack of engagement and community contribution. Vimeo can be one one option for uploading videos.
How To Invite Multiple Users and managers To Manage Your Youtube Channel without disclosing login Id and Password.