Elections are on on Kerala. Hence all the parties started to publish their manifesto in the websites. I was searching for each party's manifesto and could not find online English versions of LDF and BJP. The below is just a word document of the UDF manifesto which i downloaded from UDF website. It was eve mentioned as draft. As voters, everyone should read through each manifesto, compare and take that also into consideration while voting.
UDF Kerala Election 2016 Manifesto
HOUSE FOR ALL
HEALTH FOR ALL
FOOD FOR ALL
Draft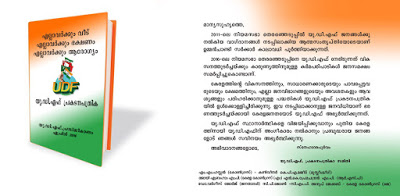 UDF ELECTION MANIFESTO
Introduction
UDF Government in Kerala complete 5 years in office and during this period revolutionary changes have been achieved in all sectors through a stable government. UDF face the 2016 election with confidence after several achievements in all sectors including welfare programmes.
UDF Government's development activities over the last five years strengthened the state economy. Vizhinjam International Port, Kannur Airport, Smart City at Kochi in IT Sector, Kochi Metro Rail, Light Metro at Kozhikode and Thiruvananthapuram are the major infrastructure projects. We introduced free ration for all BPL card holders in 2016. We also closed 730 Bar hotels and close 10% Beverage Sales outlet every year. We target to achieve liquor free Kerala in 10 years. Through Chief Minister's People contact programme, nearly eight lakh complaints have been corrected, distributing Rs.798.73 crore. Social Security pension beneficiaries increased from 12.9 lakhs in 2010-11 to 34.06 lakhs in 2015-16 and distributed Rs.2769.44 crores in 2015-16 as against Rs.522.11 crores in 2010-11. UDF government also formulated a long term plan for Kerala.
'Kerala Perspective Development 2030' which aim at an average annual GDP growth rate of 7.5% with in this perspective. We approach the people with the slogan "House for All, Health for All and Food for All".
Agriculture and food Security
– Kerala could not attain self sufficiency in rice production. UDF Government will therefore formulate all measures to promote paddy cultivation. For expansion of area under paddy and environment conservation, special package will be formulated
– To promote organic farming and to earn profitable income to farmers UDF Government will provide subsidy for organic farming
– In order to procure, distribute and market the organic farm products, UDF Government will short an 'Organic Farm Board'
– UDF Government will start small and medium agro processing units in all grama Panchayats to produce value added products from fruits and vegetable and generate employment
– In order to sustain self sufficiency in egg and meat production, we will formulate an extensive project with people's participation and will also start egg-meat processing small and medium scale enterprises in all grama panchayats
– UDF Government will start Agro-service centres in all 978 grama panchayats to provide seeds, fertilizer, labour, manures, seedlings, agricultural implements and machines for harvest
– We will start farmers reddressal and Welfare Adalat Baord at District level to solve farmers problems with peoples participation
Interest Free Farm Loan
– UDF Government will ensure interest free loan to farmers who make prompt repayment of farm loan availed
– For farmers who are mentally and financially depressed, government will provide legal assistance for their security
– UDF Government will arrange farm loan at low interest rate from Bank and other financial institutions
– We will arrange agricultural insurance for agricultural losses from natural calamities and pesticides attach.
– Increase agricultural farmers pension to Rs.1000 per month.
– UDF government will provide an incentive bonus of Rs.10,000 to marginal farmers per hectare to promote mixed farming
– Environmental incentives to farmers who protect rice cultivation and conserve water resources
– Marginal farmers up to 2.5 hectare land
– Will be provided an incentive of Rs.10,000 per hectare to promote an intensive modern farm technology and mixed farming.
– UDF will formulate an Agricultural fund through 'Farm bumper lottery' to give relief to farmers.
– We will start 'Organic Farm plus Project' to promote organic vegetable farming in new homes, villas and flats. We will also promote "integrated vertical farms'' in homesteads providing 50% subsidy.
– We will provide organic manures and organic fertilizers kit to farmers.
– Will start Agri -bio-parks to process value added products from fruits and vegetable
Feed Markets
– Organic vegetable farms in road highway sides.
– Farm books corner in all grandhasalas to extend krishi vijnan to farmers.
– Minimum support price for rubber and coconut.
– Promotion of small agricultural implements for small size holdings.
– Zero waste land with the participation of Local Self Governments.
Assistance to Rubber Farmers
– All marginal and small farmers will be included in the State Government's rubber production incentive programme. We will demand Rs.1000 croes from Govt. of India to increase the support price given at present at Rs.150 per kg.
– Government will procure rubber at fair price to increase rubber price in the open market. For this purpose, Government will utilize the services of rubber marketing federation, rubber marketing societies, marketing federation and primary credit societies which number above thousand.
– Government will start rubber processing industries in the public sector and procure rubber at higher prices.
– We will start an incentive scheme for cardamom farmers similar to rubber.
Diary and Animal Husbandry
– In every Legislative Assembly we will start 'model cattle gramam' to procure and distribute milk and milk products.
– In every grama panchayat we will start 100 goat farms, 100 diary farms, 100 pig farms and 100 poultry farms and make employment for one lakh rural youth and increase production of milk and meat.
Coastal Area Development
– For the coastal area people from Kasargode to Thiruvananthapuram a comprehensive development programme will be formulated and implemented.
– Housing subsidy for Fishermen will be increased to Rs.3 lakhs.
– Measures will be taken to convert fishery technical schools to centres of excellence.
Hill Area Development
– Kasthuri Rangan report has put 30 lakh hill area people (Western Ghat) in confusion. Steps will be taken to correct their confusion.
– Long term solution for wild life attack against people living near forest area.
Social security
– House for all houseless families.
– Self Employment Enterprises for Skill Development.
– Education and health for all.
– Monthly scholarship for girl students from BPL families studying in primary and secondary schools to avoid drop out.
– Bhagyalekshmi plan for girls from BPL families. Under this plan a fixed amount will be deposited in the girls account and it will be released with interest when the girl attains 18 years.
– Monthly assistance of Rs.2000 will be paid during the first two years for female law graduates from BPL families to register in Bar Council and to start practice
– Government will provide Rs.25,000 for the remarriage/ rehabilitation of the poor widows.
– For the marriage of poor widow's daughters and orphan girls, government will provide Rs.25,000
– For the promotion of inter-caste marriage and to avoid caste discrimination we will provide Rs.25000
– We will provide Rs,10,000 to a BPL family if the family head expires.
Availability and Distribution of food items
– 25 kg Free rice to BPL families.
– We will strengthen the distribution of rice, sugar and wheat through more than 14000 ration shops.
– Strengthen the activities of Consumer Fed and increase the efficiency of distribution of essential goods through Thriveni Stores.
– We distribute 13 essential consumer goods at subsidized price through Maveli Stores. We will increase the items to 20 consumer goods and distribute them without increase in price for 5 year
Poverty Eradication
– Free treatment and medicines and special pension to poor chronic diseased persons
– Employment –oriented education and promotion of employment migration to poor people
– MNREG Programme will be utilized for public asset creation and will ne extended to more sectors
– Insurance and festival allowance for MNREG workers
– Increase the amount of monthly welfare pension and will pay it every month regularly
– Asraya programme will be extended to 3-tier panchayats
– Own building for all Anganwadies in five years with the co-operation of Local Self Governments
– Integrate the activities of Kudumbasree and MNREG for the comprehensive development of the agriculture sector
– Convert Kerala into 'Zero Waste Land' state
Welfare of Physically Challenged
– Assistance to promote marriage of physically challenged person with ordinary persons
– Saree and 'munde' to physically challenged persons from BPL families during onam
– Physically challenged persons from BPL families will be covered under insurance and Government will pay the premium
– Free three wheeler vehicles to physically challenged persons from BPL families
– Free radio to all blind persons
– Will construct house for blind and mentally retarded persons from BPL families
Special Schools
– Will provide free education to all physically challenged pupils. As part of it 134 private ongoing schools for physically challenged will be converted into government aided schools
Solution for unemployment
– Free tax holidays for promotion of family enterprises and Self Employment enterprises for five years
– Formulate an integrated plan for skill development training for students
– Promote large scale investment to generate employment for educated unemployed youth
– Startup villages in each district 'for youth entrepreneurs'
– Generation of employment in agriculture, small scale and traditional industries
– Employment training for SSLC passed students in mobile phone services
Welfare of Non Resident Keralites and their Rehabilitation
– Employment opportunities for Kerala migrants to Gulf Countries are coming down due to own national employment and related issues. Considering it Government will start new enterprises through NORKA to generate employment for return migrants
– Migrants who return due to illness, accidents, lack of treatment facilities and unhealthy climate will be provided medical treatment and for them a Health insurance will be started
– We will consult with the foreign Affairs, Ministry , Government of India to formulate a Non Resident Policy for migration and wage service condition of migrants
– Monthly pension of Rs.1000 for those who returned due to physical disability , cancer , stroke, heart attack, kidney diseases.
– Age old homes for Pravasis family and also for returned aged Pravasis
– Initiate steps to start 'Air Kerala Express' to solve Pravasis
– Travel problem and increasing air ticket charge
Industries
– Procure two four hectre land at Grama Panchayat level for Industrial Estate for starting small, medium enterprises units. We intend to generate one lakh employment through the programme
– Support and security to startup in industrial sector
– Skill development training
– Extension of technical knowledge
– Support for marketing
– Subsidies and tax incentives
– Global investors meet every year clearance for projects through 'green channel'
– New incentives to traditional industries
– Labour participation in management and 20% shares to workers
– Start governments commercial/trade centres at Thiruvananthapuram,Kochi and Kozhikode
– One representative from industrial commercial sector in the Tax Administrative Tribunal
Public sector undertakings
– Formulate a project for establishing Industrial estate in the unutilized land held by public sector enterprises and leasing it for industrial purpose
Traditional Coir Industry
– An integrated housing policy for coir workers
– Increase working capital for coir co-operative societies
– Health Insurance for coir workers
Welfare Measures for Traditional Industrial Workers
– Importance for traditional industries and tax incentives under startup programme
– Increase monthly pension and provide free medical treatment and medicines to women workers
– Special assistance to children of traditional workers for education
– Will start Research and Training Centre for training of entrepreneurs and modernisation of traditional industries
– Mechanization and modernisation of traditional industries
– Eco friendly products from traditional industries
– Promote Ayurveda Coir, Ayurveda Cloth and Coir Ornaments
– Integrate Traditional industries with tourism and find global market for traditional products
Cashew Industry
– Ensure maximum employment days for workers
– Promote measures to strengthen Cashew Development Corporation and Capex
– Special package for expansion of cashew cultivation to increase cashew production
– Modernize cashew factories under Cashew Development Corporation and Capex
– Ensure minimum 200 days employment to workers
Handloom Industry
– Will diversify and modernize handloom industry in association with Institute of Fashion Technology
– Initiate measures to introduce handloom as uniform for school students and factory workers to strengthen market
– Strengthen handloom market through increased subsidy/rebate
– Subsidy for starting earthern uttensils manufacture
IT Industry
– Increase IT export from Kerala to Rs One Lakh Crores in five years
– Interest free loan for youth entrepreneurs up to Rs.20 lakhs
– Start Kerala Academy for Skills for providing knowledge and skill to youth
– Will start finishing schools to associate unemployed male-female youth with new enterprises and IT Sector
Basic Infrastructure Development
Major Projects
– International port at Vizhinjam will be completed as scheduled
– Remaining works of the Kannur International Airport will be completed at an early date
– First phase of Kochin Metro is nearing completion. It will be completed as scheduled
– First phase of smart city is completed. Its second and third phase will be completed as scheduled
– Trivandrum-Chengannur Suburban railway will be completed in three years
– Light Metro Rail in Trivandrum and Kozhikkode cities will be completed as scheduled
– Higher level Expert,s Council will be constituted for co-ordinating and implementing basic facilities, different technologies and public participation for major projects
– Special rural roads and water transport projects will be formulated by incorporating Local
Self Governments, Co-operative banks and rural youth
– Air traffic (Helicopter and small planes) connecting district Head Quarters, pilgrim centres and Tourist centres
– Hymas light in important National High Way Junctions
– Fly over/elevated way in high ways and heavy traffic district head quarters and towns
– Minimum three year's guarantee for road tarring
– Speed carrier and parcel system at low cost through KSRTC
– National water ways from Trivandrum to Kasargod will be made functional for cargo traffic and tourism promotion
– Start passenger/ cargo traffic connecting ports in Kerala
– Eight line South-North Express High by 2030
Sabarimala
– Completion of the 2nd phase of Sabarimala Master Plan
– Formulate an elaborate project with the co-operation of the Local Self Governments to protect ponds small forest and other related water sources associated with temples
Land and House for All
– House for all who own land
– House loan for 4 percent interest as farm loan
– Reconstruction of all houses under one lakh housing schemes. Twin houses will be constructed separately
– Three cents of land for all landless people for home construction (Zero landless)
– Special housing loan scheme for other category of people
– Under homes for all scheme, a bumper housing lottery will be started
Education
– Kerala attained universaliation of primary education
– More +2 schools and batches started and teachers appointed
– Special projects for enhancing quality of education in government schools
– Specials scheme for strengthening the quality of research in universities
– On line system for regular training of teachers
– More facilities in tribal area schools
– Ensure toilets, drinking water, play grounds and library in all educational institutions
– Rethinking on 'all class promotion'
– Quality education to schools, will be considered as right to students
– Promotion of French, German, Persian and Arabi languages in higher education
– Kerala will spend six percent of its GDP for education
SC/ST Development
– Own land for all landless SC families
– Eradication of communicable diseases by 2030
– Doctor-patient ratio at 17 by 2030
– Bed-population Ratio at 70 per Ten thousand population by 2030
– Comprehensive development plan in all SC/ST colonies.
– Enhance the grant for the purchase of land for SC people.
– Enhance the house grant to Rs.3.50 lakhs for ST people.
– House, toilet and drinking water for all houseless SC/ST families in five years.
– Stipend, lump sum grant, and hostel allowances will be increased.
– Anganvadies in tribal areas will be converted as model anganwadies.
Forward Community Development
– Housing scheme for economically weak among the forward community.
– Comprehensive project for socio-economic educational development for the weaker section in forward community.
– Skill development programme for the youth among the forward community for employment.
Welfare of Backward Communities
– Educational rights and empowerment of backward communities as suggested by Sachar committee will be ensured
– Implementation of the commission report for viswakarma community.
– Gold Gramam project for the Goldsmith community.
– A separate commission will be formed for studying the problems of Nadar community
Women Development
– Separate department for the welfare of women and child development.
– Industrial park for women entrepreneurs.
– 'Mahilajyothi Project' for women entrepreneur group at Grama panchayat level.
– Starting library for women in Anganwadi.
– Construct toilets in all public places with the participation of local government for women.
Tourism Development
– Formulate a master plan for each tourist centre with public-private participation for development. Five lakh employment in five years.
– Develop Kerala into a tourist centre for meetings, conventions, trade fares and wedding and medical wellness.
– Institute an Eco-tourism expert authority for promoting eco-tourism in Kerala.
– Special stress to promote waterway tourism.
– Promote back water tourism, farm tourism and pilgrim tourism
Health
– Free medicines for cancer-diabetics patients.
– Cover health insurance to all BPL/APL families.
– Life saving medicine at low price in all Grama Panchayaths.
– Comprehensive development of all PHCs, Ayurveda and Homeo dispensaries located in all grama panchayats.
– Comprehensive Gramina Health treatment project at grama panchayat level integrating the three systems of medicine.
– Upgradation of selected government medical colleges to international level.
– Health treatment and health protection will be converted into 'Health Rights.'
– Health security for all by 2030.
– Bring down maternal-infant mortality rates
Endosulphan
– Implementation of Prabhakaran Committee Report for the overall development of Kasargod district
– Rehabilitation centre for endosulphan victims
– 'Rehabilitation Gramam' of the rehabilitation for victims for education and skill training for employment
– Super Speciality hospital for endosulphan victims
Welfare of Children and Infants
– A perspective plan for the overall development of children based on the declaration of their rights
– Awareness programmes for children rights
– Special programmes for the education of other states children, children of jail in mates etc
Welfare of Aged people
– Rest centres and entertainment centres for aged people
– Free bed sheet and chappals for all persons above sixty years from BPL families
– Old age monthly pension will be increased to Rs. 10000
– Separate Que and Geriatrics wards for aged people in important hospitals
Drinking water and Irrigation
– Safe drinking water for all in all regions utilizing wells, bore wells, pipe water, ponds and other water sources
– Check dams in canals and rivers at every 2kms to conserve water
– Safe drinking water for 24 hours (24×7) in all towns and cities
– Protection and maintenance of ponds, canals, rivers and reservoir from pollution
Power sector
– Initiate measures to climate transmission loss through under ground cable
– Use of solar energy
– Distribution of electricity for 24 hours without disruption
– An elaborate and comprehensive programme for generation of electricity from traditional sources like wind, solar and gobar gas
– Electricity to all BPL families without electricity
Sports
– Special Legacy Programme for maintenance of existing basic facilities
– Mini stadium in all Grama Panchayats
– Training to sports persons for Olympics participation
– Sports Hostels in all districts with modern facilities
– Free training and financial assistance to sports students
Government Servants and Government Services
– Strict control of corruption in government services
– E-Governance to all government officers to speed up the delivery of service
– integration of Government departments/agencies working towards same objectives
– Digitalize government administration and make it transparent
Sanitation and Conservation of Environment
– Clean air, clean water and clean food are essential for people we will ensure these three
– Air Pollution will be minimized through control on motor vehicles control on plastic burning and control on factory pollution
– Crisis ridden wet land cultivation will be rehabilitated
– Western ghats will be protected
– Conserve forest and water shed
– Social forestry programme will be effectively implemented to conserve environment
Liquor free Kerala
– UDF closed 730 foreign liquor bars and close 10% beverage outlet every year
– Convert Kerala in to liquor free state in 10 years time
– Control and awareness against liquor, smoking and use intoxicating drugs among youth
– Clean campus Safe campus programme will be effectively implemented in Schools and colleges
Law and Order
– Police Forces will be effectively strengthened and modernised to suppress the extremists
– Corruption will be strictly controlled through 'Vigilant Kerala'
– Jana maithri Programme which integrate police system with community will be extended to all police stations
– Student Police Cadet Programme will be extended to all Grama Panchayats
– Operation Kubera which effectively control the "Blade Mafia' will be further strengthend
– Police Stations will be modernized using High- technology and convert them in to people friendly centres.
Local self Governments
– UDF Government increased Local Governments Plan assistance from Rs. 2750 crores in 2011-12 to Rs.5500 crore in 2016-17
– UDF Government allowed more autonomy to Local Self Governments in plan fund utilization and avoided Technical Advisory Committee
– UDF Government will allow plan grant to LSGs as recommended by Fifth State Finance Commission and provide administrative and technical assistance in coming years as well
– District planning committee will be strengthened to formulate integrated District Plan
– Redeployment and transfer of Government servants to LSGs will be implemented in full
Kerala Perspective Plan 2030
– UDF Government formulated Kerala Perspective plan 2030. Sustainable and all inclusive growth are the objectives
Economic Growth
– Percapita income of Kerala will be increased to 36000 dollar in 2040 as against 4700 dollar at present
– Average Annual GDP growth rate is targeted at 7.5% in the next 20 years to the level of developed countries
– In the GDP growth rate, share of Farm growth is 2% , Industrial manufacturing 9%, construction sector 9%, Communication sector 7.5% and education and health sector at 10%
High living stands
– Increase enrolment of students in higher education to 48%
– Health Security for all
– Human Development Index to the level of UNDP
Social Justice and Equity
– Reduce un employment rate to 4 percent
– Reduce the ratio of BPL families to one percent
– High living standards based on the smart growth of rural urban areas
Also See Candidate list of UDF
***********
LDF Kerala Election 2016 Manifesto
Malayalam version of the Election 2016 Manifesto can be accessed in the LDF website. I could not find the English version of LDF Kerala Election 2016 Manifesto.
***********
BJP Kerala Election 2016 Manifesto
Malayalam version of the Election 2016 Manifesto can be accessed in the BJP Kerala website. I could not find the English version of BJP Kerala Election 2016 Manifesto.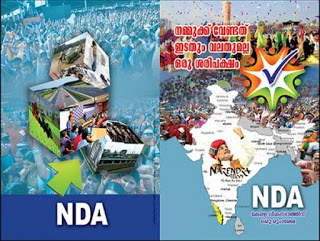 BJP Kerala Election 2016 Manifesto
See BJP candidate list
What is the need for a manifesto for political parties? UDF in 2011 state election of Kerala
The UDF manifesto 2011 of Kerala calls its manifesto development and care. As a liberal political observer, I have read the manifesto and was astonished to see how a political party with such strong history envisages development and mould its manifesto. Manifesto are statements or promises that gives people a hope to vote the party and it includes programs and policies that will be implemented when the party win the election.
To get power again the Congress manifesto for election 2011 promises, novel ideas for the development of health. These promises are focused more on establishing institutions, promoting tourism and stimulate infrastructure developments.
Though the manifestos in Malayalam and English are having so much observable differences, here review is based on the English manifesto. The paper tries to explain each of the promises related to Health in the manifesto and critically examine the practicalities of that promises.
The manifesto gives promises to establish new Public Health and Educational Institutions in Hill areas. The manifesto also promises that existing Public Health and Educational Institutions will be expanded. New Public Health and Educational Institutions are also needed in other areas in Kerala where population rates are high and focusing on hill areas will not help to cover the population.
Special Investment Regions
Special Investment Regions will be set up, one in Palakkad for Health. One Special investment region will mainly cover an area of more than 100 sq. Kms or Industrial Area with an area of 50-100 squares (Arthapedia. 2013). It will focus more on economic activity supported by excellent infrastructure, premium civic amenities, centres of excellence and proactive policy framework. This concept of SIR was first introduced by the Gujarat Government on 6th January, 2009. The Congress manifesto give emphasize to imitate the Gujarat model of development in Kerala.
Nano technology
Novel enterprises will be set up using Nano technology, which is beneficial in all sectors like Health. There are only two centres of Nano technology in Kerala, which are, the Amrita Centre for Nano sciences & Molecular Medicine, established in February 2006 was the first NANO-BIO centre in India and Regional Research Laboratory (RRL) in Thiruvananthapuram (Council of Scientific & Industrial Research). Therefore, there is a need for establishing a number of new centres of Nano technology to make way for novel enterprises. The two Nano centres were established before the manifesto was published and no new centres were established during the governance period. It is clear that this promise was just void.
Refresher courses in geriatric health care
Refresher courses in geriatric health care will be conducted. The existing number of old age homes in Kerala are 82 (Kerala government list on institutions. 2010) and the per capita expenditure is 163.12 Rupees as given in the table 1 and most of them are private institutions under Christian management. How many of these institutions may offer good payment to the individuals with the completion of refresher course in geriatric health care and no geriatric courses were established in Kerala during the 2010-2014 periods.
Linking Asha workers with benefits rural health schemes service sector
Linking Asha workers with benefits rural health schemes service sector will be strengthened and better provided. Till July 2009, 30909 Accredited Social Health Activists (ASHAs) have been selected and 27904 of them who were given the induction training are being positioned for every 1000 population in the state (Arogyakeralam. 2011). However, ASHA workers protest against the low salary given by the Kerala Government. The government pays Rs. 600 and Rs. 1,450 a month to ASHA workers, in addition to the incentive given by the Union government (The Hindu. 2013). So this additional duty should be provided with an increase in the salary of them that will useful for the successful implementation of the program.
Health care of STs
Steps will be taken for the health care of Scheduled Tribal that is the vulnerable sections of the society. These statements are common in almost all the manifesto of parties without a plan to make it happen and it usually becomes a false promise. Steps will be taken for health protection of those affected by sickle cell Anaemia. Sickle cell Anaemia is prevalent among the indigenous communities in Wayandadu. The conditions of the indigenous communities including the primitive communities and scheduled in the central policies are worsened over these years and strong measures should be adopted for the health care protection. Their health care should not be isolated as a single entity. It is more centralised upon their living conditions, access to water, food and other services, economic conditions etc. Therefore, to promote the health care of the indigenous communities a holistic measure must be taken. There are specific programs proposed in the manifesto to ensure good health care of ST's rather than a sentence.
The participation of women
Sectors of health will be formulated with the participation of women for implementation. Participation of women usually focused in the lower levels of health system. The women participation includes, Anganvadi workers, ASHA workers and ST promoters. In order to formulate women participation in sectors of health, the higher positions must be given to women rather than the lower steps of the administrative ladder.
Special Health Insurance Scheme
Special Health Insurance Scheme will be implemented for the police force and their families. Health Insurance Schemes by the private companies are prevalent in Kerala including National insurance, Bajaj alliance, Tata AIG, PNP Metlife, SBI life etc. The special schemes should be focused more on the public sector and state undertaken.
Branding Kerala and promotion of tourism
A white paper on Health will be brought out within 60 days of assuming power. A white paper will focus more LSG participation in the health sector. The other proposed concept in the Manifesto is to brand Kerala internationally as a congenial destination for tourism and investment, Brand Ambassadors will be appointed in order to promote Health sector. NRI doctors/nurses will be appointed as Brand Ambassadors. Branding Kerala is appreciable in order to promote tourism and investment of foreign capital. However, this program is not necessary and more of a euphoric concept when considering the existing vacancies of doctors and nurses in the hospitals and lack of basic facilities.
Conclusion
The focus of the Congress party is not based on the Social welfare of the state but of economic development. The manifesto is utterly rhetoric and grandiloquence. For 2011 election, the Congress party is not even stating about a policy that will support NRHM program and increase in the public expenditure of on health.
The manifestos of the Congress have 44 pages and only in 12 places, the word health comes.
The existing conditions of Primary, Taluk and District Governmental hospitals in Kerala are poor compared to the private hospitals. These hospitals do not have adequate number of beds, staffs, and doctors. The statistics about the Health Infrastructure in Kerala shows the number of beds in the teaching hospitals in Kerala. The total number of beds in the teaching hospitals is 10674 (Health policy Kerala. 2013). The lack of water resources and sanitary levels are also not addressed in the manifesto.
The manifesto completely ignores the existing conditions of primary, secondary, and tertiary level of health care and no there is a complete absence of discussion about the mental health aspects and institutions. This means that the Health development model, which Congress party proposes, is mainly focused more on economic development rather than public centered.
Bibliography
1.
Arogyakeralam. (2011). Retrieved from: http://arogyakeralam.gov.in/index.php/programmes/asha
2.
Arthapedia. (2013). Retrieved from: http://www.arthapedia.in/index.php?title=Special_Investment_Regions_(SIR)
3.
Council of Scientific & Industrial Research. (2012). Retrieved from: http://csirhrdg.res.in/srf_anx_i.pdf
4.
Health policy Kerala. (2013). Retrieved from: http://dhs.kerala.gov.in/docs/draftpolicy.pdf
5.
Kerala government list on institutions. (2010). Retrieved from: http://www.old.kerala.gov.in/dept_socialwelfare/List%20of%20CHARITABLE%20INSTITUTIONS.htm
6.
Panikar, P.G.K., Soman C.R., and Ramankutty, Medical Care Implications of Demographic Transition: Case Study of Kerala (Monograph). Centre for development Studies. Kerala.
7.
The Hindu. (2013). Retrieved from: http://www.thehindu.com/todays-paper/tp-national/tp-karnataka/asha-workers-want-their-honorarium-increased/article5036821.ece