Are you searching for software and tool to type in multiple languages. Google has developed a tool called Google Input toll where you can type in your native language or any language that you choose. The list of languages that you type with these google input tools are endless. Use this amazing Google Input Tools (Windows 10) Chrome Extension.
This is an amazing tool once you are exhausted with other options, tips and tricks online to type the necessary languages. Google Input tools is an amazing Chrome extension that let you type in any language as you need. You can use this internationally irrespective of geography even if you are in US, Australia, Canada etc.
How to Install Google Input Tools (Windows 10) Chrome Extension
Go to google chrome Extension store.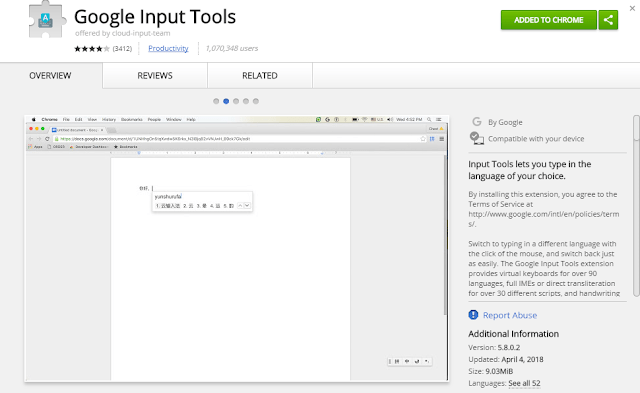 Chrome web store google input tool
Download Google Input tools extension by selecting add to chrome. Once it is downloaded, an extension icon will be automatically added in the Google chrome web bar.
Select the extension and select Extension options.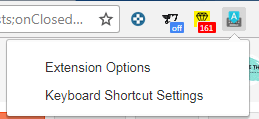 You will be redirected to another page, where you can see a bunch of languages. You can scroll up and down and select any language. Once you select a language, a side arrow button will appear in the middle. Select that to add that selected language to the next column beside.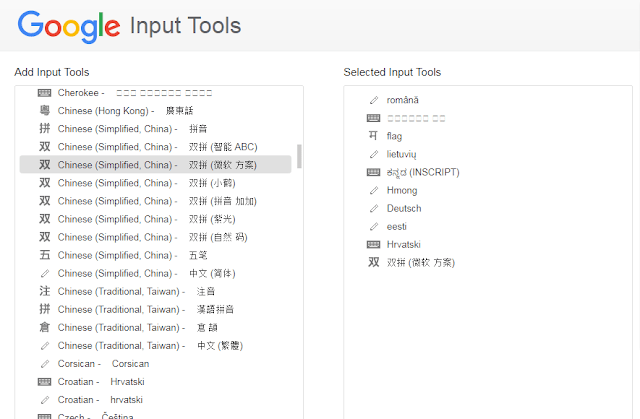 You can select multiple languages like this an d add to select input tools column. The tool will work only if you add at least one language to the column. Now that you have successfully added languages, let us go forward with the next step.
Type Any Language on Google Chrome with Input Tools
Hope you remember the extension that was added earlier. Click on that and select Keyboard Shortcut Settings. This is where you can activate the Google input tools button and start typing.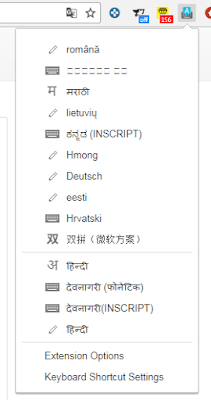 Again you will be redirected to another page. Here you can see multiple options.
Activate the extension
Select next Input Tool
Revert last Input Tool
Toggle current Input Tool

Let us not get bothered about them. Select the not set. and it will ask you to "Type a Shortcut". Then press any shortcuts like holding CTRL, Alt, + togther or CTRL+Alt etc. You can add any shortcuts that you wish. Once you have completed adding all the shortcuts, it will look like this.

It is going great till now. let us start typing then. The extension will only work in Chrome browser and will not support offline software like Microsoft word. So you may have to restrict the typing inside Chrome browser.
Edit Online Documents using Google Input Tools (Windows 10) Chrome Extension
Do you know how to open a online doc file?. I will explain. Login to your gmail account first. Then open a new tab in Chrome [shortcut is to press CTRL+T]. Type "online doc drive".
The first result will look like this.
Google Docs – create and edit documents online, for free.
Create a new document and edit with others at the same time — from your computer, phone or tablet. Get stuff done with or without an internet connection. Use Docs to edit Word files. Free from Google.
Select that, then select Go to Google Docs. You will be redirected to a window where you can see an option to ad a blank page. Select that + sign.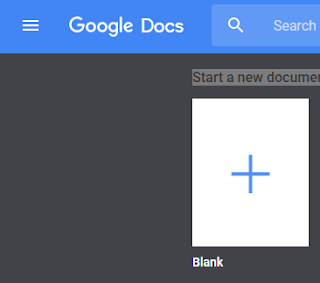 A new online doc page will open where you can type anything.
Do you remember the shortcut that you put in the Google input tool extension to activate it. You can check it by clicking on the extension.
Go to the doc page and press the shortcut to activate the extension. Suppose you have put CTRL+SHIFT+T, press that and the languages that you will selected will be shown above, Select any language that you want to type. Once you select the language, the Google Input tools icon ill go blue in color .

Otherwise if not activated, it will black. You can select the extension and unselect the language to go back to previous language that you have been using. Or you can remove the extension by right clicking on the extension and select Remove from chrome.
Once the icon goes blue, you can start typing. The language will be changed and you can type in the language that you chose. Enjoy type in any language from more than forty languages online. You type in the chosen language in any form, document, application that you open in Google Chrome including Facebook, Twitter etc. You do not need virtual keyboards, online software, downloading typing software anymore.
You can Type Any Language on Google Chrome with Input Tools. Check out all the connection errors in Google Chrome and how to fix them.