After the merge of 5 banks – State Bank of Jaipur and Bikaner, State Bank of Hyderabad, State Bank of Mysore, State Bank of Patiala and State Bank of Travancore to State Bank of India, customers expected lessening of existing charges. Instead SBI has hiked penalty charges for accounts.
MAB Charges in Banks
MAB charges means Minimum Account Balance. If a an account do not have minimum balance, a fees will charged. In ICICI bank, MAB charges are more than 300. In HDFC Average minimum Balance is used to charge customers.
In SBI Rs 5,000 is fixed as minimum balance for metro cities. For accounts in metro cities, a penalty of 100 Rs will be charged as MAB charges. Rs 3,000, Rs 2,000 and Rs 1,000 are minimum balance for urban, semi-urban and rural branches of the bank respectively.
QAB Charges
QAB means Quarterly Minimum Balance. If an account do not have enough quarterly minimum balance, a penalty will be charged. For current accounts, QAB should be 10,000 Rs. If this amount is not maintained in the account, a charge of 544 Rs will be charged as penalty. For Savings Bank (For Segments other than SME) there is no penalty for not maintaining Quarterly Minimum Balance. For SME Savings, QAB is 5000 Rs and penalty is 500 Rs.
In urban, semi-urban and rural areas, it will be Rs 3,000, Rs 2,000 and Rs 1,000, respectively . As per the list of revised charges, failure to maintain monthly average balance (MAB) in accounts will attract penalty of up to Rs 100 and service tax. In metro cities, there will be a charge of Rs 100 plus service tax, if the balance falls below 75% of MAB (Rs 5,000). If the shortfall is 50% or less, then the bank will charge Rs 50 plus service tax.
Service Charges for ATM Transactions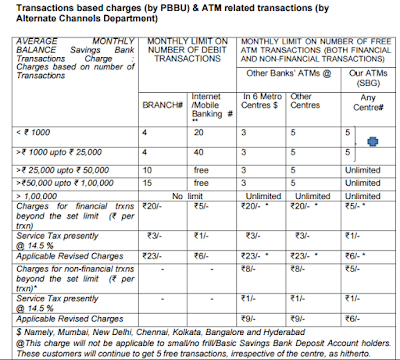 ATM transaction fees
The revised charges are displayed in SBI website. For personal banking charges.
Also read about What is SMAB Charges in ICICI Bank Means? to know more about MAB charges.