Do you want to make a website for your restaurant. A great restaurant website is a good platform to show how good your restaurant is. Creating a great Website for Your Restaurant starts with selecting good templates and goes on adding content, pictures, menu, online order and payment option. I was searching for tips to create a great restaurant website. I was unable to find it online. I decided to write this awesome post on what makes a good restaurant website, what does a restaurant website need and how to create a great website for your restaurant.
What makes a good restaurant website
A good restaurant website consist of the template design, ease of ordering, easy payments and refunds, great online customer care, attention grabbing pictures and what not. Careful content creation and an awesome design can make it a good restaurant website.
A good website for restaurant cannot be made without the personal touch of you. Only you have that secret ingredient to make it great – Passion. The same passion that you had when you started a restaurant. You only how your restaurant should stand out from others and what it stands for. Website designers and content creators can help you to build a good restaurant website when you guide them.
What does a restaurant website need
This section of what does a restaurant website need is going to be little long. I am going to add some headings/ titles that you can use when you are going to build your great website.
An awesome Template does half of the cooking
You can hire a website designer to create a website template for your restaurant. This will be costlier as they may charge you per hour. Other cheaper way is to surf Internet on topics like "templates for restaurant", "template theme for a restaurant website", "free template for restaurant website" etc.
Why You Should Not Use Wix.com
Wix.com provides an amazing and free way to make website design and launch them in minutes. Why I suggested not to use wix.com is that it will provide you a sub domain for your restaurant website. The website will be like www.your website.wix.com. It won't look good when you print in a card or say to someone. In case of SEO, sub domains cannot rank that much. Always buy a domain and launch your website.
Here are some Great Restaurant Website Design Templates
You can buy and use the below templates.
Grand Restaurant | Cafe Restaurant WordPress for Restaurant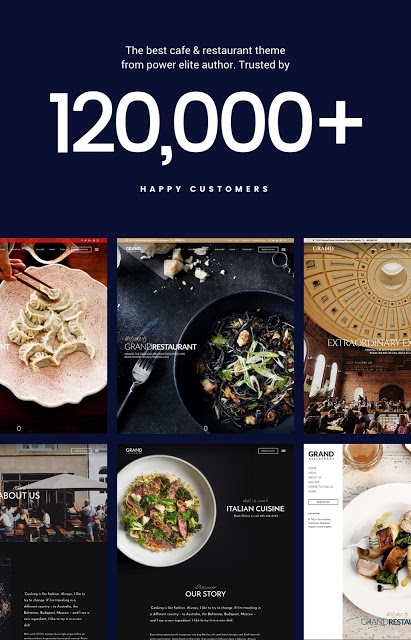 This website has 4,566 Sales with many options.
Multiple menu size and price with order option
Pay pal, master card, visa, amerian express, discover network
Coupon code and discounts
Online reservation
Google maps and mutiple locations
translation ready
Website Content and Navigation
Here are some heading and titles that you can use for navigation, menu, and content creation for your restaurant website.
Home page
Homepage of your restaurant should grab the visitor attention and make them order food.
Menu
Online order/checkout cart
Chef Special
Dish of the day
Coupons and discounts
Upcoming events
Newsletter sign up
What's New?
Social Media widgets
Picture Gallery
Search button
Bottom page
Google map
Contact
Social media Links
Terms and conditions
Privacy policy
About Us
About us is a good platform to share details about your restaurant.
About restaurant
History
Vision
Mission
Our strategy
Our values
Who We are
Board of Directors
Advisory board
Our team
Resource Kit
It would be a great idea to share your restaurant brochures to customers so that they will share to others and create good local presence.
Brochures
Flyer
Factsheet
Media Coverage
Certificates and awards
Share and tag #shipmethisrestaurantwebsitedesign for others.