This post helps you to figure out how to quickly transfer money online in in SBI Personal Banking Website.
Step 1: Go to https://www.onlinesbi.com/ and you can see following window.

Home Page SBI
Step 2: Select on LOGIN under PERSONAL BANKING. After that you will get another window like the following.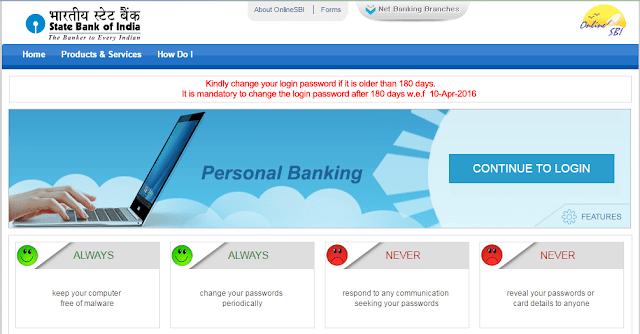 sbi net banking online personal banking login
Step 3: Select on CONTINUE TO LOGIN. After that you will get another window.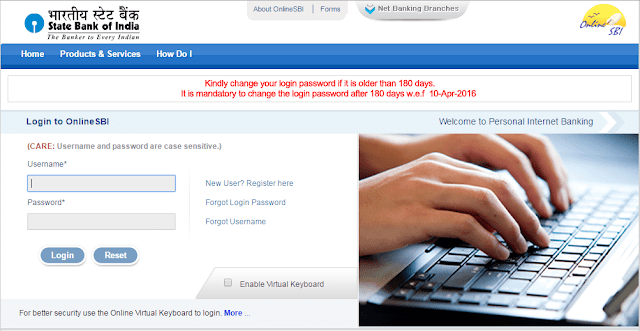 sbi online net banking login

Step 4: Put you username and password and Select login. This will redirect and go to your homepage. Select on PAYMENTS/TRANSFERS. SBI online personal banking website allows you to do payments and transfers using this option. This tab enables you to make online transactions.
Select on INTER-BANK BENEFICIARY and you will be redirected to another window.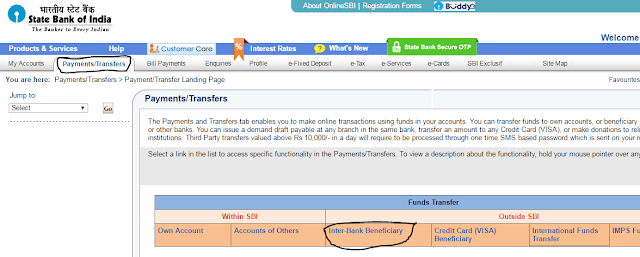 INTER-BANK BENEFICIARY
Step 5: Select on QUICK TRANSFER in the side. You will be redirected to another window where you have to fill following details.

Payments/Transfers >
Quick Transfer
1. Beneficiary Name – Put the name of whom you want to transfer the money.
2. Beneficiary Account Number – Put the account number of the beneficiary
3. Payment Option – There are two options in this.
One is "Within SBI". If the beneficiaries bank account is in SBI, then you can use this.
Second option is "Inter Bank". You need to select this to transfer money to another bank account that is not SBI.
4. IFSC Details – Find IFSC code for that account. You can find the IFSC code by looking that passbook of the beneficiary. That is the safe method. Or you can use search in Internet to find the correct IFSC code.
5. Select Transfer Mode – There are two modes. One is IMPS [Immediate Payment Service] and second is NEFT [National Electronic Funds Transfer]. Select the second one. NEFT is required to transfer money.
6. Amount – You can put only up to 5000 rs using this method. You can have only one transaction per day like this.
7. Purpose – Select the purpose of money transfer. Options are payment towards loan transfer, deposit/investment, gift to relatives and friends, donation, payment of education fee and others, Select one of this.
8. Select on "I accept the Terms and Conditions"
Step 6: Select SUBMIT.
You have successfully transferred Money Online in SBI Personal Banking Website to Another Bank. You will get a SMS to the registered number from SBI with transaction reference number. It will take about two days to credit the money to their account. You can add another 5000 rs next day using this method. If you again go back to MY ACCOUNTS, you can see 5000 rs is deducted from your account. Read FAQs of Money Transfer for more details.