The National Youth Integration Camp in Pithoragarh city, Uttarakhand gave an opportunity to interact with young people from 19 states of India. The camp was under Nation Youth Project from 3 April 16 to 8 April, 16. This camp was organized by Ministry of Human Resources Development, Department of Youth Affairs and Sports, Government of India for youth in India in the age group of 15-29 years.
Travelling To Delhi from Gujarat
The fastest way to reach Uttarakhand is travelling via Rajadhani express. You will have to book about two months before to get the tickets in IRCTC or go via flight. I started from Ahmadabad Railway station and reached Old Delhi railway station. It took me around 17 hours as I took a another express. From there Chandni Chawk is about 300 meter walking distance.
Travelling To Kathgodam from Delhi
From there, I went to Nizamudeen railway station for the next train to Kathgodam station. Kathgodam is the nearest railway station to Pithoragarh city, Uttarakhand. It will take 7-9 hours to reach Kathgodam.
Travelling To Pithoragarh from Kathgodam
After reaching Kathgodam, take a Sumo to go to Pithoragarh. Usually they will charge 500 – 700 rupees per person. It will take around 6-8 hours to reach Pithoragarh depending upon your luck. While travelling it is amazing to see how the mountain life is arranged. There will be one cluster with small shops and houses and after ten minutes of journey, all will disappear and only forest remains. Then after one hour of travel, another cluster appears.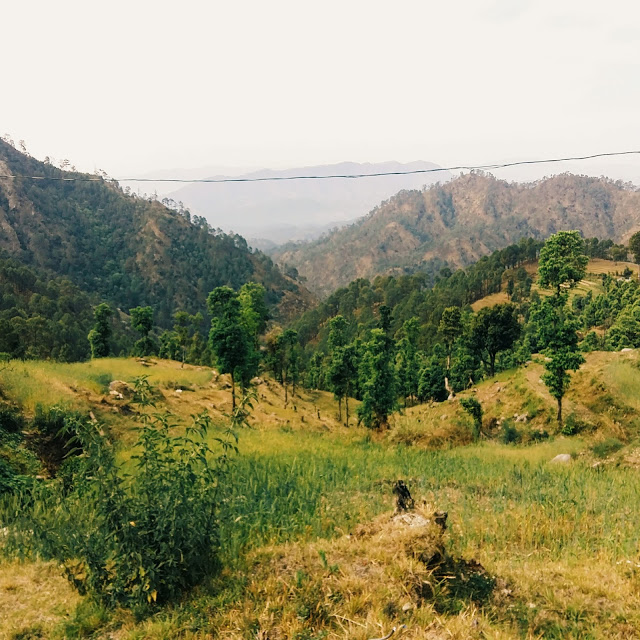 Pithoragarh, Uttarakhand
Pithoragarh is an amazing place with cool climate, greenery, warm people and many dogs. The city is can be seen as clusters. You will get many types of sweets in the city. But I would prefer going to local houses as they offer sugarless tea with hard sugar cube to bite with. If you are luck enough, you may get under-ripened orange with leaf chutney. It is so bitter but that is the fun in that. Be careful while walking towards local houses as there are so many dogs in each house.
Local houses are having two floors. Ground floor is used as barn for milking animals such as cows, goats and buffaloes. The first floor is where people live. Some houses are built in such a way that there is only one floor with two rooms. One room is for family and other is for cows. Usually there is a door ore a curtain that separates between these rooms. Most of the houses have a bluish and white paint and mansions have balconies, three or more dogs, porch for parking cars, and a separate barn for milking animals.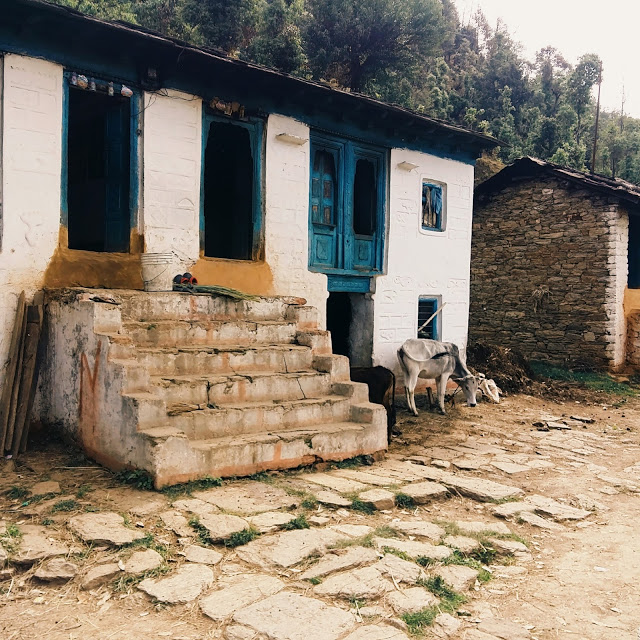 Architecture of local houses with two floor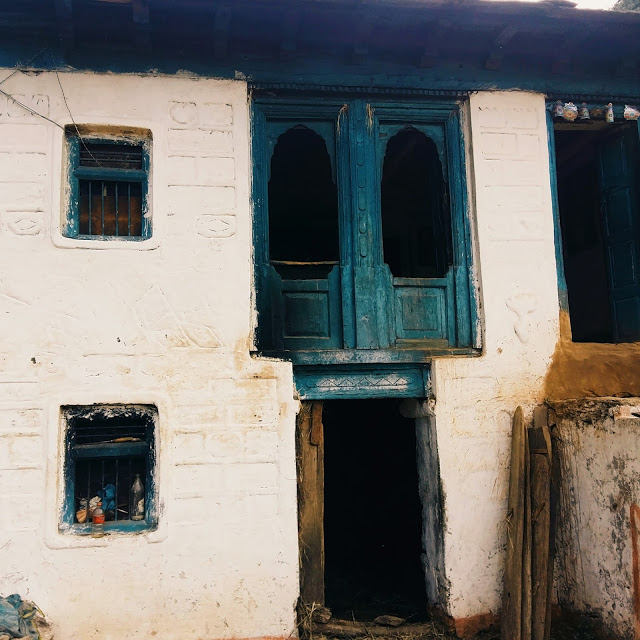 Architecture of local houses with two floor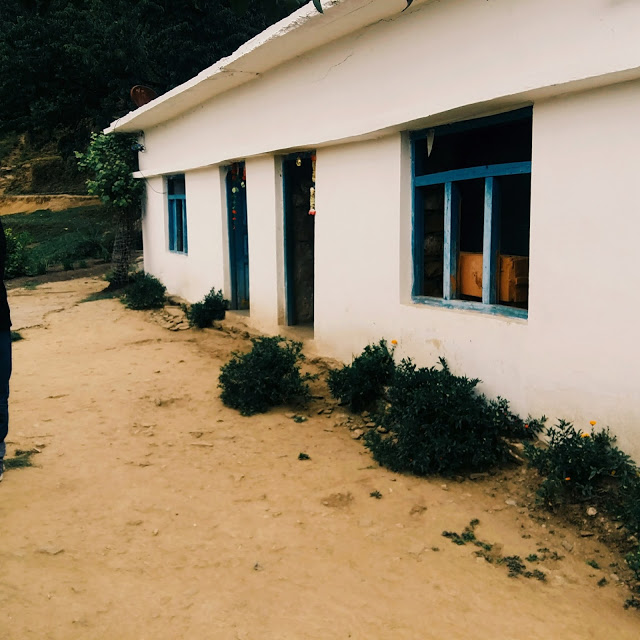 Architecture of local houses with one floor
Farming is also very interesting in Pithoragarh. The relatives and extended family members stay nearby and hence do farming together. They do terraced farming and the cropland is divided into many terraces. These terraces looks like stares to the mountain. Each terrace belong to each family. Each family will take terraces alternatively. Eg: Imagine there is family A and family B and have a house each. They are doing farming in 4 terraces.
First terrace – Family A
Second terrace – Family B
Third terrace – Family A
Fourth terrace – Family B
I asked them what is the logic behind this kind of farming. They could not tell me the logic and told me "Just Like That". I think the logic is to promote mutual helping between family and equal distribution of crop land. in farming.
The major aim of the National Youth camp was to promote interaction among youth from many parts/cities of India. This camp shared information regarding the major schemes of Government of India like Digital India, Skill India, programs under National youth policy etc. Participants were taken to village visits in Uttarakhand and to promote understanding of the cultures of villagers. The program was beneficial to understand various schemes of the Government of India and especially had interactions with officials from ministries.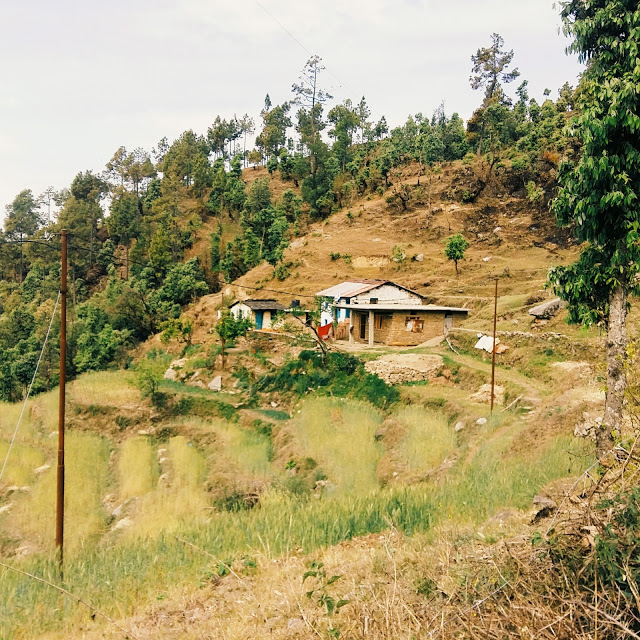 Local houses in Pithoragarh city, Uttarakhand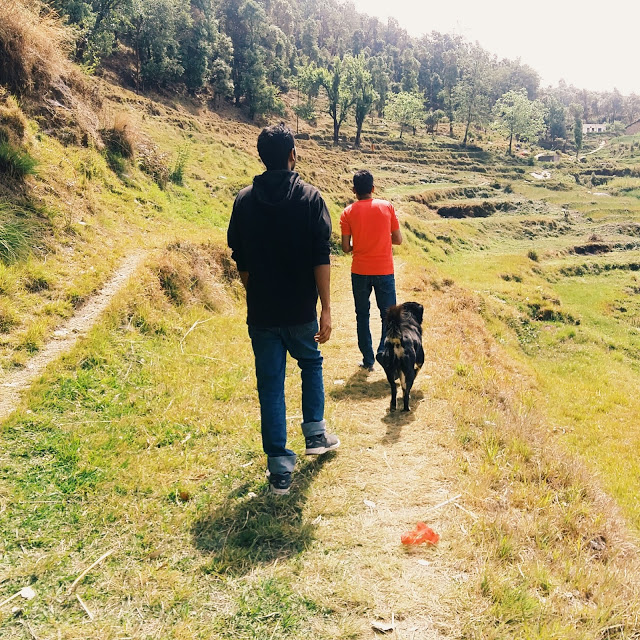 Lets take a walk!!
Share if you like this post