Have you ever wondered making money by playing video games online for free or get paid by playing your favorite online game in Internet, then here is a short guide on making earnings from the best affiliate program of Twitch.
Twitch is subsidiary of Amazon.com and essentially a video platform and streaming service for gamers worldwide. Millions of people login to Twitch to watch live stream of popular games and gaming tournaments and activities of their favorite gaming heroes. The affiliate program is available globally so anyone in any country can monetize and earn money by streaming games.

How Much An Affiliate Earn from Twitch
Twitch offers multiple income generation programs.
Earn from Subscriptions
Visitors can subscribe to your channel by paying for the subscription. The current subscription rates are$4.99, $9.99, $24.99, and the Twitch Prime free subscription. When a visitor pay the money and subscribe to your channel, you get money. Eg:For 9.99$ – Popcorn subscription, a subscriber get ad-free viewing, subscriber badges and 26 emoticons chat during subscriber-only mode and additional one channel emote.
Earn From Bits
Bits are digital goods or virtual goods which viewers can buy and cheer you while you play the game. Bits are in form of cheermotes or animated gem motes and you will share a revenue for each purchase which is 1 cent per bit used.
Earn from Game Sale or In-Game Sales
Viewers of your channel will be shown a purchase offer of a game or in-game items while the view the stream. You can earn 5% revenue from each sale. For any purchase more than $4.99, viewers will be rewarded with a Twitch Crate.
How To Be A Twitch Affiliate And Earn Money
You cannot just be an affiliate of Twitch. You have to be invited. Ya, you heard it right. Streamers can only become Twitch Affiliates by qualifying certain criteria;
1. Streams must not be partners of Twitch – non partnered broadcasters. You cannot be a partner and affiliate at the same time.
2. Must have at least 50 followers
And over the last 30 days, you must have;
3. At least 500 total minutes broadcast
4. 7 unique broadcast days
5. An average of 3 or more concurrent viewers
If you pass those qualifications, you will be notified by email, or by announcement in Twitch dashboard.
How To Sign Up For Twitch
After login, got to Settings, enter your email ID and Select Verify.
Go to email account and verify the email. Once your email address has been successfully validated, process to next steps.
Reload the Settings page and Save changes.
Go to Dashboard and add Stream Information with title and game that you are going to stream.
Select Update Information. You can go to Channel to see your stream information.
24 Hour Rule
The content or stream that you offer to Twitch should be exclusive for 24 hours. You cannot generate income from the same content for 24 hours in multiple channels if you become an affiliate of Twitch. After 24 hours you can upload to any other channels like YouTube, HitBox, Beam, Ustream or Restream.
Tax For Income From Twitch
Twitch is an company based in America so if you are residing in other countries, you can add your SIN as the TIN. This way tax will not be collected for the IRS. Then you can claim the income as other income which will be taxed at whatever bracket you are in based on total income. You can also find a tax consultant to know more about it.
Difference Between Partner and A Twitch Affiliate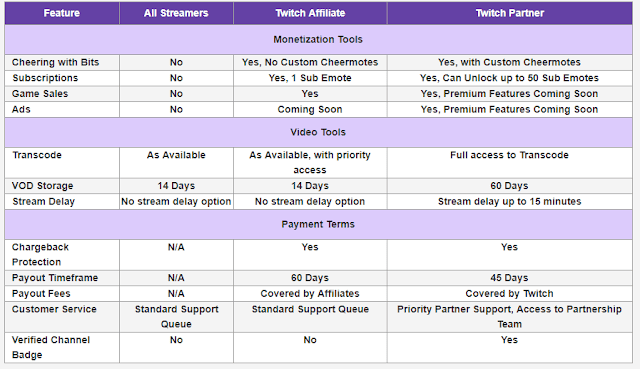 Bonus Tip For Twitch Affiliate Program
GameWisp is a platform for streamers and you tubers to generate income via subscriptions from visitors. You can use GameWisp to generate additional income when visitor subscribe to your channel.