FlipKart is a Indian company and one among the giant E commerce companies in the World. FlipKart offer all kinds of products and affiliate can earn good commission out of each sale. Here is a short guide on how to register for FlipKart affiliate program, create banners and links, how to display and generate payment.
How Much An Affiliate Earn from FlipKart
Income from FlipKart affiliate program depends on how much you sell the products through affiliate links and banner. FlipKart provides competitive commission rates for each products. Below is the commission rate of all products and services updated to August 2017. You should be sure on selling products that provide good commission rate or products with high demand.
FlipKart
also offer referral payout for app installation. You can create affiliate links and if users install FlipKart android app using those links, you will get a commission. You will not get a commission for iOS and Windows App downloads.
Currently FlipKart offer 10% referral payout forFashion & Lifestyle Categories, Toys & School Supplies, Musical Instruments, Baby Care & Diapers, Fragrance, Beauty & Wellness, Stationery & Office Supplies, Household Supplies, Pet Supplies, Food & Nutrition, Home Categories and Furniture.Many startups such as MySmartPrice, CouponDunia, Desidime, 91mobiles uses FliPKart affiliate programs to generate earnings.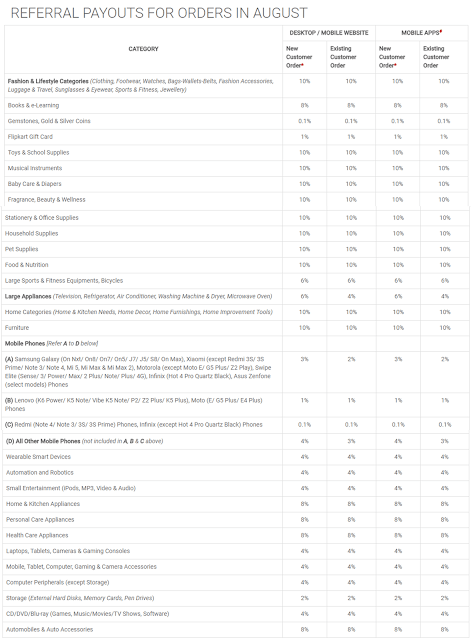 How To Register For FlipKart Affiliate Program
To Register go to Affiliate program website of FlipKart.
Select Join Now For Free.
Enter your email ID
Select Generate Email OTP.
Go to your Email and copy the 6 number OTP. The OTP will expire in 15 minutes.
Paste the OTP number in the Email OTP box.
Select Country and enter mobile number.
Select Generate Mobile OTP
Enter 6 number OTP number that you have received in your phone in the Mobile OTP box.
Enter a password and confirm it again.
SelectI agree to the Flipkart Affiliate Program Term and Conditions.
Click Submit.
You will be redirected to another window to customize the tracking ID. You can enter your website name, app name or any other name and select verify.
If verified successfully, select submit.
To Login to FliPkart Affiliate Account, use your email ID and password.
How To Verify Your FlipKart Affiliate Account
To verify login with the credentials to the account.
Under Account details, enter basic details including address and pin code and select save changes.
Click on Website Details and enter website address, website type, number of monthly visitors on your website and select topics that you are intended to sell through affiliation. You can add more websites by selecting add more websites/apps. Select save changes.
Click on Payment Details. Select a country and select affiliate Type [Individual or Organisation]. Enter your payee name as per PAN Card. Select payment mode as EFT [Electronic Fund Transfer]. Enter PAN card number, bank account details and IFSC code [Swift code, if you are from outside India]. You need to upload PAN Card and Cancelled Cheque to save the payment details. Select Save and Upload. Once the documents are verified by FlipKart Team, your affiliate account will be verified.
How To Generate Affiliate Banners and Links
You can generate FlipKart product banners and links in multiple ways. Overview provides Affiliate Link Generator, FlipKart App Install Campaign and Product link/banner generator tool to generate customized product banners/ widgets, buttons and text links for any product/offer. You also have the option of using Flip kart Search Bar widget, Push content widget, Boomarklet widget, Search widget, Deals of the Day widget or Bestseller widgets on your website/blog as well.

To Generate Product Links
Type any product under Generate Product link/banner and select search.
Select Link under the product.
Select any Button from the list.
Select Ok.
Copy the code and paste it in your website.
The link will appear as below.
Type any product under Generate Product link/banner and select search.
Select Banner under the product
Change Text Color, Link Color and Background Color.
Select if you want to show the price or the content border.
Select Ok.
Copy the code and paste in your website / blog / app.
The banner will appear as below.
How do you see your Orders / Traffic / App Install / Payment reports?
Login to your affiliate account. Click on the section called Reports to see the orders (order report, app install report, traffic report, payment report) and app installs (App Install Report) FlipKart received from your referrals. You can see the affiliate fees due to you in the Overview page after login.
Read More:Get Income From The Most Profitable Businesses

Subscribe to Ship Me This To Get Such Money Making Tutorials.