Are you a student ages between 13-18? Then maybe you can change the world. Well, this is the caption of Google's Science Fair 2014. Google is conducting the fourth annual Google Science Fair.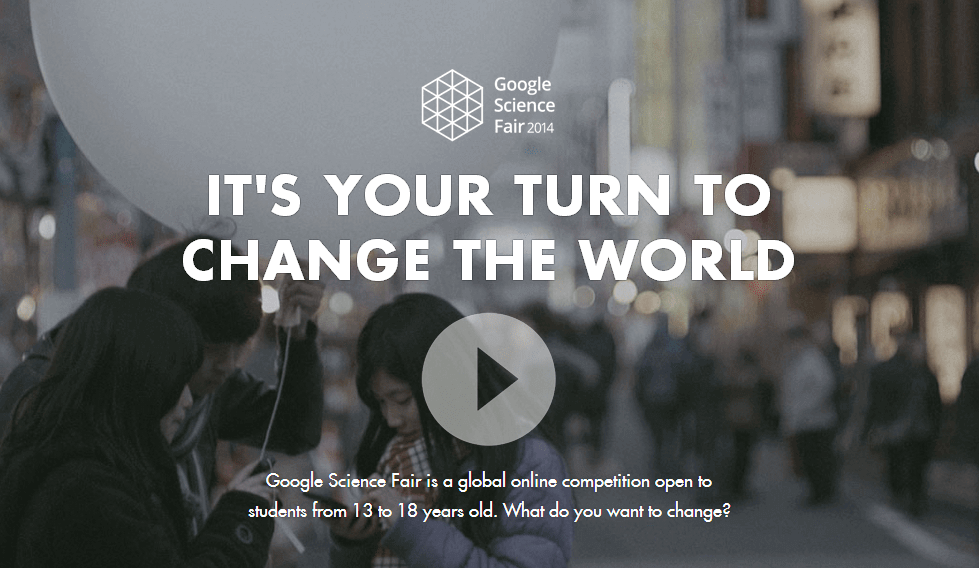 Google's Science Fair 2014 calls, lets change the world

The science fair was announced in January 2011 and is in partnership with Virgin Galactic, a commercial spaceflight company owned by Virgin group, Scientific American, is an popular magazine that covers issues related to science, earth, space and environment, LEGO Education and National Geographic.
So what are the different types / categories of projects which you can apply in Google's Science Fair 2014 ?
Well, lets say you could think in terms of addressing issues related to ecology, environment, health, health care, mobilising resources. You could think about various issues like pollution, malnutrition, hunger etc and come up with an innovative idea to overcome that.
How to apply for Google's Science Fair 2014?
You need to have an idea or a materialised idea, internet connection and a Google account. From the home page you can get the overview about the competition, details provided for participants and detaisl for teachers and parents. You can use springboard to get clear clarity about your project. You can select three tags such as I LOVE, I'M GOOD AT and I WANT TO EXPLORE and by clicking search button you can get a lot of ideas from around the globe. You can additional resources for your project by visiting the following link.Resources for you . The last date for applying is April 7.
What is the prize in Science Fair 2014 by Google?
The winner can work with Virgin Galactic, a commercial spceflight company owned by Virgin group, and become welcome team for the astronauts. You could go to Galapagos Islands for 10 awesome days which is fully sponsored by National Geography. The prize list does not end there. You will receive 50,000$ grant to work out your project by the help of Scientific American team.
Who are the previous winners of Google's Science Fair?
Have you seen a banana? You will. But have you thought about making bio plastics or degradable plastic from banana peels. You may not. However Elif had thought about it and she made it happen. The 2013 winner is Elif from Turkey. Elif won the Voter's choice award in the fair. She developed a scientific method to make bio plastics or degradable plastic from banana peels. You cannot imagine how a 16 years old think these days.



If you want see more, then go to15 finalist projects and see the 15 finalist projects.


Before applying make sure that your idea is unique and original or read this link Be original

For more details about Google's Science Fair 2014 go to the following links,

science in action
Change the world
Kicking off
https://plus.google.com/+GoogleScienceFair/posts
Springboard
http://www.youtube.com/user/GoogleScienceFair