Are you searching for nimhans case history format pdf, nimhans mse format, history taking in psychiatry pdf, mental status examination format pdf and nimhans performa. This post will an example of case history format in psychiatry, case history taking in psychiatry ppt and mental status exam questions to ask. You can use this psychiatric history taking format as a reference post.
Intellectual disability (ID), was once called mental retardation. The name itself had a negative connotation and was hanged to the current name. ID is characterised by below-average intelligence or less IQ. Those people who are having ID will have a lack of skills necessary for day-to-day living. Some of them do have orientation to time and place but may lack social skills. Regular training and medication can improve the lives of them as well as their caregivers. The following is a case study
on Intellectual Disability at a local NGO. This case study is just for reference only.
SOCIO-DEMOGRAPHIC DATA
Name: J Y
Education: 5th Standard
Socioeconomic status: Lower
Age: 39
Occupation: Nil
Location of residence: Rural
Sex: Male
Marital status: Unmarried
Informants: Hospital records, Patient self
Information: Reliable, Inadequate
PRESENTING COMPLAINTS AND THEIR DURATION
Shows childish behavior and wandering behavior. No development in behavior and thinking along with age. It was identified from 5th standard onwards.
HISTORY OF PRESENT ILLNESS
Mode of onset: Insidious
Course: Worsening
Precipitating factor: Smoking
Duration: Since 5th standard joy does not show improvements in his cognition. His intellect seems to be below average. He often engaged in childish behavior and shows wandering tendency.
MEDICAL HISTORY
No reports of physiological problem are available.
PAST HISTORY
Not available
TREATMENT HISTORY
Treated at Government hospital.
FAMILY HISTORY
Consanguinity: Absent
Family history of mental illness: No history of having any mental illness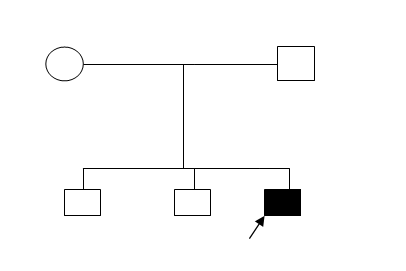 Genogram
PERSONAL HISTORY
Birth and Early Development: Normal birth.
No complications in the mother were reported.
Developmental milestones: Delayed
Behavior During childhood:
Sleep disturbances: No Thumb sucking: No Nail biting: No Bed wetting: No
Stammering: Yes Tics: No Severe temper tantrums: No
Conduct disturbances: Not reported.
Relationship with parents: Good.
Relationship with siblings: Good.
Relationship with peers: Good.
Physical illness during childhood: Not available
Temperament: Easy
Educational History
Age at which schooling began:5 years Educated up to: 5th Standard
Scholastic Performance: Below average
Learning problems: Not available
Relationship with teachers: good
Relationship with peers: good
Occupational History
No history of occupation. Patient reported that he had owned a tailoring shop.
Menstrual History: NA
Sexual History:
Sexual history is not available.
Marital history: NA
History of Substance abuse
Reports of smoking are present. But the detailed is report is not available.
PREMORBID PERSONALITY
Extravert, submissive, friendly, helpful to others, believe in religion, good self concept, trust others, conforming to rules.
Pattern of Eating, Sleeping and excretory functions: Regular
Hobbies: Singing
MENTAL STATUS EXAMINATION
General Appearance and Behavior
Personal hygiene: Disheveled Dressing: Appropriate
Eye to eye contact: Established and maintained
Rapport: Adequate Reality contact: Present
Cooperative
Any tics or mannerisms: Holding his hands continuously on the face.
Psychomotor activity
Normal
Speech
Reaction time: Decreased Tone: Normal
Tempo: Slow Volume: Decreased
Irrelevant Coherent
Thought
Stream: Thought block
Perception
Hallucinations- Auditory
Mood
Objectively: Happy Subjectively: Happy
Range: Normal Reactivity: Present
Lability: Absent Congruent to thought
Appropriate to situation
Cognitive functions
Orientation:
a) Time: Intact
b) Place : Intact
c) Person: Intact
Attention and concentration:
Memory
a) Immediate: Intact
b) Recent: Intact
c) Remote: Intact
He made some additions to the information.
Intelligence:
a) General information: Inadequate
b) Comprehension : Inadequate
c) Arithmetic : Inadequate
d) Abstractibility –
Similarities: Inadequate
Differences: Inadequate
Proverbs: Inadequate
Based on clinical assessment intelligence seems to be: Developmentally Delayed
Judgment:
a) Personal: Intact
b) Social : Intact
c) Test : Intact
Management
Pharmacotherapy, Insight and Absent.
SUMMARY
Mr. Jy is 37 year old unmarried male educated up to 5th standard, with no history as an employee comes from a lower socio economic rural background, who was premorbidly an extravert, submissive, friendly, and helpful to others, believed in religion, had good self-concept, and trust others, conforming to rules, has regular pattern of eating, sleeping and excretory functions, cooperating, holds his hands continuously on the face, always ready to sing in front of others, with little care on personal hygiene, but conscious about physical health, has established and maintain eye contact, with normal psychomotor activity, decreased reaction time, normal tone, slow tempo, decreased volume, sometimes experiencing thought block, and auditory hallucinations, with happy mood which appropriate to the situation, but inadequate in general information, arithmetic, comprehension, abstractablity, has intact memory, intact judgment, with no insight, and is managed through pharmacotherapy and vocational training.