Many publicly registered domain owners reported that they are getting emails related toDomain SEO Service Registration like the one below. Here is short guide discussing on the best ways to deal with such spam emails and how to report these emails.
TheWHOIS directory has all the information for each domain that you register. If you register a public domain, the information provided by you to purchase the domain will be visible in Internet and anyone can access it using WHOIS tool. The scam companies / individuals obtain information about you using such tools and email you. These emails also looks legit so always check with domain providers and hosting providers before sending a payment.

Spam Email Received
MPORTANT NOTICE
e Corp.
Notice#: 782150
Date: 06/07/2016
EXPIRATION OFFER NOTICE
DOMAIN: casamagna.net
Notification Purchase Offer
EXPIRATION OFFER DATE: 06/15/2016
Domain Name:
Registration SEO Period: 06/29/2016 to 06/29/2017
Price: $64.00
Term: 1 Year
This important expiration notification offer notifies you about the expiration offer notice of your domain registration for casamagna.net search engine optimization submission.
If you fail to complete your domain name registration casamagna.net search engine optimization service by the expiration date, may result in the cancellation of this search engine optimization domain name notification offer notice.
Here is another image from a domain owner.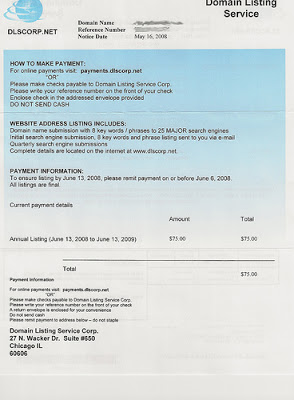 Best Ways To Deal with Spam Emails
1. Don't click any links
Some of these emails may have links to phishing or malware sites, so by clicking the links, you may get your account in jeopardy.

2. Don't respond to these emails.

3. Report these emails to the hosting provider.
If you are a GoDaddy user, go to GoDaddy Support Center. You can report the spam email as per the categories as Inappropriate Content, Malware, Phishing, Spam and Other.

4. Contact official customer care of domain providers or hosting provider to verify the authenticity of the email.
5. Report Spam and Unsubscribe from such emails.
You can report spam sites to Google usingGoogle Webspam Tool.You can check whether Your Website Has Been Hacked using the Spam Checker tools.
6. Block the sender's address

7. Add Private Registration to your domains. (Optional but recommended.)
Do not send any payment to them as they may use other methods to use your account details to get more money. If you have alreadysent them a payment via credit card, dispute the charge. If you sent a check put a stop payment.
You can always verify the status of your domain by logging in to the domain account including expiration date or due date. Always talk to customer care executives before sending a payment or replying to any such emails.